With an Oscar nomination, films landing at major festivals and a tourism boom on the horizon, is Greenland ready for its close-up?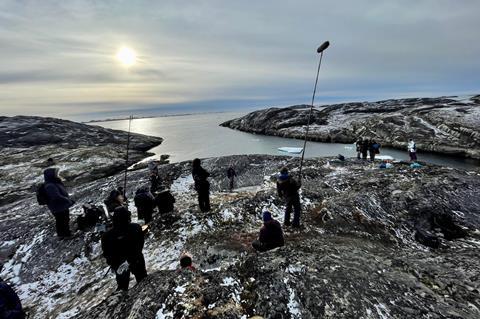 Greenland is having its red-carpet moment in 2023. Lin Alluna's documentary Twice Colonized — a portrait of Greenlandic Inuit lawyer and activist Aaju Peter who looks at the present-day effects of colonisation from both Canada and Denmark — premiered at Sundance, opened CPH:DOX in March and is also opening the 30th edition of Toronto's HotDocs on April 27.
Also in March, Oscar-nominated Danish-Greenlandic short film Ivalu brought a large delegation to Los Angeles. And there is more on the horizon, as Isabella Eklöf's Greenland-set Kalak readies for a major international festival launch this year.
"We've fought hard to be here," says Emile Hertling Péronard, one of the producers of Twice Colonized and a co-producer on Ivalu and Kalak, who also had Music For Black Pigeons at Venice 2022 and Polaris at Cannes Acid 2022. "It feels like a big moment for Greenland. A testament to the fact we are filmmakers and have talents that reach beyond our own world."
Greenland is the world's largest island, three times the size of Texas and lying between the Arctic and Atlantic oceans but with only 57,000 inhabitants. A Danish colony until 1953, it is now a semi-autonomous territory in the Kingdom of Denmark. (For the record, the country was not for sale when then-US president Donald Trump suggested he wanted to buy it in 2019.)
Péronard grew up in Greenland's capital Nuuk with a Greenlandic mother and Danish father and he now splits his time, and his production company Anorak Film, across Copenhagen and Nuuk. He first helped a Greenlandic film reach an international arena with Inuk Silis Hoegh's documentary Sumé — The Sound Of A Revolution, which premiered at the Berlinale in 2017. "It was the first film about Greenland's history made by Greenlanders," he says. "It was different than the films about Greenland told by outsiders."
In 2020, in addition to running Anorak, Péronard co-founded production company Polarama Greenland with writer/director/producer Pipaluk K Jorgensen. An independent and self-owned sub-division of Iceland's Polarama, the company works across production, co-production, production services and casting.
Jorgensen has been the other major driving force in the internationalisation of Greenlandic film — she was the first Greenlandic woman to direct a feature film, 2018's Anori. "It is good momentum right now," she says. "But it's mostly a bubble of me and Emil. We have had this personal journey towards international audiences for years and made our names and talked about Greenland as much as we could."
The current struggle is the lack of local funding — only about $300,000 is available annually for any film projects. "The next step has to be more funding here and also advocating for a film institute or a film commissioner who can get that international funding," says Jorgensen, pointing to the Faroe Islands' growing film prospects since the Faroe Islands Film Institute was launched in 2018.
"We have talked for years and years, but the politicians won't acknowledge it," Péronard adds. "If they had started supporting film 20 years ago, who knows where we would be? Film is good business."
The Oscar moment
Ivalu's Academy Award nomination — the first-ever Greenlandic nominee for live-action short — certainly helps Greenland stay relevant in the international conversation. Based on a 2021 graphic novel by Danish writer Morten Dürr, Ivalu was spearheaded by Danish director Anders Walter and Danish producers Kim Magnusson (both previous Oscar winners) and Rebecca Pruzan.
"It's about a touchy subject [child abuse amongst Greenlanders]," Péronard says. "At the first meeting, Anders, Kim and Rebecca impressed us because they were interested to hear our side of the story and work with us to make it a better film. Now it's a film we can be proud of."
Jorgensen, who became co-director of Ivalu, adds: "We were Oscar nominated with a film that had our language, our myths, our storytelling and our land, and that is an accomplishment."
Jorgensen is now funding her next feature This Road Of Mine, a coming-of-age story about trauma and survival set across Greenland, Iceland and Canada. "I pitch it as Good­Fellas meets Beaches in the Arctic," she says. The script is ready after years of development including at Canada's imagineNATIVE screenwriting lab, and now she is hoping that country's Indigenous Film Office can confirm production funding.
She is also working with Péronard on Homo Sapienne, adapted from Niviaq Korneliussen's novel about young LGBTQ+ people in Nuuk, and collaborating on UK director Amma Asante's Constantin Film-backed series of Smilla's Sense Of Snow, as an executive producer, episode writer and consultant about Greenlandic culture. Asante should be ready to shoot by the end of 2023 and her version will aim to be more authentic than the 1997 film that cast Julia Ormond as an Inuit woman.
International outlook
Founded in 2012, Greenland's filmmakers' organisation FILM.GL aims to professionalise the country's screen community, but needs more funding to do so. There are some new signs of life — the Danish Film Institute's Norddok initiative backs emerging documentary talents from Greenland; also, productions shooting in Iceland (where the rebate is a healthy 35%) can spend 20% of their budget in Greenland and still be covered by the Icelandic rebate.
Polarama expects its production services offerings to grow as Greenland prepares for a tourism boom, thanks to two new international airports opening for regular flights — in Nuuk and Ilulissat (the latter famed for its icebergs). "This will open a big opportunity for us, with easier access to locations," says Jorgensen.
The Arctic Indigenous Film Fund, which includes partners such as the International Sami Film Institute and Telefilm Canada, opens its first call for feature funding applications in autumn 2023. Its ambassadors include Game Of Thrones actor Nikolaj Coster-Waldau, who is married to Greenlandic actress and singer Nukâka Coster-Waldau.
One international team that has already delved into Greenland is Danish producer Maria Moller Kjeldgaard of Manna Film and Swedish director Isabella Eklöf, who shot Kalak in Greenland in late 2022. Adapted from Danish writer Kim Leine's 2007 novel inspired by his own life, Kalak is about Jan, who was sexually abused by his father as a teenager. While working in Greenland, he tries to connect to the culture through sex.
"We were eager to involve as many Greenlandic collaborators as we could," says Eklöf, whose credits include 2018 Sundance hit Holiday and co-writing Ali Abbasi's Border. "And working with the women who we cast in the story. Like with Holiday, I wanted to make sure we were working at eye level and they have ownership of the character." They also held a storytelling workshop with local women.
With Polarama as the local partner — also helping them navigate some challenging weather conditions — Kalak shot for two months in Nuuk and in the small village of Kulusuk in east Greenland. Moller Kjeldgaard says that "about a third were Greenlanders" across the 35-person crew.
"We always went back to the fact this story is an outsider's perspective, of Jan trying to be a part of this culture," Kjeldgaard adds. "If it was a Greenlandic main character, that's not our story to tell. We talked about this a lot with our Greenlandic co-producers, and in the development and writing process."