Waad al-Kateab — co-directing with Edward Watts — gave shape to her Syrian survival story For Sama by making it a letter to her infant daughter. Screen talks to the filmmakers.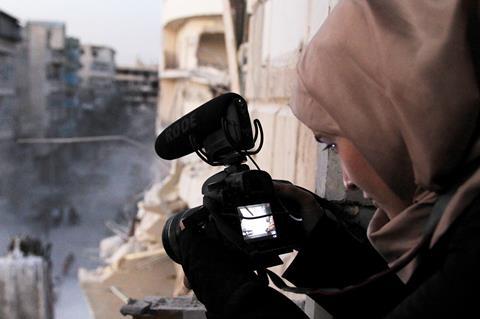 The most powerful red-carpet moment at Cannes 2019 had nothing to do with couture fashion. It was when For Sama's co-directors Waad al-Kateab and Edward Watts stood at the top of those famous stairs and held up signs saying, "Stop bombing hospitals".
Cannes chief Thierry Frémaux had encouraged the filmmakers to take their signs out and defended them from the Palais des Festivals' security guards. "In Cannes they were so supportive; it wasn't just a film for them, they were really supportive as human beings," says al-Kateab.
That is the effect For Sama has had on many viewers around the world, rousing their humanity with this very intimate, very human look at the war in Syria.
Al-Kateab, now 28, was a student and an aspiring journalist when in 2011 she started filming the violent world around her in Aleppo. She made it safely out of Syria in December 2016 with her doctor husband Hamza, her infant daughter Sama and 300 hours of footage she had recorded of family, friends and neighbours during life under siege.
She and her family (including a second daughter) are now settled in London, where Channel 4 News introduced her to Edward Watts, who became For Sama's co-director. He collaborated with al-Kateab to help shape her vast archive of material into a powerful, personal documentary, revealing her life story, as a mother talking to her young daughter. It is a rare female perspective in a war zone.
Channel 4 News/ITN teamed with PBS to produce the feature. For Sama had its world premiere at SXSW in March, winning the documentary grand jury prize and audience award. It then went on to a hugely successful festival run, with further recognition including four prizes at the British Independent Film Awards. In addition to its theatrical release, For Sama has also been broadcast on Channel 4 in the UK and on PBS's Frontline in the US this autumn.
"I'm trying to be very strong," al-Kateab says of the emotional drain of touring with the film. "But in the end we are trying to use the film as a tool to understand the Syrian situation."
The filmmakers have now started an impact campaign, Action for Sama,to convert the goodwill towards the film into action, sharing that message to #stopbombinghospitals. "You need to keep people thinking, 'Yes, we can do something,'" adds al-Kateab.
Watts simply says the response has been "incredible" — he was married in January but has barely seen his wife because he is always on the road with For Sama. "But you can't complain, it's the dream you hope for." He notes the screenings have not just been for festival audiences but also for political influencers and politicians themselves (a screening for US Congress is still being planned).
Truth will out
They met as strangers thrown together on a project, but al-Kateab and Watts have become close collaborators and are planning another project together, the details of which are still under wraps.
Watts was there when al-Kateab gathered with friends and family in the UK — "my new home now" —to watch the Channel 4 broadcast. Sama, now four, saw her own birth on TV. The youngster is excited at the attention for the film, even taking copies of a London Evening Standard newspaper article to nursery.
It is a very different situation to the one that saw al-Kateab film her family and friends in danger on a daily basis. "When I started the film, I had no hope people could really understand Syria," she recalls. "I thought, 'I just want a record of what I went through.' Now it's being seen all over the world, and that gives me so much hope. Whatever happened on the ground, the truth will be out in a big way."
Watts adds: "This is the film I always wanted to make, connecting human beings across the world, to help people in western countries understand how much they had in common with people in war-torn places. To see the human reaction is humbling."