Warner Bros' Joker, starring awards contender Joaquin Phoenix, will pass the $1bn mark at the global box office today (November 15), with the UK its biggest international market to date.
The supervillain origin story has held the top spot for six weeks in the territory, the first film to do so since 20th Century Fox's Avatar in 2009/10.
Its UK gross of £54.3m ($67.7m) puts it ahead of Mexico ($42.8m after six weeks), Japan ($40.9m after five), France ($39.9m after five), Korea ($37.8m after six) and Germany ($35.9m after five).
Relatively speaking, the UK is also outperforming the US release. Released on October 4 in both territories, Joker had taken $313.5m in North America to date, which means its US-UK gross conversion stands at 17.2%, well above the industry standard of around 10%.
It is also performing much better in the UK than other comic book adaptations (see table 1 below) and has had a much longer tail. Industry expectations prior to release were for Joker to open well but then drop off quickly.
"[The UK is] a strong DC market," said Andrew Cripps, president of international theatrical distribution at Warner Bros. "The in-built love for the character gave us a great kick-start, but that's only part of the story. We successfully reached audiences who were hand-picked based on their affinities and behaviours, as well as broad cinema-going audiences"
"We knew we needed a strategy that just enabled us to let the content breath and showcase the critical acclaim," he continued. "We anticipated incredible reviews and got ready to press 'go' on materials carrying that independent endorsement from the moment the embargo lifted."
This involved curating a "quote-heavy creative campaign" in print, including "a wall of 5-stars", and bespoke TV ads with sliding reviews "that drove recall and helped the campaign feel ubiquitous across the country."
Once word-of-mouth had been established, the strategy changed. "As we moved beyond release weekend, we switched to messaging that encouraged people to 'see the film everyone's talking about'," Cripps explained.
People certainly know about the film – it sits at 95% on the studio's saturation for awareness measurement.
The right date
Rob Mitchell, head of theatrical insights at UK analytics firm Gower Street Analytics, believes the October 4 release date has played a big role in its success.
"Adult drama, in terms of new wide launches, is generally less common in the middle of October due to the school half-term and the focus on family and crowd-pleaser four-quadrant releases to take advantage of this," said Mitchell. "There is, therefore, often space for a film with strong primarily adult appeal to play through.
"This happened with A Star Is Born last year, Blade Runner 2049 in 2017, The Girl On The Train in 2016, and The Martian in 2015, all of which opened on Joker's date. This year, the way the school term fell also led to an extended half-term, potentially providing increased space in the adult market from competition."
"Warner Bros was able - in their marketing strategy and with a film good enough to generate strong word of mouth - to appeal both to the genre/comic-book fans that made Venom a success in this slot [in 2018] as well as fans of more adult drama."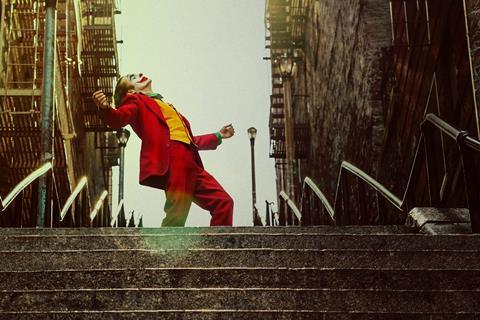 Joker debuted in Competition at the Venice Film Festival in early September and won the top prize, the Golden Lion. "With the Venice launch – unusual for a comic-book movie – and Warner Bros' decision that it was a film they could push on an awards-buzz front, the additional factor they were considering here was to take advantage of anticipated festival buzz," added Mitchell.
Ang Lee's Gemini Man, Terminator: Dark Fate, and Doctor Sleep, all of which aimed for a similar demographic, were among the challengers held off by Joker. Awards contender Judy and thriller The Good Liar have also failed to top Joker, opening on the latter's first and sixth weekends respectively.
Repeat viewings
The four-quadrant appeal of Joker in the UK has been vital. Warner Bros' data reveals a 60-40 male/female split in the audience– skewing male certainly, but less so than most comic book titles. Also telling are the age statistics, with every bracket from 13-17 through to 45-54 breaking into double-figure percentages, showing an even spread of viewership (see table 2 below). Crucially, it is drawing in a repeat audience in the UK with 18% of cinemagoers having seen it more than once.
Franchise awareness was the lead factor in people's motivation for seeing the film with 42% of answers in a Warner Bros survey being: "I am a fan of the Joker character". But the buzz was not far behind, with "It looked like a must-see movie" scoring 38% and "I read good reviews" recording 33%.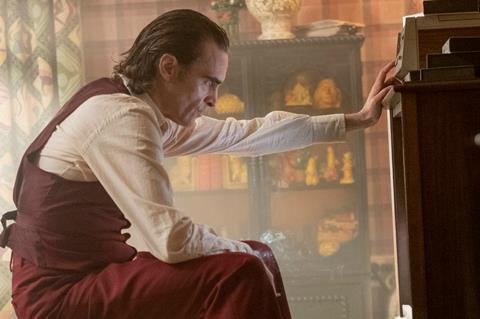 Age classifications have not held it back; it is the highest-grossing 15-rated title of all time in the UK, and the highest-grossing R-rated film ever in the US, more than $200m ahead of Deadpool 2.
Talking about the evolution of the film's US audience, director Todd Phillips told Screen: "It started out the way you'd think – skewing male."
However, when people started talking about the film, that began to change. "It's not a rallying cry for disaffected American white men – it speaks larger than that. It suddenly became a four-quadrant movie – men, women, 18-25, over 25s," added Phillips.
Even his mother's contemporaries have latched on. "She lives in the Upper East Side in Manhattan and all her friends, the 75-year-old women in her building, are seeing it, and not because she's my mother! They've found it on their own, which is astounding."
"Thoughtful and sobering"
Screen's senior US critic Tim Grierson reviewed the film at Venice, calling it "a fan-servicing blockbuster that highlights what is eternally captivating about the character, while at the same time offering a sobering critique of the sadistic nihilism that has long been the Joker's modus operandi."
Several months on, he believes the film's success points to a desire for greater depth in the genre. "It demonstrates there's still this insatiable hunger for more and more comic-book movies - but also that there's a specific appetite for darker, R-rated variations that aren't as family-friendly as the Marvel films," said Grierson.
There was concern from some critics following the Venice debut that the film's depiction of an isolated, lonely man who becomes a violent criminal could inspire violence. "All the controversy and hype probably initially helped the box office, but the fact that the film has legs indicates that audiences are appreciating Joker's thoughtful, sobering look at mental health and violence," suggested Grierson. "Viewers don't just want superhero stories – between Venom and Joker, there's room for films about how supervillains got that way."
1: UK vs US gross for comic book films (as of Nov 3, 2019, Credit: Warner Bros)

| | | | |
| --- | --- | --- | --- |
| Film | UK box office | US box office | US/UK conversion |
| Joker (2019) | £51.6m | $299.2m | 17.23% |
| The Dark Knight Rises (2008) | £56.3m | $448.1m | 12.55% |
| The Amazing Spider-Man 2 (2014) | £24.1m | $202.9m | 11.87% |
| Fantastic Four (2015) | £6.2m | $56.1m | 11.13% |
| Batman V Superman: Dawn Of Justice (2016) | £36.6m | $330.4m | 11.09% |
2: Age demographics in the UK (Credit: Warner Bros)

| | |
| --- | --- |
| Age group | Audience percentage |
| 13-17 | 19% |
| 18-24 | 25% |
| 25-34 | 26% |
| 35-44 | 18% |
| 45-54 | 11% |
3: Week-on-week UK & US gross (Credit: Box Office Mojo)

| | | | | |
| --- | --- | --- | --- | --- |
| Weeks on release | UK gross (cume) | Percentage change | North American gross (cume) | Percentage change |
| 1 | £12.6m (£12.6m) | - | $96.2m ($96.2m) | - |
| 2 | £9.7m (£30m) | -22% | $55.9m ($193.6m) | -42% |
| 3 | £5.5m (£40.3m) | -44% | $29.3m ($247.3m) | -48% |
| 4 | £3.5m (£46.7m) | -37% | $19.2m ($277.9m) | -34% |
| 5 | £2.4m (£51.6m) | -29% | $13.5m ($299.2m) | -30% |
| 6 | £1.7m (£54.3m) | -32% | $9.2m ($313.5m) | -32% |