Is the pace and range of innovation now stretching the supply chain to breaking point?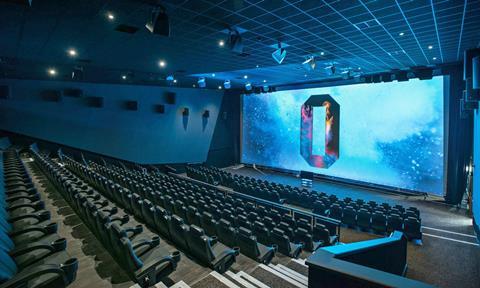 Digital conversion is now largely complete across the world's 163,000 screens, and manufacturers, studios and exhibitors are able to bring to market an unprecedented array of technologies.
Creative advances such as higher frame rates (HFR), high dynamic range (HDR) and 4K are feeding through into the distribution workflow and the exhibition sector. The trend for higher contrast, needed for HDR, is driving a new series of high-contrast projectors, as well as laser-illuminated projection. Exhibitors are also evaluating more experimental and speculative technologies, from immersive audio systems to motion seating and panoramic formats - often in combination.
While new technology offers exhibitors greater choice, there are growing calls for a pause in the process to allow for education, standardisation, workflow rationalisation and technology assessment.
"The industry needs to keep a watchful eye on technology proliferation to ensure it is of benefit, not a source of tension and a reason for decline," warns David Hancock, head of film and cinema technology at analyst IHS Markit and president of the European Digital Cinema Forum (EDCF).
The surfeit of technology is increasing the complex logistical operation behind every release: a major film can now have more than 500 versions going out of a lab, with a range of audio, image, premium, experiential and language versions adding to the possible permutations.
Theatrical mastering, versioning and delivery services claim their systems can handle whatever is thrown at them, but it is also clear the pressure to meet release schedules is tightening. "We're running as efficiently as we can but the current system is reaching a limit," says Matthew Aspray, COO at Motion Picture Solutions, currently creating 350 versions for the international release of Despicable Me 3.
Individual exhibitors might receive only a fraction of this number, but it is not uncommon to see 10 different versions of one title (factoring in iterations for 2D, 3D, dubbing, subtitles, 5.1, 7.1 and Atmos audio, HDR and versions for different cinema A/V configurations). This can create potential bottlenecks in delivery to cinemas regardless of whether this is by satellite, electronic network or physical hard disc.
Digital has also encouraged filmmakers to tinker with visual-effects shots up to the eleventh hour of distribution. "We might be working on versions for reels three, four and five of a movie while reels one and two are still being finalised," says Aspray. "When your time is already squeezed to make 300 versions, this only adds more pressure."
Investment quandary
While the supply chain struggles to keep pace, exhibitors charged with making investment decisions have their work cut out. According to Phil Clapp, CEO of the UK Cinema Association (UKCA) and president of the International Union of Cinemas (UNIC), the lack of objective information is challenging exhibitors to ensure their investments lead to tangible returns.
"New technologies are coming to market dizzyingly fast," he declares. "Ten years ago, cinema operators were mainly required to invest in the upkeep of their 35mm projector, consumables such as xenon bulbs and maybe 5.1 and 7.1 sound. Investment was fairly predictable and evenly spaced. Now, even larger operators are challenged to understand how to monetise or operationally manage all the options. The impact on smaller operators is even greater since they don't have the capacity to engage in research."
"There is a lot of confusion about new technology and certainly a lack of education," agrees Oliver Pasch, sales director at Sony Digital Cinema Europe. "Manufacturers must and do try to help exhibitors understand the purpose of each technology."
Meanwhile, says Tim Richards, CEO of Vue International, "There's an element of back-to-basics with seat and sound." Vue's flagship in London's Leicester Square is undergoing a $7.7m (£6m) refurbishment, including the installation of VIP seating and Dolby Atmos.
Studios reportedly have recognised the problem. "They've acknowledged they need to express in one way or another how they see the technical future of theatrical exhibition," says Pasch. At the heart of this discussion is whether to replace the digital cinema initiatives (DCI) specification, which is the standard on which digital conversion is built. Originally agreed by the studios in 2005, this documents the route to create a digital cinema package (DCP), including file compression and content encryption, as well as presentation specifics such as image brightness and ambient-light levels.
DCI 2.0?
The original DCI — known as InterOp — was "always intended to be a temporary measure", says Clapp. "It's increasingly stressed by the range of innovation." Anticipating this, the industry is in the process of switching to an updated version known as SMPTE DCP (after the standards body that ratified it, the Society of Motion Picture & Television Engineers).
SMPTE DCP is built on InterOp but accommodates formats such as Dolby Atmos immersive audio and high frame rates. Indeed, films mastered with these attributes cannot be played back without the projection technology in cinemas also being updated to the SMPTE specifications.
SMPTE is being rolled out, but not at the pace the industry would like, meaning both InterOp and SMPTE versions need to be mastered for every market. "We're not saying SMPTE will make life simpler but it should ease some anxiety," Clapp says. "Distributors and exhibitors need greater confidence going forward that permutations of technology will not lead to a situation where technology 'X' played back with projector 'Y' does not work."
Over and above this is a concern DCI itself may be reaching its sell-by date. "We are introducing a plethora of technologies not foreseen in the DCI," says Hancock. "While new cinema systems and digital cinema mastering formats use the DCI as a baseline, we're now seeing far more technologies coming in over the top that are not yet standardised." For example, there is no open standard for the playback of immersive audio formats such as Barco Auro, DTSX and Dolby Atmos, and no standards covering the amount of digital noise or speckle in laser-screened projection.
Non-standard formats
Emerging LED screens throw another spanner in the works. "It doesn't make sense to certify a laser projector or an LED screen with DCI in either Interop or SMPTE form since it was never written with these technologies in mind," argues Pasch.
The increase of premium large-format (PLF) screens adds further versioning requirements to the mix. After a studio's localised vendor, such as MPS, Deluxe or Eikon, has worked on a title, companies such as Imax, China Film Giant Screen (formerly DMAX), EclairColor and Dolby have additional work to do in order to create versions specific to their systems. "Instead of streamlining the whole process of mastering, distribution and playback, there's a risk of divergence between premium cinema and the rest, leading to a two-tier cinema industry," warns Hancock. "That was what the original DCI specification was aimed at preventing."
It is not clear exactly what is needed to prevent technology overload. Clapp calls for an attempt "to provide a more stable foundation to introduce all these tech changes", while Pasch suggests it may take the form of "a recommended best practice" led by the studios in concert with manufacturers. "The European cinema sector, with its multitude of languages and diverse structure, faces particular issues," says UNIC CEO Jan Runge. "To ensure interoperability and access to films for all types of cinemas, the development of a new generation of technology standards will be a strategic imperative for the industry in the future."
Not everyone agrees there is an issue at all. "Exhibitors have run into problems in the past by being complacent and not trying and testing new technology or investing in infrastructure," says Richards. "Embracing new technology is part of the world we live in and it pays to be half-a-step ahead."