Spain's popularity is growing thanks to the presence of Netflix, its great climate and locations, strong incentives and multi-cultural crew.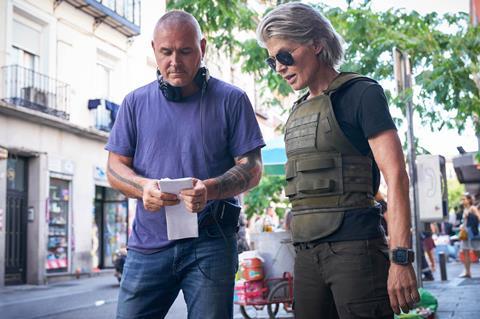 Spain is going through a phased approach in its move to a 'new normal' by the end of June. The local industry is optimistic international productions will be able to return this summer. It has been buoyed by the government's decision to raise the local filming rebate from 20% to potentially 30% as part of a relief package for Spain's cultural industries.
The rebate rate has risen five percentage points, from 25% to 30%, for the first $1.1m (€1m) of local spend by an international shoot, and 25% (from a prior 20%) thereafter.
The cap for the total tax rebate on one shoot has also been increased from $3.2m (€3m) to $10.8m (€10m). "Potentially this means a project of €40m [$43m] could get €10m [$10.8m] back," says Susan E Walker of Spanish production services company Aproductions, which has offices in Madrid, Barcelona, Seville and the Canary Islands.
"Add this to the country's incredible climate, connectivity and experienced multicultural audiovisual professionals, and it's easy to see why people in the industry describe Spain as the California of Europe," she says.
Another plus point for Spain is Netflix's long-term commitment to the country. The streaming giant created its first European production hub in 2019 when it took over and upgraded the existing Secuoya Studios in the suburb of Tres Cantos, just north of Madrid. The site includes three 1,200-square-feet soundstages, with an option to expand, and is managed by media company Grupo Secuoya, which will also service all Netflix productions that shoot at the facility.
Spanish commitment
Netflix has invested heavily, with more than 20 Spanish-language productions filmed in Spain. These include Money Heist (La Casa De Papel), one of the streamer's most popular non-English-language TV series, and Madrid-based Bambu Producciones' High Seas, an ocean-set drama series that used ship sets spanning a total of nearly 30,000 square feet at Tres Cantos. Netflix's presence is boosting Spain's production profile around the world and could also stimulate the development of local crew pools.
Amazon Studios' series Hanna also shot in various locations around the country. "We did a first scout based on the script, where most of the sequences were supposed to happen between Morocco and any place in the south of Spain," says Ana Ibañez, a location manager on the series. "We were trying to find locations similar to Morocco to try to avoid travelling to another country. After the director's scout, we were able to recreate many scenes in Almeria."
The series filmed in the Bardenas desert in the north-east of the country and in Almeria on the south-east coast.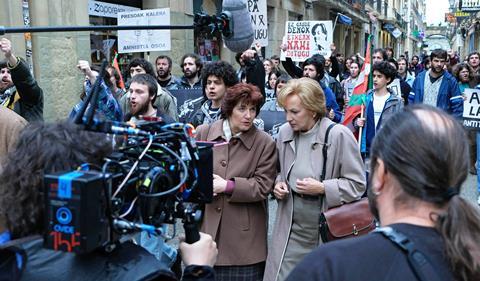 HBO also has a strong association with Spain since filming parts of Game Of Thrones in the country. The broadcaster's European arm has since shot an eight-part TV series adaptation of Fernando Aramburu's novel Patria, directed by Argentina's Pablo Trapero, in the Basque region in the north of the country.
Spanish outfit MediaPro Studio also began filming the high-profile Spanish-language comedy Official Competition, starring Penelope Cruz and Antonio Banderas, in March this year before production was put on hold due to the coronavirus pandemic.
Recent US projects to have chosen Spain include Paramount/20th Century Studios' Terminator: Dark Fate, which filmed scenes in the Murcia region in the south-east of the country, doubling for Mexican story settings, and Warner Bros' Wonder Woman 1984, which shot footage in the nearby coastal region of Almeria.
Location appeal
One of the country's key selling points is its varied locations. Heritage and modernity sit side by side and the big cities of Madrid, Barcelona, Seville and Valencia offer a range of architectural styles, as do the Islamic-influenced cities of Cordoba and Granada. The country's natural landscapes include mountain ranges and forests, as well as deserts, beaches and clifftops.
"Spain has been one of the top tourist destinations for years due to its hospitality and stunning scenery, including more than 8,000 kilometres of coastline in three different seas, that go from the tip of the Basque coast all the way down and around to Cadiz," says Aproductions' Walker. "Just three hours south from London and Paris by plane is a tropical paradise with 26oc year-round weather and incredible rainforest and Mars-like desert locations."
Spain has historically been a popular filming location for westerns, and its southern deserts have regularly stood in for 19th-century America. Jacques Audiard shot scenes for The Sisters Brothers in the Tabernas desert in Almeria as well as the Navarra and Zaragoza regions in the north of the country.
THE LOWDOWN - SPAIN
European status
Spain is a member of the European Union and a participant in the Schengen Agreement. Its currency is the euro.
Financial incentives
The rebate rate has risen five percentage points from 25% to 30% for the first $1.1m (€1m) of local spend by a foreign shoot, and 25% (from a prior 20%) thereafter. The cap for the total tax rebate on one shoot has also been increased from $3.2m (€3m) to $10.8m (€10m).
The expenses will have to be at least $1.1m (€1m) and will be for creative staff with tax residence in Spain or in another state of the European Union, with a limit of $108,000 (€100,000) per person and in technical and supplier services.
Full details: shootinginspain.info/en
Infrastructure and crews
Crews are accomplished and the feedback from international producers on production assistants, sound, art and cinematography crews is very good. Spain can also provide specialists for underwater shoots. Spain Film Commission offers free services and assistance for shooting all kinds of audiovisual works. It also advises on financing, location scouting and administrative services.
"Spain has a great service infrastructure, as well as quality accommodation, food and leisure establishments. Its public health, security and emergency services are among the best in Europe," suggests Susan E Walker of production services company Aproductions. "Buyout rates for on-camera talent are unbeatable compared to other European countries."
In addition to the Netflix facility, Spain offers studios in cities including Madrid and Terrassa, but these are generally more suitable for smaller-scale shoots and TV production (Netflix's studio is not open to third-party productions). The country still lacks a big film studio on a par with those in the UK, Germany and throughout Eastern Europe.
Size matters
A high-speed rail network, 290,000 kilometres of motorway and roads, and 48 airports help international crews move around Spain's nearly 520,000 square kilometres, including 8,000 kilometres of coastline. Productions can move from snowy mountains to a big city or the beach in a few hours. The majority of Spain's islands also have international airports, thanks to the well-established tourist industry, as well as a huge array of hotels and restaurants offering good value for money.
First person to contact
Sara Dominguez Muriel, Spain Film Commission