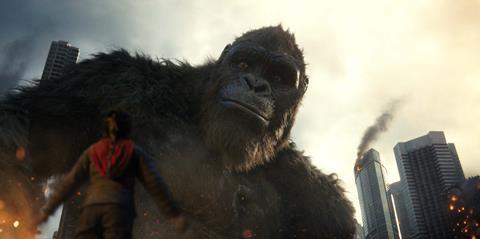 Ordinarily, a 70% year-on-year drop for any weekend at the North American box office would make headlines for all the wrong reasons.
Yet doom-laden prognostications about a slump in cinemagoing are nowhere to be seen — quite the opposite — because these are far from ordinary times.
Even though year-to-date box office trails the comparable period of 2020 by 83% ($305.9m versus $1.8bn), there is warranted buzz around the North American box office for the first time since the pandemic forced US cinemas to close their doors in March 2020. The reason is Warner Bros and Legendary's Godzilla Vs. Kong, which opened in cinemas on March 31 and exceeded expectations to set a pandemic record $48.5m five-day opening weekend in 3,064 sites.
That drove a $43.8m three-day weekend for all releases (of which $31.6m went to the Warner tentpole) resulting in a 70.3% drop against the comparable session in 2019 — a relatively light tumble given a dismal run of comps in 2021 that by and large has seen declines of more than 90%. (Year-to-year drops were even worse in late 2020, when fewer cinemas were open.)
For the record, year-on-year declines dipped below 80% when Warner Bros' Tom & Jerry and Disney's Raya And The Last Dragon opened on February 26 and March 5 respectively. These were brief flashes in the pan, and the sense in Hollywood is that Godzilla Vs. Kong will have a longer tail. Not only is the tentpole still fresh, roughly 60% of North American cinemas (the low 90% range in the US and low-to-mid 20% range in Canada) have reopened, and consumer confidence has reached the highest levels since the pandemic began.
What makes the box office of Godzilla Vs.Kong all the more impressive is that the film debuted simultaneously in cinemas and on HBO Max in the US, under the model that applies to the entire Warner Bros 2021 release slate. HBO Max is not providing data, although it did say the film drew the highest four-day viewership since the platform launched in May last year. That still gives no indication of how the push-pull between cinemas and streaming played out, and only WarnerMedia has an idea of the extent to which home viewing might have cannibalised ticket sales.
After pandemic-record three- and five-day debuts, Godzilla Vs. Kong overtook the North America running totals of Tenet on $57m and The Croods: A New Age on $56.4m to become the biggest release of the pandemic era. It could even become the first Hollywood release in 13 months to cross $100m in North America. At time of writing in early April, the film was poised to sail past the $300m global mark after racing to $285m from two weekends of release, with China the key driver on $136.5m and counting. At a reported cost of $165m, the film e can break even if it crosses $330m, and Warner Bros will hope it can sustain theatrical momentum while monitoring the HBO Max numbers closely.
Light at the end of the tunnel
The vaccine rollout in the US has provided an impetus. Smaller and mid-sized circuits have been reopening for months. Turning to the titans of the sector, approximately 99% of AMC's US locations are now open, while Cinemark has reopened more than 300 cinemas, or just under 95% of its US footprint. Cineworld-owned Regal lags behind but has opened a number of sites and has scheduled a wider reopening on April 16 for New Line's Mortal Kombat, which will also debut day-and-date on HBO Max.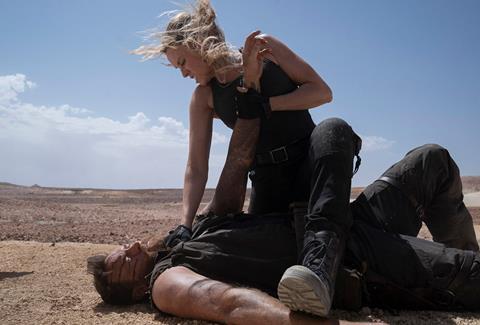 Audience capacity across sites varies from state to state, but California for instance has seen counties move into less-restrictive tiers, allowing critical box-office markets such as Los Angeles County to increase its cap from 25% to 50%.
New York City remains a hurdle after state governor Andrew Cuomo said on April 5 he was ordering capacity across the five boroughs to stay at 25%, even though he lifted restrictions on indoor dining to 50% capacity. Texas and South Carolina have authorised 100% capacity, while the cap stands at 60% in Kentucky and 75% in Louisiana.
Growing confidence
Like their international counterparts, North American exhibitors have gone to great lengths to operate safely during the pandemic, with social distancing and hygiene protocols. Combined with an acceleration in vaccines, it has boosted consumer confidence.
According to an NRG poll of cinema­goers dated April 4, confidence levels have reached a high of 59% of patrons who say they are "very or somewhat comfortable" going to cinemas — up three percentage points from a week prior on March 29. Within this pool, a pandemic high of 72% of respondents said they planned to watch another film in cinemas within three months, while the portion of patrons who planned to visit again within two months stayed at the high-water mark of 58%.
Warner Bros, other Hollywood studios and independent distributors have dated releases for the rest of the year, and also encouraging is the number of exclusive theatrical deals taking shape that show the studios are banking on substantial North American theatrical releases, at least for their tentpoles.
ViacomCBS has all but established a 45-day exclusive theatrical window for Paramount releases before they go to Paramount+. AMC, Cinemark and Cineplex in Canada are partners with Universal in PVoD revenue-share deals that involve 17 to 31-day exclusive theatrical windows.
Cineworld recently cut a deal with Warner Bros establishing a 45-day exclusive theatrical window starting with the 2022 slate that suggests WarnerMedia's day-and-date theatrical/HBO Max strategy does appear to be a "unique one-year plan" as originally stated.
At least it looks that way at the time of writing. The pandemic has weaved an unpredictable course and while the broad outlook for the North American box office looks good, there are potential stumbling blocks. Experts are considering the possibility a fourth wave is coming to the US. That, combined with lockdowns in key international markets in Europe, could make studio executives rethink their release plans.
For now at least, after a year of high anxiety among Hollywood distribution executives and exhibitors, the mood is positive.