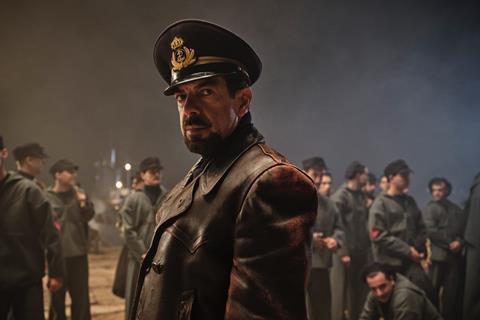 The Italian naval base of Taranto in Puglia is the setting for the $15m (€14m) shoot of Edoardo De Angelis's Second World War epic Il Comandante. A 1940s submarine has been recreated at a cost of $1.5m (€1.4m) alone. Produced by Indigo Film, the shoot is that rare thing in the Italian industry: a local film of scale and scope. What is more remarkable is that it is one of a group of similar productions that are all aiming for a 2023 release.
Stefano Sollima's thriller Adagio, Saverio Costanzo's Finalmente l'Alba, starring Lily James, and Roman Polanski's The Palace, starring Mickey Rourke, Fanny Ardant and John Cleese, along with Il Comandante, form the latest sortie in the battle to attract audiences back to cinemas.
"For a film to work at the box office, there must be something calling the audience," says producer and Indigo Film founder Nicola Giuliano.
Comandante is based on the true story of Salvatore Todaro, who served on a submarine in the Mediterranean sea during the Second World War.
"We have seen that a famous novel can call the audience, [or] a story about a historical figure, a star in the leading role or a highly spectacular production," says Giuliano.
With action set-pieces and a lead actor in Pierfrancesco Favino, Il Comandante is aiming for all four. With a limited local star system, Favino is the only actor to draw audiences to cinemas, post-pandemic. Favino starred in Mario Martone's Cannes Competition title Nostalgia, which has grossed $1.6m (€1.5m) at home and is Italy's entry to the international Oscar, as well as Riccardo Milani's comedy Run To You, which has taken $2.6m (€2.5m). Both films have outperformed expectations.
As of the end of October, Italian box-office receipts were down 53% on the same period in 2019. This is one of the steepest falls in the global industry. US blockbusters are back on track but mid-budget, arthouse and local films are feeling the strain. Not even Christmas, once the richest of seasons for Italian cinema where homegrown broad comedies used to dominate, is promising anything good.
The industry is beginning to ask hard questions of itself. There is an acknowledgement Italian cinema has not changed much in the last 30 years, missing the rise of genre movies and failing to cultivate a younger audience. It invested in comedies and found a soft spot at the local box office. But the last decade has seen a steady decline in the performance of those comedies, forcing producers to think of new solutions. Most are opting for bigger spectacle. With the help of the Film Law that, starting in 2017, brought new capital to the industry through a boost in public funding and a rise in the tax credit, more ambitious productions, budgeted from $8.4m-$15.8m (€8m-€15m), have started to appear. But significant box office has not — yet — followed.
Box-office expectations
This year, Paolo Virzi's post-­apocalyptic drama Dry (Siccità) grossed just $1.8m (€1.7m), while Gabriele Mainetti's Second World War superhero adventure Freaks Out and the Manetti brothers' adaptation of the beloved comic book Diabolik each took a disappointing $2.6m (€2.5m) in 2021. And these were the sure bets — others fared less well.
Il Comandante is a co-production between Indigo and Pierpaolo Verga's O'Groove outfit, with 40% of the budget coming from public broadcaster Rai Cinema. The rest will be raised via a combination of tax credit (available for up to 40% of the costs), regional funds and other public funds, and international pre-sales. Belgium's Beside Productions is co-producing due to various Belgian cast members and planned post-­production work.
Not all of these are assured in advance: "We don't yet have a world sales agent and don't know if we will be granted public funding but still here we are… with a submarine!" says O'Groove's Verga cheerfully.
"Our production system doesn't work with box-office revenues, now less than ever," he adds. "A producer needs to cover the budget and see a plus sign at the end. If you manage to do this thanks to pre-sales, you've generated a profit."
The Italian industry is hoping it will be the first in a new fleet of homegrown blockbusters that will help the theatrical sector re-emerge into the sunlight.