High frame rate cinema has had a bumpy start, but Paramount and director Ang Lee are pinning hopes on a breakthrough with sci-fi thriller Gemini Man. Screen takes the pulse of the innovative format.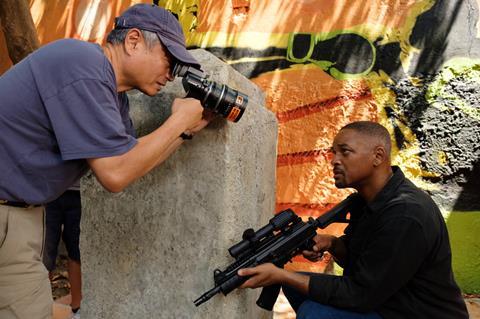 The limited number of features produced at high frame rates (HFR) to date may have failed to gain widespread distribution in the premium format, but that could change if Paramount gets its strategy right for Ang Lee's sci-fi thriller Gemini Man, released on October 4.
The ability to shoot and produce film at speeds higher than the 24 frames-per-second (fps) norm has been possible for decades, while various cinema projection issues have been eased over the years, making HFR presentation possible. Arguably what has been missing is the combination of studio backing, the right title and wide exhibitor support.
Gemini Man starring Will Smith is being given full Paramount backing in stark contrast to the way Lee's previous HFR experiment, Billy Lynn's Long Halftime Walk, was handled by Sony in 2016. The Iraq War drama could only be shown at its highest specification of 4K resolution, stereo 3D and 120fps (for each eye) in six cinemas worldwide outfitted with projection systems built originally for industrial simulation.
"Paramount has given Ang Lee another chance to push high-frame-rate filmmaking and, unlike Sony, is giving it every chance of getting into the mainstream," says David Hancock, director, cinema and home entertainment at analyst IHS Markit. "Where Billy Lynn's subject matter was arguably too US-centric, Gemini Man [about an assassin targeted by his younger clone] plus Will Smith has potentially more global appeal."
Paramount is unlikely to talk up the film's extreme tech credentials in its marketing, wary of deterring cinemagoers unable to see the most high-end version. The studio will also be conscious of the negative buzz generated by Warner Bros after screening The Hobbit: An Unexpected Journey — the first commercial HFR movie — at 48fps. It backfired when audiences expressed disappointment at the perceived video quality of the production. Director Peter Jackson was forced to soften the hyper-real look for sequels The Desolation Of Smaug and The Battle Of The Five Armies.
Paramount, however, is wooing exhibitors with the prospect of the premium experience it can offer to audiences provided the correct HFR kit is installed in theatres. The studio's regional executives are, according to Hancock, helping exhibitors in local markets to understand what is involved, and the UK Cinema Association (UKCA) confirms that Paramount has kept it abreast of its contact with individual operators.
"Members require time to understand the requirements around this release and test content in order to confirm whether screening it in HFR will present any issues," says UKCA chief executive Phil Clapp. "In contrast perhaps to some previous HFR releases, Paramount has furnished key UK and European operators with both."
Upgrade costs
Since bandwidth and storage capacity are the bottlenecks for HFR, all projection equipment would need to have an integrated media block (IMB), firmware upgrade or licence — or all three. Firmware is permanent software programmed into the hardware, and requires an on-site technician to install it.
While the oldest digital projectors lack an upgrade path and would need to be replaced entirely (new projectors cost around $35,000), the install base in North America and western Europe of these is just 10%-15%, estimates Futuresource Consulting. The vast majority of models in the market are likely to already support an HFR-capable IMB and may only need a firmware upgrade and licence purchase.
The IMB hardware, which prepares and processes the additional data for smooth playback, costs $10,000-$15,000 (per Futuresource), with discounts typical for bulk purchases by multiplex chains.
A firmware upgrade might be expected to run between $800-$1,500 (per IHS Markit). A licence key to unlock the HFR playback function costs around $500 (per Sony) but many exhibitors will have already purchased such keys for The Hobbit trilogy and they remain valid.
"The vast majority of exhibitors already have projection technologies that can display HFR at 60 and 120fps at 2K resolution, so the infrastructure already exists for 2K HFR," says Brian Claypool, vice president, product management, for projector manufacturer Christie.
However, there are two further impediments. The digital cinema initiatives (DCI) specifications to which the digital cinema package (DCP) is written only allows up to 3D 4K 48fps (unchanged since The Hobbit: An Unexpected Journey in 2012). DCI is a joint venture of major motion picture studios, formed to establish a standard architecture for digital cinema systems.
At present, 120fps is not officially specified by DCI, although it is under review as a standardised format. This is not insurmountable since, according to Futuresource, HFR content produced beyond 48fps would be approved by DCI under strict agreement between the film studio and projector manufacturer.
The second challenge is that an entirely new projection system is required to present Gemini Man at its top-range format of 4K resolution in 3D at 120 frame rates per eye. In fact, it would require a dual projection system "as there are no native 4K 240fps-capable cinema projectors in existence today," confirms Claypool.
Aware of this, Paramount will distribute Gemini Man in versions ranging from 2D 24fps to 3D 2K 60fps, catering for as wide a distribution as possible.
It will also master a version in 3D 4K 120fps because the advanced technology needed to show it is being sold by Christie. The vendor has allied with China's Huaxia Film Distribution to develop a new premium large-format (PLF) exhibition system that also has the backing of Lee.
Branded Cinity Cinema, the PLF format debuted at CinemaCon in April and is based on dual Christie projectors capable of 4K 3D 120fps and marketed with other attributes including immersive sound. The goal is for 100 screens to be ready by the time of Gemini Man's release in mainland China, Taiwan, Hong Kong and Macau.
Getting ahead of demand
Huaxia confirmed to Screen International that Cinity will be installed in cinemas located in more than 15 cities in China including Beijing, Shanghai, Guangzhou, Shenzhen and Hangzhou by exhibitors including Jinyi, Bona and Red Star Pacific, "with more installations to follow".
The steep cost of such a system will keep installs low — and HFR itself is unlikely to go mainstream unless exhibitors can see further HFR content coming down the pipe. "A critical investment decision facing exhibitors will be whether Paramount's movie is a one-off for a single director or if there's a new revenue stream for HFR movies in Hollywood," says Hancock.
No other HFR studio release is currently scheduled although James Cameron is shooting the Avatar sequels for Disney in high frame rates and Lee is developing a Peter Morgan-scripted biopic of Muhammad Ali in similar style.
Hoping to boost HFR content from production to display, Huaxia Film is forming Cinity Film Lab with Lee as consultant. The aim of the lab, explains Claypool, "is to be both an incubator for the technologies that are necessary to support 4K 120fps cinematography, as well as helping filmmakers on how to shoot content using this format as a new storytelling tool".
There is also the question of marketing the tech, with high frame rates still damaged in the audience's mind since the first Hobbit film. "Promotion needs to be done in a way to persuade cinemagoers that there are specific benefits to the viewing experience that would warrant a price premium at the box office," reckons Futuresource analyst Darren Taylor.
One avenue would be using cinemas for event screenings such as music and theatre performances or live sporting events — content that is routinely screened at the equivalent of 30 or 60fps on TV. This could give cinemagoers a taste for the format on the big screen.
Those who have seen HFR at the 120fps range testify to its extraordinary sharpness. Gemini Man director of photography Dione Beebe describes it as like "looking through a massive window". Others, including Hancock, report a physiological reaction to HFR footage.
This is ironic given Lee's over­riding purpose behind HFR is as a means to eradicate motion blur and other visual artefacts of his movies presented in stereo 3D. His experience shooting Life Of Pi convinced him to find a technical solution to this issue.
The combination of higher-speed playback and the superior brightness of the projection systems needed for it render action sequences in particular blur- and flicker-free. However, Lee's team is also experimenting with using different speeds for different scenes within Gemini Man — in effect using variable frame rates as a storytelling device. A fast action scene might be played at 120fps while a close-up or dialogue-heavy sequence might be selected at 24fps.
The jury is out on whether there is some intrinsic connection between our eyes and brain that makes enjoying a narrative film at 24fps so much more natural than one at 120fps, or whether it is just a question of shaking our cultural habit to become attuned to the experience.
"It's a classic chicken and egg situation," says Hancock. "This film may not be the one, but someone somewhere has got to advance cinema forward, otherwise nothing changes."