Directed by Valery Sigarev. Russia, 2009. 86 min.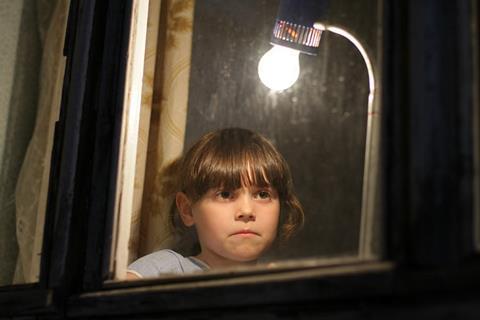 Respected Russian playwright Vasily Sigarev has chosen to enter the film world with an adaptation of one of his early plays, which he has successfully turned into a tough, uncompromising and utterly depressing cinematic experience. While hardly qualifying as film 'entertainment ', Wolfy is still bound to become a festival favourite, however, drawing rave reviews and possibly a devoted arthouse following.
Featuring a stunning performance by Yana Troyanova in a harrowing, unyielding portrait of a wild young mother who has no room in her life for anything except the immediate satisfaction of her animal needs, the picture has already collected the best actress, screenplay and film awards in Sochi, with no doubt more kudos to follow as it rolls out internationally through the festival circuit (its next stop after Sochi was Karlovy Vary).
Observed through the eyes of a little girl (all characters remain nameless throughout the film) in today's depressingly downbeat Russia, Wolfy depicts the relationship between the narrator child/urchin (Pluchek) and her mother (Troyanova). The mother has never taken any responsibility for her daughter, first handing her over to a grandmother and later to an invalid aunt. They only see each other every once in a while, a painful experience for the desperately-longing girl.
Troyanova gives her all as the mother, fiercely squeezing every last drop out of her existence, whether she is beaten and brutalised by others or maims and vandalises everything in her own way. This is a shockingly abject image of despondent misery, reducing human existence to its lowest common denominator. Though choice of shots and pace still shows some debutant hesitancies, the overall impact of Wolfy remains intact and hard to ignore.
Production company
Koktebel Film Company
Producers
Roman Borisevich
Ruben Dishdishian
International Sales
Central Partnership
+ 7 495 777 4961
Screenplay
Valery Sigarev, based on his own play
Cinematography
Alexei Arsentiev
Production design
Lyudmila Dyupina
Editor
Dasha Danilova
Maincast:
YanaTroyanova
Polina Pluchek