LBJ star talks politics, playing chess with Václav Havel and the possibility of donning Lycra.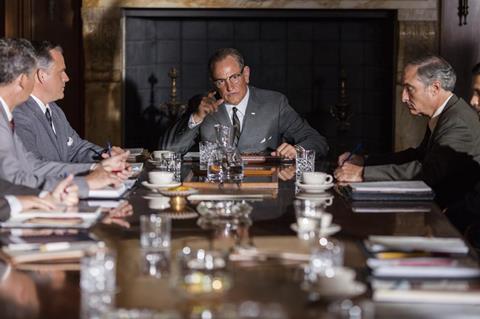 Woody Harrelson arrives at Zurich Film Festival (Sept 22 - Oct 2) this week following strong notices for his portrayal of former US president Lyndon Baines Johnson in Rob Reiner's biopic LBJ, which debuted at Toronto International Film Festival.
The two-time Oscar nominee was in typically refreshing form when Screen caught up with him to talk about the film's resonance with current political events in the US, interacting with Bryan Cranston and the actor's plans to direct a movie in London.
Screen: Congratulations on this performance, Woody. What drew you to the part?
The main thing was that I wanted to work with Rob. I think he's one of our great filmmakers. It was Joey Hartstone's script, too.
I wasn't really a big fan of LBJ because of Vietnam, like a lot of people. But the more I looked into it I saw many sides to him. If it wasn't for Vietnam he'd probably be considered one of the great presidents.
We're certainly very different. I'm a hippy and an anarchist. But I kind of got into his head-space. He was a go-getter and he worked his ass off.
I know he was anguished about Vietnam after the fact. I've listened to conversations he had with [politician] Robert McNamara about that. I'm not sure that is enough but he was anguished about it.
The large amount of facial prosthetics must have been a challenge?
I wanted to get makeup artist Ve Neill. She worked on The Hunger Games. I know she'd get the best prosthetics guy and she did in Arjen Tuiten who is a young guy but a perfectionist. I've seen it too many times on big budget movies when terrible prosthetics take you out of the moment.
Did you talk to Bryan Cranston seeing as he had recently portrayed LBJ on stage and for HBO?
We shot at the same time. It was daunting. On the other hand I called him up and asked him for advice. He was so gracious. He would take an hour on a Sunday and give me so much great information and insight. He said: 'It's a big tent, let's fill it'.
This movie arrives at a key moment in US politics. Having just played a former president, what's your take on the current race for the White House?
We're in such an ecological crisis but we're in a perpetual state of war. Global warming should be our biggest consideration. What we don't need is someone who will build walls and talk about division. We need unity in this country and round the world. Someone who is a complete narcissist, that is not the leader we need right now.
Are there any people – real or imaginary - you'd particularly like to play?
I did get a script to playVáclav Havel. He was extraordinary. I was lucky enough to meet him a couple of times, actually. I played chess with him once. I'm not doing that script but he's a fascinating guy. I'd like to play someone of that calibre, someone who really stands for something.
Would you do a superhero movie?
I was approached about that once. It wasn't quite right. I'm not against it, though. The other day I put on Deadpool and I was really impressed.
So you would don the lycra suit if you go the call?
I'm open to it.
You're due to tackle George W Bush in Rob Reiner's Shock And Awe next followed by George Clooney's Suburbicon?
We're playing journalists [in Shock And Awe] who wrote important articles about the absurdity of associating Saddam with Bin Laden or trying to connect him to 9/11. They were writing important articles and they couldn't get them published. I won't be able to do George's movie because the timing clashes with that one. Then I'll shoot a movie based in London called Lost in London, which I wrote and will direct.