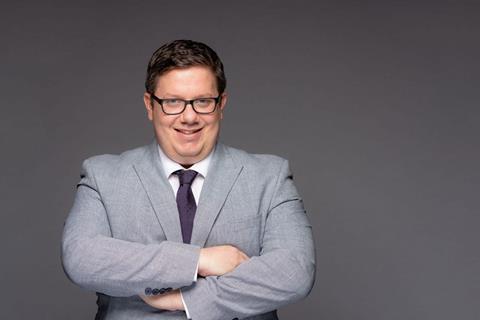 Riyadh-based exhibitor Muvi Cinemas is Saudi Arabia's only homegrown cinema chain in a territory that has witnessed the arrival of a number of heavy-hitting international exhibitors following the lifting of the cinema ban in 2017.
Launched in 2019, Muvi opened its first cinema in the Mall of Arabia in Jeddah and then a further nine locations over the course of 2020.
The company has also since moved into distribution and started investing in local content creators. At the beginning of 2021, it launched the distribution label Front Row Arabia with Dubai-based, pan-Arab distributor Front Row Filmed Entertainment.
It also took an undisclosed stake in burgeoning content company Telfaz11 earlier this year as part of a strategic partnership and led a consortium to raise a multi-million dollar financing line for the company, which was announced this week.
The company's deputy CEO Adon Quinn talks to Screen about what it takes to set up a cinema chain from scratch in a country that has not had theatres for more than 35 years.
How many cinemas does Muvi have in Saudi Arabia now?
We started the year with 10 locations and 103 screens. By the end of this year, we'll have 21 locations with 184 screens. The idea is to double in size every year. By 2026, the target is to have 700 screens across 76 locations. We'll reassess the market at that time, to see what the total screen supply is.
Can you describe the different theatres?
It's a homegrown brand that we have developed from the ground up. Around the time it was announced that cinemas would be coming back to Saudi, our founder Sultan AlHokair had a look at the rest of the world and saw the opportunity for Muvi to pick up where the rest of the world had left off.
We've brought in eight different experiences which include Xperience, ScreenX, Dolby Cinema and Samsung Onyx theatres as well as VIP offering luxury Muvi suites, a junior brand, with a playground and slides, and we've just launched our own movie boutique for which every auditorium is themed. The first one in Riyadh was around London, there's a paparazzi one, a Beverly Hills one.
Is the cinemagoing experience in Saudi Arabia as important as the films that are being shown?
Even though cinemas have come back to Saudi Arabia after a long hiatus, the Saudi public has been going to the best cinemas all around the world during that time. They do a lot of travelling and they've seen the best. We couldn't simply just open screens and then expect the audience to come back.
What sorts of films are you putting into the cinema?
During the pandemic, we had to play around and find a whole lot of content because of the delays and everything else. We trialled a lot of stuff, even films from Russia, Korea and Germany.
Are there any types of films that are working particularly well in Saudi Arabia?
We've had a lot of success with Japanese anime. That's something that has surprised us, the audience for that type of content. Hollywood titles perform in line with expectations. But the other biggest surprise has been the strength of Egyptian content. We always knew there was a focus on local-language content but in 2021, five of the top 20 films have been Egyptian. The number one film of all time since cinemas reopened is the Egyptian comedy A Stand Worthy Man (Waafet Reggala), which came out earlier this year.
But we're still learning a lot about the audience. There'll be titles that surprise your expectations and then titles that perform strongly everywhere else and then don't quite reach expectations here in Saudi. I wouldn't say there's a formula yet where we can say this genre works or this genre doesn't. It's title by title. Cruella was a big surprise in how strong its performances were, and it's the number two title so far for 2021.
Have any Saudi films achieved success at the box office yet?
The Book Of Sun (Shams Alma'arif ) from the Godus Brothers [Faris and Sohayb Godus]. That did 120,000 admissions. It opened when some restrictions were still in place. Cinemas reopened from the first lockdown last year at the end of June, and the film was released at the end of July and was number one for the first four weeks with us.
What drives the box office here?
It's very much word of mouth. You'll find films will be open for two or three weeks at the box office and thanks to positive word of mouth, week four is outperforming week three. It's just that gradual build-up.
What do you mean by word of mouth?
Social media. In terms of the number of users per capita, it's one of the highest in the world, especially for Twitter, Instagram, Snapchat.
Who are the spectators?
Young families and the youth are our main drivers. Saudi is such a young population. You've got 79% of the population under 44. So it's very different to other markets.
How much is the average ticket price?
It's around $16.
That's quite high.
It's relative to the market. Cinema remains a low-cost form of entertainment in comparison with other forms of entertainment.
Where are your cinemas situated at the moment, mainly in the big cities?
We'll be in 10 cities by the end of the year. Sixty percent of our locations are in Riyadh, Jeddah and Dammam. We're starting to push into smaller cities like Buraydah and Jubail. When we opened in Buraydah, which is about three hours drive from Jeddah, in the first week we had 95% occupancy.
Who is working in your cinemas, especially in the provinces?
About 85% of the staff are Saudi nationals. We're finding the local talent, especially when we go into the secondary cities, we're finding a lot more excitement there from the population to join and be part of the cinema industry. So it's even easier to find those talents in remote or secondary cities than it is in Riyadh, Jeddah and Dammam.
How are you training the staff?
We're starting from scratch in a country where people have been to the cinema but never had an opportunity to work in one. We've got a great in-house training department and team. We've got what we call our Movie Academy. It's a six-day programme, which all new joiners will go through. It teaches them about the industry, the drivers, as well as the technicalities. From there, they go and train on-site for two weeks before the opening of a location.
As a company, we've brought industry experts from outside and mixed it with the local talent, so found strong local talent, who we build up because for me going out and trying to train the team in English doesn't always work. With everything we've done, we've done the blend of industry experts with the local talent to get across to the team in the best way. I think that's enabled us to move much quicker than others.
Who is going for these jobs?
A lot of people are still studying or have just finished. It's often a first job but because of the growth in the industry, there are great career progression opportunities available. We've had people from our first site in Jeddah, who started in the front-of-house customer service team who are now managing new locations.
Will Muvi expand beyond Saudi Arabia?
For the time being, the focus is purely on Saudi, because it is the fastest-growing market in the world. And there's no other opportunity like this.