The head writer of Italian crime series Gomorrah and ZeroZeroZero on who gives him TV and film recommendations, and the kids shows he just doesn't get.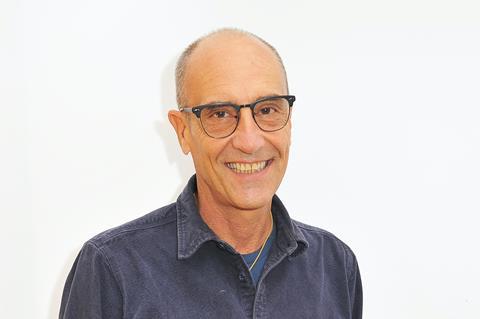 The people I trust most with TV recommendations are fellow writers from ZeroZeroZero — Max Hurwitz, who lives in Los Angeles, and Mauricio Katz, who is Mexican, as well as Pedro Peirano (Pablo Larrain's No). It's easy for me to stay up to date with what happens in Italy, and they help me to stay in touch with the rest of the world. Moreover they are writers, which is exactly the point of view I like and need.
In terms of what I've been watching my media diet is rich, at least two or three hours a day. It's a mix of what I like and what my kids do (I feel guilty when I force them to watch something not really suitable for their age). Netflix's Ragnarok series, about a modern-day Thor, was good. On the other hand I never managed to get into Chilling Adventures Of Sabrina, though I had to sit through several hours, and Lovecraft Country. Adult series I've enjoyed are Normal People and The Crown. Right now I'm watching an amazing Italian documentary series, SanPa: Sins Of The Savior, on Netflix [about a controversial drug rehab centre in the 1980s].
When it comes to podcasts I like the Italian history podcast from Alessandro Barbero and I listen to random Ted Talks. I really like those. Choosing among the most popular I came across Ted Robinson's talk from 2006 titled, 'Do schools kill creativity?'. It says interesting things about being creative and how people tend to push you towards the more conventional and known paths. I feel this is true also inside the industry.
I like to read different books at the same time. For example Yuval Noah Harari's Sapiens: A Brief History Of Humankind and The Ultimate Experience: Battlefield Revelations And The Making Of Modern War Culture, 1450–2000, or Frank Westerman's Een Woord Een Woord, where he studies situations in which professionals negotiate with terrorists. His books are written in a journalistic style and he's a great reference for screenwriting. Mauricio Katz also suggested a great essay on writing, How Fiction Works by James Wood. It's perfect. I'm also reading Tara Westover's Educated: A Memoir and I enjoyed Scheletri from Italian comic-book author Zerocalcare.
I read reviews from the national newspapers and follow Cannes and Venice. For industry news I rely on IMDb's home page. I was impressed by Marriage Story and Pixar's Soul, but the film that struck me the most was the Safdie brothers' Uncut Gems.
Social media is a good way to get information and suggestions. I'm not really on Facebook and mostly use Twitter, following politicians, friends, newspapers, fellow writers and journalists. One curator I follow is Venice's Mauro Gervasini.