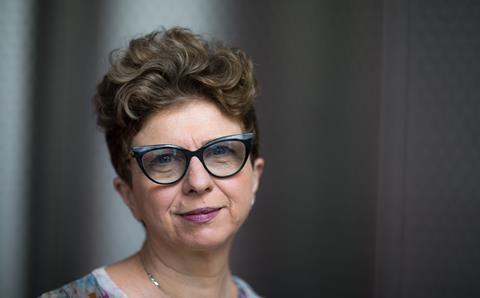 The London-based editor-at-large at the BFI FIlm Fund reveals who her trusted tastemakers are and what she is watching now.
I am really lucky to have grown up professionally with an incredible array of friends and colleagues in the UK who are critics and curators so there are many people in my life whose judgement on cultural outings I deeply respect. At the BFI I am lucky to work in what feels like a fabulous carnival of cinema. To be diplomatic I am singling out an international friend - in this case one who I have known for almost 25 years. Noah Cowan has been variously a distributor and critic, co-director of the Toronto film festival, executive director of San Francisco Film Society and is now an independent consultant.
I have a very vivid memory of meeting Noah at the Berlin Film Festival in 1997, and being ushered into an immediate discussion on what we had seen - the conversation jumping from Tsia Ming-laing's startling subversive gay drama The River, which that day had just swept me away (and I still remember the power of THE bathhouse scene), through to Michael Haneke, then just gaining momentum as a director to our mutual love of J horror (Noah had started out programming the cult taste making Midnight Madness strand at TIFF). I knew at that point we were cinema soulmates as we bonded over an expansive and catholic love for provocative, inquisitive film - those conversations have remained our currency.
What makes Noah a particular trusted tastemaker for me is his incredible compendium of cultural interests alongside film - we can be talking about the great artist Alice Neel's retrospective, the TV show Lovecraft Country, or Ruth Rendell's Wexford detective novels with equal interrogation and enthusiasm. Ideally over a very long meal with short bursts of witty banter and side orders of gossip.
Noah's most recent recommendation to me is Dash Shaw's Crytopzoo which I missed at Sundance and can't wait to catch up with.
At the Film Fund we have a 'Film Fun' WhatsApp group for sharing recommendations on all cultural excursions. It's all about [Channel 4 TV series] We Are Lady Parts at the moment. We also have a George Saunders appreciation society subgroup. The beginning of the year was very much about his book of essays on story, 'A Swim in the Pond in the Rain'…
There are lots of critics I really like and trust in film - but I will single out J Hoberman and Amy Taubin because their Village Voice reviews set the benchmark for great critical writing when I was starting out in film and reading everyone, and they remain important reflective voices for me. I also love filmmakers who expand and enthuse on other's cinema - they are particularly good at doing this in the US - witness Barry Jenkins who cares so passionately about cinema. His recent TIFF 'In conversation' with Claire Dennis was so insightful.
I'm more likely to be on Twitter in the early morning to find out the temperature of my next swim at my local outdoor lido, but I do follow lots of cinemas and cultural organisations for contemporary film. But I also like looking backwards so the archival recommendations from BFI colleague Robin Baker's or Ashley Clarke who is now doing exciting work at Criterion in the US, are part of my daily brain feed.
I tend to listen to podcasts for wider interests. I loved Melissa Harrison's The Stubborn Light of Things - meditations on nature through the seasons in a series of walks from her Suffolk home, which were particularly lovely in locked-down London earlier this year. I also love the David Chang show for providing a vast and important perspective on the world through food.
I am a big fan of the New Yorker TV critics who are given full and lengthy scope to write about the small screen - most recently Emily Nussbaum and Doreen St Felix. A couple of months ago I was desperate for a box-set fix so I went through some past reviews to see if I had missed anything. Back in 2019 Nussbaum recommended the CBS show Evil which has only recently landed in the UK [on Alibi]. It was totally what I wanted - from the king and queen of showrunners Michelle and Robert King - it's a smart and slick procedural that investigates what it says on the tin, managing to riff on The X Files, The Exorcist and a whole host of other obviously fervently loved references. I highly recommend Evil. It's very good.