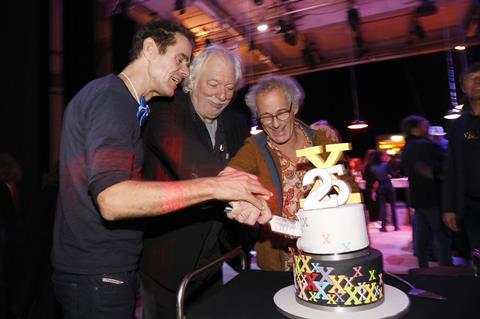 X Filme Creative Pool is probably the German production company best known to the international industry. Founded by directors Tom Tykwer, Wolfgang Becker and Dani Levy (the Swiss-born odd man out) with producer Stefan Arndt in 1994, X Filme has made some of the most memorable German-language films of the past 25 years, from Tykwer's Run Lola Run and Becker's Good Bye Lenin! to Levy's Go For Zucker! and Sebastian Schipper's 1999 directing debut Gigantic.
It has also been involved with high-profile international English-language projects including Tyk­wer's Heaven and Cloud Atlas, as well as pan-European collaborations with leading directors, such as Michael Haneke's The White Ribbon, Francois Ozon's Frantz and Andreas Prochaska's The Dark Valley.
The company has been busy for the last three years with Babylon Berlin, its move into high-end TV with Sky Deutschland. The series has sold to 100 territories worldwide and is the inaugural winner of the European Film Academy's European achievement in fiction series award in Berlin on December 7. The third season launches in January 2020.
The four founders, along with Uwe Schott who joined the company in 2009 as co-CEO, look back on the past 25 years and reflect on the challenges facing the film industry, in Germany and beyond.
Why did you decide to set up X Filme?
Becker: We set out to make films that have a distinct authorship with the goal of finding large audiences. We didn't want to be an ivory tower for narcissistic auteurs.
Arndt: We didn't want to be the classical model of a production apparatus where the planning is done on high, the producer gets the money together and then behaves as if he has slaves to execute the work. On the contrary. The ideas for films would come in and my task was always to give the creatives the freedom to develop the projects, to involve them in the company and always be open with the figures.
How has the company evolved over 25 years?
Tykwer: We have gone down many lovely and peculiar detours, something I see as being the secret recipe for keeping such a company really alive. Going straight ahead would be the worst thing to do.
Becker: A lot has happened in the film industry over the past 25 years that has left its mark on us. In the beginning, there was a real change from working in isolation as a director and then being part of a collective. You could see that in the very first films. But then things changed to a point where the producers side became stronger and the number of directors to choose from was much bigger. Tom excepted, the situation for Dani and me is now not as ideal as it was when the focus was more on us.
Do you decide together which projects to produce?
Levy: We entrust the management or the producers with decisions about the projects that are produced. As far as our own projects are concerned, it is still the case we can do every project at X if we believe in it and if it can be realised. The collaboration between us is still very creative and constructive.
Tykwer: We are in a constant exchange. But when, for example, I disappear to a shoot, then I am absent for the company and other projects. It is an organic process.
What have been the major changes in the German film industry these 25 years?
Becker: They appear gradually. The acceptance by German audiences for German auteur films has gone through enormous change. Take a film that would once be seen by 500,000 to 1 million cinemagoers — you can be happy now if they make 100,000 to 200,000 admissions.
Also, when we founded X Filme, there were three film schools; now there are many more training opportunities in all kinds of areas. There are more creatives than the market can actually cope with and this leads to a really competitive situation, which is something we also feel in our own company. It's not like one is pampered or given preferential treatment [as one of the founders] because we are now competing with young people who also want to make films.
Schott: Bringing fresh blood into the company is something we have been doing over the past couple of years. We succeeded in building up close relationships with young producers who have another view of the world. They can continue operating independently in their own companies, but we are able to support them with our experience. The first two such companies — also part of the X Filme Holding — are Dreifilm by Alexander Fritzemeyer and Martin Kosok, and Handwritten Pictures, which was set up in Ludwigsburg by Eric Bouley and Christopher Sassenrath.
Why did you decide to move into original TV production with Babylon Berlin?
Arndt: Even when we were discussing setting up the company 25 years ago, there was a concrete plan from the outset to work on projects for television. But our competitors kept on telling the commissioning editors that "the X Filmers are too arrogant to do TV"!
The unique feature of the company over the years is the fact that all the films we have made — including the work for television — are auteur films. At the same time, we have sought to be ambitious enough to want to explore new avenues and formats like the joint venture with ARD Degeto and Sky for Babylon Berlin.
Tell us about Oliver Kienle's Isi & Ossi, which shot this summer and is X Filme's first feature with Netflix.
Schott: This was a production where we had to consider carefully whether or not it would function in the cinema and whether it could be financed for cinema. We felt it would probably be better on a platform and discussed this with the author and the director.
I haven't seen any differences in the way we work with public broadcasters or the streaming services. In both cases, our job is to bring the filmmaker's vision to the screen. The only real difference is the decision-making process: it is much quicker with the streamers because it's a one-stop shop.
What projects do each of you have planned?
Becker: I am developing a couple of ideas but it's not easy. Unlike Tom and Dani, I don't write my own screenplays and am relying on someone else as a writer. And I don't have authors offering me their screenplays to direct even though I would be happy to direct more films.
Levy: I am in the last stages of postproduction for feature film The Kangaroo Chronicles, which will open in cinemas on March 5, 2020. After that, I have another feature and two series in development.
Tykwer: There will definitely be more Babylon Berlin. The series is a centrepiece of our production cosmos.
Any new feature film projects?
Tykwer: It's all still secret. But, yes.