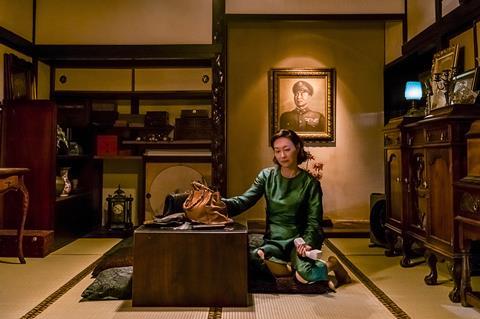 The world premiere of The Bold, The Corrupt And The Beautiful brings Gf*Bf director Yang Ya-che back to Busan, in competition for the inaugural Kim Ji Seok Award. His latest film, which took part in 2012 Asian Project Market, marks his third film in a row playing at the festival.
Right after Busan, it will premiere in Taiwan as the opening film of the Golden Horse Film Festival on Nov 3. It is also one of the most nominated films, with seven nods, at the upcoming Golden Horse Awards on Nov 25. In addition to the best film category, Yang himself is nominated for best director and best original screenplay whereas veteran Hong Kong actress Kara Wai and 14-year-old Vicky Chen are up for best actress and best supporting actress respectively.
His new film focuses on three generations of women, played by Wai, Wu Ke-xi (The Road To Mandalay) and Chen. It is a crime mystery about Taiwan's privileged upper class, a departure from his familiar subject matters about young adults. His previous films, Orz Boys and Gf*Bf are primarily coming-of-age dramas.
In his new film, led by the grandmother who is the widow of a general, the family runs an antiques business, but that's just a front for money laundering. When a local councillor and his entire family are murdered cold-bloodedly, the three women are forced to face their inner demons.
"The characters are all fictional, but the story idea is drawn from real-life incidents. Stories of high-ranking government officials conspire with wealthy businessmen are not uncommon in Taiwan. The white gloves are always women, usually the wives of the people involved. Even when their acts are exposed, the rich and the powerful are always beyond the law," says Yang who is also the scriptwriter.
Yang began his career in TV and directed several TV series, TV programmes and documentaries for about 10 years. He has also written for renowned directors Yee Chih-yen and Wei Te-sheng.
To make the narrative of his new film more compelling, he has employed a traditional and yet unconventional approach to frame the story. "The film opens with a prologue by a blind story-teller who will appear again a couple more times throughout the film as a commentator. The story-teller is played by the 83-year-old Yang Xiuqing who is considered a national treasure in Taiwan for her traditional storytelling through chants and songs," says Yang.
Yang's crew includes some of his regular collaborators such as music composer Blaine Ko and editor Chen Chun-hong. He's working for the first time with DoP Chen Ko-chin whose previous credits include HBO Asia's popular TV series Teenage Psychic, box office hit Tag Along and and Shuttle Life which earns him a nomination for best cinematography also at the upcoming Golden Horse Awards.
Set mainly in the southern city of Kaohsiung with the support of the Kaohsiung Film Fund, the new film is largely financed by CMC Entertainment with a production subsidy from the Ministry of Culture. It is produced by Atom Cinema's Liu Weijian, the producer of Gf*Bf which won Gwei Lun-mei a best actress award at the Golden Horse Awards in 2012.
Taiwan-based MandarinVision handles the international sales.