At Screen International's EFM panel at the Gropius Mirror restaurant, four international producers shared their tips for success and survival in the modern film landscape.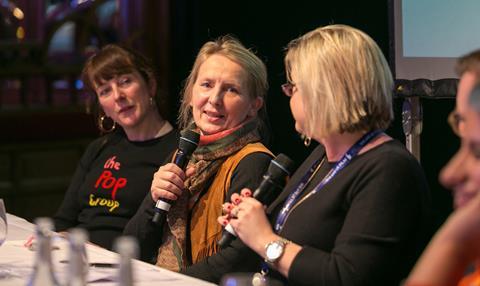 In an open and frank discussion, Sol Bondy of Germany's One Two Films, Guneet Monga of India's Sikhya Entertainment, Agnes Johansen from Iceland's RVK Studios (Baltasar Kormakur's company) and Natasha Dack from the UK's Tigerlily Productions shared their experiences on protecting producer's fees, setting up international co-productions and managing cash flows better in order to navigate the lean times.
The panel, moderated by Screen contributing editor Wendy Mitchell, all agreed that surviving as an independent producer poses continual challenges but passion keeps them going.
Bondy, who co-produced Tom Shoval's Youth (Berlinale Panorama 2013) and Pan Nalin's Angry Indian Goddesses via One Two Films, was the only panellist who works exclusively in film. He credits the company's angel investor and a focus on international co-productions as the reason they can continue on that track. "We in Germany have a lot to offer in terms of co-productions."
Johansen has been collaborating with Kormakur since 2001, initially on Blue Eyes Productions and, since 2012, with RVK Studios. The company has diversified to spread its risk, expanding into TV and investing in a visual effects offshoot, RVX, which worked on Kormakur's Everest.
The panellists discussed how to navigate the lean times, for instance when a company is developing projects but not in production. Dack's Tigerlily Productions with Natasha Dack-Ojumu is celebrating its 15th anniversary but Dack noted that the company needed to scale back after the financial crash and works as a leaner operation nowadays. "It was painful at the time," she admitted.
Bondy revealed the monthly overhead One Two "needs to survive", which is 7,000-8,000 Euros per month, which comes from their angel investor, a £60,000 funding grant over three years and producer fees.
On the subject of producer fees, all four panellists admitted they are frequently the first thing that gets sacrificed as budgets get squeezed, and difficult to protect at the best of times.
Monga, who has produced several films by first-time directors, admitted, "I've done a lot of work where we've not got paid and I've had to put back the producer fees, whatever little there was, and that did send me into a crazy existential crisis."
"We've had to defer fees on feature films," added Dack. "That wouldn't happen in TV, which is properly funded. If we've deferred fees on feature films, we agree a figure that we won't go below. And we'll only defer if other people are deferring as well."
Dack and business partner Dack-Ojumu changed the name of their company from Tigerlily Films to Tigerlily Productions to help grow their TV business (they have produced several small-screen documentaries).
"In TV, you get a percentage of the budget which is your production fee, which is a standard rate between 12-15% - some companies charge up to 20%," she added. "It's a safer bet making TV than feature films with all the vagaries of financing."
Johansen noted that all feature films produced in Iceland are international co-productions, which helped insulate the local film industry from the country's economic crisis.
Monga discussed the vast challenges of producing independent films in India, where there is virtually no public funding and films made outside of the country's main studios rely on private equity. With The Lunchbox, Monga was able to source money from a new local film fund. The fund then allowed her to seek financing in France and Germany ("in India, we're not used to sharing IP around the world") and thus develop her understanding of structuring co-productions, leaving her less reliant on Indian private equity.
Asked how independent producers and production companies can help protect themselves from the impact of a film that leaves them exposed or possibly even facing bankruptcy, Dack noted that nearly all UK films above a certain budget are made through legal limited companies known as a Special Purpose Vehicle, or SPVs. "If a film did go down, it's at arm's length from you as a company," she said.
In India, the situation is the opposite, noted Monga. On one project, a private investor pulled out on the eve of production, forcing the producer to bridge the budgetary gap with loans and leaving her company "near bankruptcy".
"We don't have SPVs and the film industry is taxed in India like the tobacco industry," she said. "We pay tax at every level and it's not reinvested into the industry by the government. We don't get any grants, any festival representation or travel money, we don't get money for anything. For every ticket that's sold in India, 33% of the money goes to the government as an entertainment tax."
The lack of government support makes it extremely tough to be an independent, non-Bollywood producer in the country. "Being outside of Bollywood and doing content that will work in other parts of the world and co-productions - we're the first of our kind to do this [in India], it's uncharted territory. The problems are brand new and solutions are constantly coming up."
"Sometimes these risky films are also the most fun films," said Bondy, who co-produced Angry Indian Goddesses in India. The film premiered in Toronto in 2015 and has sold to 50-plus territories. "It's always encouraging to see the risky films become big successes."
None of the producers are getting rich at the moment, they admitted. "You should work out what you need in your life, financially and everything else that makes you happy," advised Dack. "As long as those elements are there, I'm happy to carry on doing it."