Slovenian film Karpotrotter wins best documentary; No One's Child gets audience award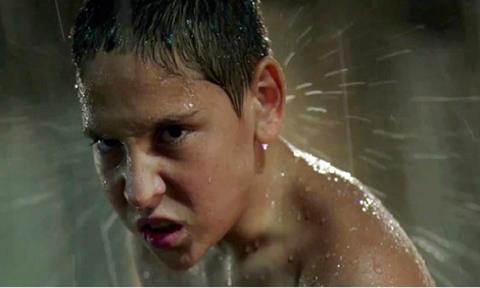 Scroll down for full list of winners
The 12th Zagreb Film Festival (Oct 19-26) ended with Georgian director Levan Koguashvili's Blind Dates winning the main award of the festival, the Golden Pram and €4,000.
The Berlinale title, which also scooped prizes at Wiesbaden and Sofia, beat ten other first or second films by their directors.
Zeresenay Berhane Mehari's Difret and Benedikt Erlingsson's Of Horses And Men received special mentions from the jury comprised of producer Čedomir Kolar, director Konstantin Bojanov, and cinematographer Cesar Charlone.
The same jury also awarded Romania's Andrei Creţulescu the Golden Pram for Best Short Film and €1,000 euro for his 18-minute Kowalski.
In the documentary competition, the jury made up of film theoretician Alice Bardan, and directors Željka Suková and Petra Seliškar, gave the Golden Pram for Best Documentary and €1,000 to Slovenian film-maker Matjaž Ivanišin's Karpotrotter, a lyrical combination of road movie and film essay dedicated to and based on archive materials of legendary Yugoslav director and cinematographer Karpo Godina.
A special mention went to Croatia's Tiha K. Gudac for the Sarajevo winner Naked Island.
In the Checkers competition, dedicated to Croatian short films, judged by Aki Isoyama, programme coordinator of the Short Shorts Film Festival, Giulia Iannello, project manager of Magma Short Film Festival, and Ivan Sikavica, director, winner of Checkers 2013, the Golden Pram and €1,300 went to Sonja Tarokić's On Shaky Ground, while Tin Žanić's Manjača received a special mention.
The festival audiences voted for the opening film No One's Child by Serbia's Vuk Ršumović, the surprise winner of three awards at the Venice Critics' Week.
INDUSTRY
Zagreb Film Festival's growing industry section included masterclasses by Cesar Chavone, Čedomir Kolar, and Jørgen Leth. The legendary documentarian arrived as part of the Danes Go South initiative, which kicked off with an out-of-competition screening of Ole Christian Madsen's Itsi Bitsi, Toronto title co-produced by Denmark, Croatia and Sweden and shot predominantly in Croatia, with Queen Margarethe II of Denmark and Prince Henrik present as a guests of honour.
"Queen Margarethe became a part of the Croatian cinema as the person who passed the Kingdom of Denmark Cinema Act," said Hrvoje Hribar, head of the Croatian Audiovisual Centre.
"Her name, stated in the very first sentence, graces the official document we studied, translated and admired in the mid-nineties at the session of the newly founded Croatian Film Directors Guild."
The Danish focus also included panel discussions "Itsi Bitsi, Room 304 and Other Reasons for Partnership" (Birgitte Stærmose's 2012 title Room 304 was the first ever Danish-Croatian co-production) and "Film Funds: Centres and Decentralisation", with Croatian and Danish producers, film-makers and film fund representatives as speakers.
Henrik Bo Nielsen, CEO of the Danish Film Institute, said: "In recent years Croatian and Danish film industries have come closer.
"Concrete film projects have materialized from the collaboration and there is now a growing network between film producers and directors from our two countries."
In addition, Søren Balle's feature The Sunfish and Hlynur Pálmason's short Seven Boats played in the festival's respective competitions, and the children's programme Bib for Kids showed seven films from the territory.
The Croatian Film Association's scriptwriting project Palunko had its 12th edition at the festival, and the Best Script award went to Josip Lukić for Minjonja Njanjonja, while Miloš Popović received a special mention for Highway.
The Award for Best Development Project in Pitching Short Session was given to Mateja Posedi for My Brother.
Another scriptwriting workshop, called My First Script and mentored by renowned writers Srdjan Koljević from Serbia and Pjer Žalica from Bosnia and Herzegovina, included six projects from Croatia, France, Lithuania, Serbia and Hungary.
In addition, the festival's industry section featured Erich Pommer Institut Workshop on Clearing Rights for Film and TV.
WINNERS OF THE 12TH ZFF
FEATURE-LENGTH FICTION FILM
Golden Pram for Best Feature Film and a cash prize in the amount of EUR 4,000

BLIND DATES | SHEMTKHVEVITI PAEMNEBI
Levan Koguashvili, Georgia, 2013, 99'
'For its simplicity, originality, reliance on excellent scriptwriting, moving performance by the actors and humanity of all the characters.'
Special Mentions – feature-length fiction film
DIFRET
Zeresenay Berhane Mehari, Ethiopia / US, 2014, 99'
'For the relevance and importance of the subject matter and the honest and heartfelt approach to the storytelling and acting. We feel that it is an important step for the new Ethiopian cinema.'
OF HORSES AND MEN | HROSS Í OSS
Benedikt Erlingsson, Iceland / Norway / Germany, 2013., 81'
'For outstanding originality, a mixture of tragedy and humor, manifested humanity and themes larger than life, achieved by focusing on a handful of characters.'
SHORT FICTION FILM
Golden Pram for Best Short Film and a cash prize in the amount of EUR 1,000
KOWALSKI
Andrei Creţulescu, Romania, 2014, 18'
'Fifteen minutes of pure pleasure of a superb dialogue and great performance and directing. And for proving that Romanian cinema is still alive and at the top of its game.'
DOCUMENTARY FILM
Golden Pram for Best Documentary Film and a cash prize in the amount of EUR 1,000
KARPOTROTTER | KARPOPOTNIK
Matjaž Ivanišin, Slovenia, 2013, 50'
'Karpotrotter is a sensitive road movie that inspires the audience to look at the world with playful eyes and find meaning and poetic resonances in the most unexpected places. '
Special Mention
NAKED ISLAND | GOLI
Tiha K. Gudac, Croatia, 2014, 75'
'Tiha K. Gudac's Naked Island provokes people to talk about their repressed memories of shameful experiences, and, in the process, explore unexpected reconciliations. '
CHECKERS
Golden Pram for Best Croatian Short Film and a cash prize in the amount 10.000 kuna
ON SHAKY GROUND | TLO POD NOGAMA
Sonja Tarokić, Croatia, 2014, 29'
'The film demonstrates the technical skills applied by this young director in a realistic and detailed story about human relationships. In a very suggestive way that deeply touches the viewer, the sophisticated cinematography shows the contrast between lights and shadows, the outside and inside, family and individuality.'
Special Mention
MANJACA | MANJAČA
Tin Žanić, Croatia, 2014, 23'
'For the strong cinematic language in this non-narrative form that enables one to become involved in the inner world of the protagonist.'
HT AUDIENCE AWARD FOR THE BEST FEATURE-LENGTH FICTION FILM
NO ONE'S CHILD | NIČIJE DIJETE
Vuk Ršumović, Srbija, Hrvatska, 95', 2014.
SCREENWRITERS WORKSHOP PALUNKO
Best script
MINJONJA NJANJONJA
Josip Lukić
Special mention
HIGHWAY |AUTOPUT
Miloš Popović
Award for Best Development Project in Pitching Shorts Program
MY BROTHER |MOJ BRAT
Mateja Posedi