As Cannes approaches, Screen casts its eye back at the winners and losers of 2014 according to our jury of critics.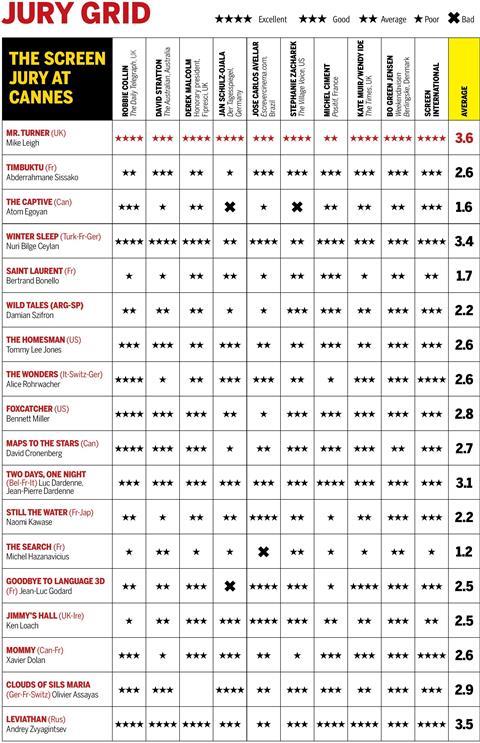 Each year, Screen International's Jury Grid collates the verdicts of an international panel of critics to provide an impressively reliable prophecy of the year's top prizes.
In 2014, the festival's opening night film Grace Of Monaco may have caused something of a furore by upsetting Cannes regulars, the royal family of Monaco, but the main Competition was very much business as usual.
Mike Leigh topped the jury grid once again with Mr Turner [pictured], a biopic of eccentric British painter J.M.W. Turner. Mr Turner, starring Timothy Spall, scored 3.6 out of 4 – the highest score ever in the history of the Jury Grid.
The film marked Leigh's fifth film in Competition at Cannes, and though Spall won the best actor award, Leigh missed out on the Palme d'Or again. Instead, the festival's top accolade went to the bookie's favourite - Nuri Bilge Ceylan's tragicomedy Winter Sleep.
The three hour-plus Turkish film, adapted from Chekhov's short story 'The Wife', also won the FIPRESCI prize and scored 3.4 on the jury grid, with six out of the ten critics giving it the full four stars.
The critics awarded second place to Andrey Zvyagintsev's Russian epic Leviathan, with 3.5 out of 4. Leviathan was Zvyagintsev's third to appear at Cannes, following The Banishment which was in the running for the Palme d'Or and Elena which competed in Un Certain Regard in 2011 and won a special jury prize. Leviathan won the award for best screenplay.
Next up was Marion Cotillard drama Two Days, One Night by Luc and Jean-Pierre Dardenne, which scored 3.1. The Dardenne brothers are set to return to the Croisette for the seventh time in 2016 with The Unknown Girl.
Xavier Dolan, who first appeared at Cannes at the tender age of 20 with 2009's I Killed My Mother, scored 2.6 for drama Mommy, while Jean-Luc Godard scored 2.5 for his 3D video essay Goodbye To Language.
Dolan returns to Cannes in 2016 with It's Only The End Of The World. As does Frenchman Olivier Assayas with Parisian ghost story Personal Shopper. Assayas came fifth on the Jury Grid in 2014 with 2.9 for Juliette Binoche-starring drama Clouds of Sils Maria.
Cannes mainstay Ken Loach, whose Irish drama Jimmy's Hall scored a respectable 2.5 in 2014, will also return to the Competition this year with I, Daniel Blake, bringing his grand total of Cannes selections up to a record-breaking 15.