Helsinki International Film Festival scores new audience record.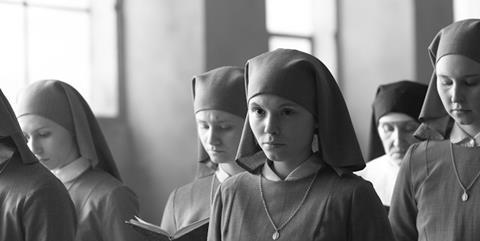 Pawel Pawlikowski's Ida has won the audience award at the 27th Helsinki International Film Festival - Love & Anarchy (Sept 18-28).
The film centres on a young novitiate nun in 1960s Poland who is on the verge of taking her vows when she discovers a dark family secret dating back to the years of the Nazi occupation.
It has proved a festival favourite since its debut at Telluride and Gdynia in 2013, picking up more than 25 awards around the world, and is Poland's submission for the Best Foreign-Language Oscar.
The latest win means Ida will receive a further four screenings at Helsinki's Orion Theatre in November.
Other films to win praise from the audience included opening film Whiplash and the closer Boyhood as well as 20 000 Days on Earth, The Zero Theorem, Of Horses and Men, The Mafia Only Kills in Summer, The Tribe, The Quiet Roar, The Look of Silence, Third Person, Winter Sleep and Love Story, among others.
Audience record
As HIFF drew to a close, executive director Sara Norberg and artistic director Pekka Lanerva revealed a new audience record of 61,500 from 140 sold-out screenings.
For the first time, more than 100 international film professionals attended the festival and the Finnish Film Affair industry event.
The Finnish Affair received 200 Finnish and 70 international participants across the three-day programme (Sept 23-25) of film screenings, presentations of new films (10) and works-in-progress (7), a workshop for developing projects, panels and networking sessions for sales agents, festival programmers, distributors, TV buyers and press.
"What Finnish cinema needs now is a global, commercial success, which will really leave its mark and direct the focus to Finland – like Sweden and Denmark have had," said HIFF artistic director Lanerva.
"At least one documentary was of Oscar quality, Joonas Berghäll's Mother's Wish, and there were some good genre films in the line-up.
"The Finnish film industry is generally in a healthy state – good directors, competent producers delivering enough good films to keep the market share at 23% last year; art house successes which travel and collect foreign awards, brilliant documentaries (10 in theatrical release last year).
"It could simply use an international branding of its qualities."
Jaana Puskala, Finnish Film Foundation's head of international feature film promotion, said: "This year we had one film in Venice - J-P Valkeapää's They Have Escaped – and it went on to Toronto with Dome Karukoski's The Grump and Jalmari Helander's Big Game.
"We have never had that many entries there before and the local success seems to go on, now with Xavier Picard's Moomins on the Riviera coming up."
Harri Ahokas, the foundation's head of domestic distribution, added: "What is also important is that a new generation of Finnish directors are supplying features that local audiences want to see.
"The Grump is way over 150,000 admissions and going steady, and there are still 10 Finnish premieres waiting before 2015, including Moomins on the Riviera, which could easily bring the local market share close to 30%."