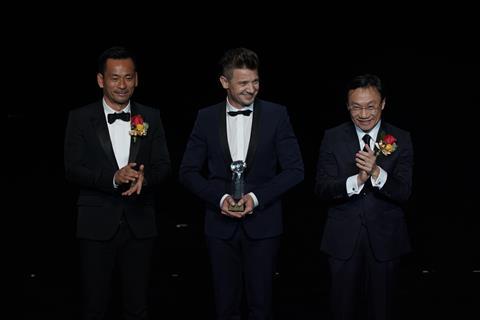 At an International Film Festival & Awards Macao (IFFAM) press conference, US actor Jeremy Renner expressed his delight that Wind River director Taylor Sheridan had been able to get the film back from The Weinstein Company (TWC) and remove Harvey Weinstein's name from the credits.
Sheridan's drama about sexual violence against young Native American women on a tribal reservation, in which Renner stars, was already out of US cinemas when the allegations of sexual harassment against Weinstein first began to surface.
"The film was made to bring awareness about how indigenous women have been treated badly, being pushed to the darkest corners of the planet, so it was ironic to hear what women were saying about Weinstein," said Renner, who was one of the first people Sheridan called to say he wanted to prise Wind River away from TWC and gave his full backing to the filmmaker.
A deal was done to excise all mention of Weinstein on the film's home entertainment release in the US through Lionsgate, a streaming release on Netflix and awards-season screeners.
The actor said he is relieved with the solution found by Sheridan and Acacia Entertainment, the principal financier of the film backed by the Tunica-Biloxi tribe. Any future monies owed to TWC will now instead go to a charity devoted to enhancing the safety of Native American women.
"They were able to acquire the film back, having a bigger voice now for what this means. The tribes financed it because it is a very realistic representation of the life in the reservation in today's modern society," says Renner, who gives one of his strongest performances as a wildlife tracker working in the Wind River reservation who helps to investigate the murder of a young Native American woman.
The 46-year-old actor also spoke about the #MeToo movement which has brought widespread attention to the issues of sexual assault and harassment against women.
"It is important to speak about equality and, more importantly, to have that acted on. We almost had a female president," said Renner, referring to Hillary Clinton. "I have always supported women in powerful positions. I chose to do Arrival not only because Denis Villeneuve is one of the best filmmakers but because it was a great role for Amy Adams, who is a friend of mine. In the film, she is a superhero because of her brain, her passion and her heart."
Renner is one of IFFAM's talent ambassadors for its second edition and received the Macao East-West Actor of the Year award at the opening ceremony on Friday night (Dec 8).
"Since the first time I came to the East, with the first Avengers film [in 2012], I realise how fantastic this market is. Art is art. Human emotion is human emotion. That is why I don't focus on cultural differences or beliefs but on what we have in common," said Renner, who also made a surprise appearance at the opening of this year's IFFAM project market and is currently filming the new instalment of Marvel's Avengers franchise.