Ken Loach, Simone Bitton, Walter Bernstein, Annemarie Jacir and Elia Suleiman among signatories of petition; Locarno Film Festival issues statement.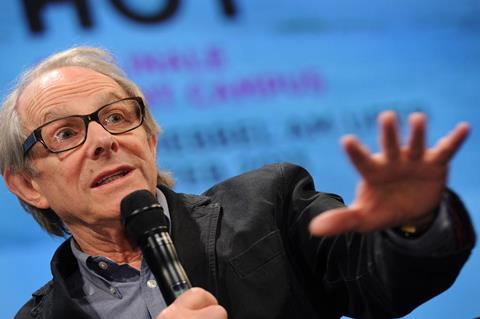 More than 200 filmmakers and industry professionals are urging the Locarno Film Festival to drop a planned focus on Israel this summer, being organised in partnership with the state-backed Israeli Film Fund
Ken Loach, a Locarno regular and recipient of its Leopard of Honour in 2003, is among the petitioners alongside screenwriter Walter Bernstein and composer Richard Horowitz.
Other protestors include Israeli filmmakers Simone Bitton, Rachel Leah Jones and Eyal Sivan, and Palestinian directors Annemarie Jacir, Elia Suleiman and Hany Abu-Assad.
But a statement from Locarno said the festival "has always been a place of freedom of expression" and that it would not drop the focus, which would "represent an important opportunity for debate and dialogue, within the context of cultural enrichment".
Scroll down for Locarno's statement
The Swiss lakeside, summer festival announced in February that this year's edition of its annual Carte Blanche initiative would focus on upcoming Israeli films, in partnership with the Israeli Film Fund.
In a petition, the protesting filmmakers and film professionals expressed "deep concern" that Locarno was planning to partner with the fund, and by dint of this, its key state backer, the Ministry of Foreign Affairs.
"We are particularly disturbed about the timing of this Locarno Film Festival decision to promote Israel, coming on the heels of Israel's latest massacre in Gaza in the summer of 2014, where more than two thousand Palestinians were killed, including more than five hundred children," read the petition. "Locarno's decision also follows the election of the most racist, far-right government in Israel's history."
Right-wing politician Benjamin Netanyahu was voted in for a fourth term in office as Israel's prime minister in March in a shock victory.
During his rule Netanyahu has come under fierce criticism internationally for his pro-settlement stance and hard-line approach to the on-going conflict with the Palestinians.
As part of his election campaign, he pledged to build thousands of housing units for Israeli citizens in East Jerusalem, which is home to some 300,000 Palestinian residents. He also declared he would never allow the creation of a Palestinian state but backtracked on this after the elections.
"Given the current belligerence exhibited by Israel in its on-going brutal attacks on Palestinian civilians and infrastructure, justified by the same Ministry of Foreign Affairs that you have chosen to be a partner of the festival, we demand that the festival organisers reconsider their relationship to the government of Israel, and withdraw their partnership with the Israel Film Fund, Israeli Ministry of Foreign Affairs and all other official Israeli entities," the petition continued.
Other ways to support Israeli filmmakers
"If the idea is to support individual Israeli filmmakers or screen Israeli films, there are many ways to do so without accepting funding or other forms of support from the Israeli state and government organisations," it added.
Under the Carte Blanche initiative, the festival is due to select five to seven projects from Israel, in partnership with the Israeli Film Fund. The producers will be invited to attend the festival to present their work to industry professionals. The previous four editions have focused on Colombia, Mexico, Chile and Brazil.
The petition is part of the on-going Palestinian Campaign for the Academic and Cultural Boycott of Israel, which was launched in Ramallah in April 2004 by a group of Palestinian academics and intellectuals in response to Israel's on-going occupation of Palestinian territory.
"Boycott is one of the non-violent ways people can protest," Palestinian filmmaker and signatory Jacir told Screendaily. "This is about promoting dialogue and discussion instead of white-washing it, which is exactly what the Israeli government tries to do with "cultural outreach" activities such as this. Locarno can and should work with non-government institutions and individuals if they want to help Israeli filmmaker."
Locarno: full statement
"Throughout its long history, the Festival del film Locarno has always been a place of freedom of expression for filmmakers, producers and actors from all over the world, without distinction of ethnicity, religion or nationality. Along the way, the Festival has given voice to discomfiting auteurs, neglected film industries and directors who are oppressed and in exile, while avoiding political or ideological exploitation. This was the case in 2007 when the Festival dedicated the Open Doors section to the Mashrek countries (Syria, Lebanon, Jordan, Israel, Iraq, the Palestinian territories and Egypt), with the 2006 Pardi di domani retrospective "East of the Mediterranean" or with the focus in 2013 on Syrian films, produced despite incredibly difficult conditions. For us, these principles of artistic liberty are a creed that cannot be renounced.
"The densely packed program for the upcoming edition – which also includes a focus on Maghreb (Morocco, Tunisia, Libya and Algeria) – comprises a "Carte blanche" dedicated to Israeli cinema. The aim of the initiative is to select seven projects currently in post-production and to present them to an audience of professionals, in order to help them find the funding required for their completion. The search for these projects would obviously not be possible without the support of a locally based organization. The presence of the Israeli Film Fund – with whom the Festival del film Locarno, like the majority of international festivals, has an established relationship – is no different from the process followed in the four previous editions, dedicated to Mexico, Colombia, Chile and Brazil. As with the previous examples, the decision was made to choose an original and complex film industry on the contemporary scene, with the aim of giving a voice to projects selected by the Festival on purely artistic criteria.
"We strongly believe that, like Open Doors Maghreb and the entire programme for the upcoming edition, the Carte Blanche focusing on Israeli cinema will represent an important opportunity for debate and dialogue, within the context of cultural enrichment that is and always will be an inalienable quality of the Locarno Festival."