Sold-out screenings for Amy Winehouse documentary and Cobain: Montage of Heck.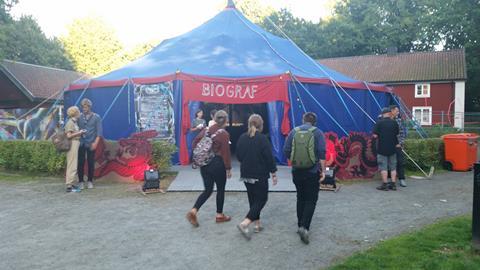 Sweden's Way Out West music festival ran its film programme for the fifth year, and selections included a strong mix of music-related docs (Amy, Cobain: Montage of Heck, The Damned: Don't You Wish That We Were Dead), Heaven Adores You and features (Eden, Love & Mercy) as well as indie films (Ex Machina, The Falling, Pervert Park) that might appeal to the trendy crowds attending Way Out West.
Films were screened in two cinemas in Goteborg, as well as in a tent on the larger festival site at Slottsskogen park.
The hundreds of musical acts at the main festival included Florence & The Machine, FKA Twigs, Alt-J, Beck, First Aid Kit, Patti Smith, Lauryn Hill, and the Pet Shop Boys.
The event draws 30,000 visitors per day, mostly for music but increasingly taking a look at the film offerings.
The sold-out screenings for film included Amy, Cobain: Montage of Heck, and local dark romance Eternal Summer.
The festival's world premiere films were Andreas Öhman's Eternal Summer (Ododliga), Lawen Mohtadi and Gellert Tamas' activist documentary Taikon and Jonas Akerlund's intimate band portrait Roxette Diaries.
Svante Tidholm, head of the film programme, told ScreenDaily: "I'm satisfied, more than half of our screenings were totally full. We've got a really strong programme and the tent (on the festival site) is a good step forward in reminding people about the film programme."
The tent also provided shelter one rainy afternoon, meaning that scores of festivalgoers got to see Kim Longinotto's powerful prostitution exposé, Dreamcatcher.
Tidholm says looking forward the festival can grow its industry presence. "I've been focusing on getting great films and getting the audience, so now it's time to step up to the industry, to say, 'Here's what we've got, what can we do together?'.
"The industry that does come already sees what a great audience we have for their films. I think Way Out West can be a good meeting point for creative people in Northern Europe, it can connect musicians and filmmakers and the industry."
Talking about the evolution of music docs
At the Way Out West Music Conference, panels covered festivals' reach beyond music; destinations and events; artists working with brands; a look at the pivotal soundtrack of Goodfellas; and use of visual media in live music performances. Tidholm hopes to do more film crossover panels in future.
One panel addressed "the artist as narrative" in music documentaries.
Marie Dimberg, of D&D Management, who manages Roxette, said: "In the '80s and '90s, I don't think we looked at them as documentaries, we looked at them as portraits, most of them were made by the artist with the label to tell their stories. They weren't what you'd call true documentaries.
"In the early '90s when MTV was growing, suddenly there was an outlet for moving images. There was an opportunity. I think it did make an impact on sales and I think it made an impact for fans, this was before Instagram and Twitter, this was a way for the artist to communicate with their fans."
Dana O'Keefe, partner in New York's Cinetic Media, said that filmmaking had also moved on. "We're fortunate to live in a time that many people consider to be a golden age of narrative documentary filmmaking," she said.
"The landscape has changed dramatically over the past 10 years. The public now is much more interested in non-fiction storytelling than ever before and documentary filmmaking techniques have become more sophisticated, often enabling filmmakers to achieve a greater level of immediacy than with narrative features about comparable subjects.
"I would argue that the formal innovation is happening predominantly in the documentary space."
Cinetic has worked on both Asif Kapadia's Amy and Brett Morgen's Cobain: Montage of Heck, and O'Keefe said, with these posthumous docs "what the audience clearly responds in both cases to is the authenticity afforded by documentary storytelling. You get a very intimate look into these people's lives and what emerges is a devastatingly accurate portrait of the human being's life."
Emelie Persson, a commissioning editor of arts and culture documentaries for Swedish public broadcaster SVT, added that the filmmaker's vision was crucial.
"It's not just the A to Z biopic anymore," said Persson. "The story is the main thing, you need to have a director that is passionate about the story.
"I had the privilege of hearing Malik [Benjelloul] tell the story of 'Sugar Man' several hundred times before Searching For Sugar Man was finished. With the same passion every time. He had the story in his body."
Dimberg argued that artists should get final cut in films about their lives, but agreed that every case was unique. "We've always had artists' approval but there is always a discussion about what will make a watchable, and interesting and exciting film versus you having a double chin or saying something bad about your grandmother."
O'Keefe added: "For any film that has awards potential or will premiere at a first-tier film festival, the life of those films is predicated on their critical validation and that's inseparable from their legitimacy.
"If you can feel the influence of other forces exerting pressure on the filmmaker to compromise their vision, the audience will know that.
"It's about choosing the right filmmaker. There is a leap of faith involved with the artist when they choose the filmmaker and it's about trusting that they will present the subject in a three dimensional way, do justice to it and above all, depict it accurately."