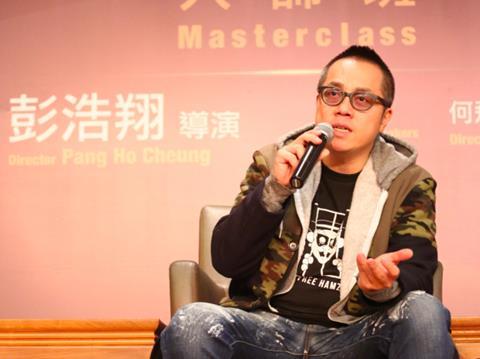 Hong Kong filmmaker Pang Ho-Cheung plans to keep challenging himself with new genres. The prolific director – most famous internationally for his romantic trilogy Love In A Puff, Love In The Buff and Love Off The Cuff as well as features Vulgaria and Aberdeen – is currently working on a period kung-fu film set in mainland China.
"I have been working in the film industry for 17 years," he said. "I have focused more on contemporary films, and comedies, but now I am planning a kung-fu film for the first time. It will be three parts, set in mainland China and we might also shoot some internationally, in New Zealand. It's an adaptation of a very famous kung-fu story in China, but I can't disclose anything else yet."
He's also planning his first English-language film, to be adapted from Israeli author Etgar Keret's 2012 short story collection Suddenly, A Knock On The Door. He plans to shoot the feature in North America.
Pang is also writing and set to star in a TV comedy based around the idea that a mysterious virus has wiped out the world's male population, leaving him as the last man on Earth.
Talent talk
The writer-director was speaking to Screen at the second International Film Festival and Awards Macao (IFFAM), where he is an ambassador for the festival and also delivered a masterclass to aspiring local filmmakers.
He said Stanley Kubrick was one of his filmmaking heroes, as he also was fond of genre hopping. "He made 13 movies and they are all in a different style. I try to do that myself. He also worked independent from the studio system."
Pang said he enjoyed multitasking as a writer, director, producer and actor, adding that his personality was well suited to mixing things up. "When I was a teenager, my parents would take me to the buffet. And you would have to follow the rules, first you take the appetizer, then the soup, then the main, then the dessert. I thought, 'Hell! Why do you have to do it like that, we can mix together!'"
Pang said he was happy to take on the role of an ambassador for IFFAM. "It's about telling people that Macao is not only the gambling industry, it's reminding people that there is also a film industry here. Macao is still just starting its film industry [but] already there are some local directors I admire. And there is beautiful scenery, I shot my film Isabella (2006) here."
Pang is also an active producer, recently producing Jordan Schiele's Chinese drama Dog Days, Singaporean prison story Apprentice and youth drama Lazy Hazy Crazy.
He spoke to students and aspiring writers and filmmakers in Macao about crafting authentic dialogue, without having a screenplay that sounds "so smooth that they do not sound like real people."
"Dialogue has to sound like real people talking," he advised. "Try to stay away from TV drama and listen to real people talking – the way they talk and the rhythm of the conversation. Take more public transport, have your meals in cafes, listen to the tables around you. Listen to the quarrels of lovers."
He said young filmmakers today can make good use of digital tools with little barrier to entry. "No money is not a reason. This is an era for young people, who are lucky. This is a time that you can think about yourself as an artist."