Dir/scr/prod des. Yonfan. Taiwan/Hong Kong, 2009. 120 min.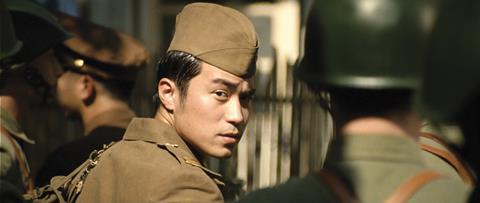 One of the few Taiwanese films to deal directly with the "white terror" which swept through the island from 1950-54, this exceptionally well-designed, multi-layered film isn't so much a historical piece as a typically lush Yonfan romance. With memorable turns from Terry Kwan and Zhu Xuan, Yonfan's own sets and Chin Ting-chang's cinematography, this looks like a winner in Asian markets and a good festival bet elsewhere.
The "white terror" took place when Chiang Kai-shek, retreating from China for what he believed would be a short time, imposed martial law in Taiwan, hunting down communists with a passion and executing thousands of men suspected of being "reds" with tens of thousands more sent to prison. But, as Prince of Tears points out, the white terror was an awful time for adults but something of a paradise for children, left happy and unsupervised.
The plot turns out to be much more convoluted than it initially appears, and, in a ten-minute epilogue many loose ends are tied up
At the outset, happy young couple, Han-Sun (Chang) and Ping (Xuan), and their two daughters Li and Zhou, are looking forward to a bright future. He is an army pilot who plays the accordion, she is beautiful and a great cook. But reality arrives in the shape of crippled family friend Ding (Fan), his face badly burned and walking with a limp. He is a secret agent, and soon the military police arrive, send Han-sun to one prison and Ping to another, while sinister, secretive Ding is left to care for their girls.
In the background, however, is Madame Liu (Kwan) the beautiful wife of an old general, and she ensures no harm comes to the girls. Han-Sun is convicted of treason and arbitrarily executed, Ping is released and comes back home, with the question being whether Ding arranged for her husband's execution in order to marry her himself.
To Yonfan's credit, the plot turns out to be much more convoluted than it initially appears, and, in a ten-minute epilogue, mostly delivered in voice over, many loose ends are tied up and characters tidied up. Among other things, a gay affair is added to the proceedings. Whether all this makes real sense or not is up to the audience's tolerance, but Yonfan's message is clear throughout: the main thing in such difficult times is to survive the best one can.
Aesthetically, Yonfan's films have always been flamboyant displays of visuals. The film's introduction shows a teacher encouraging children to paint what they feel, not necessarily what they see - a perfect justification for Yonfan to unleash a dazzling array of doctored colors, slow motion and other technical tricks. And for anyone wondering why the sweeping, lush, romantic soundtrack sounds so much like a Soviet film from the fifties, the explanation comes when accordionist Han-sun declares: "I like Slavic romanticism".
To sign up for Screen's weekly Reviews Newsletter with all the week's new releases, international openings and full festival reviews delivered free to your mailbox every Friday, please click HERE
Production Companies
Fan Sun Film (Hong Kong)
Peony5 Film (Taiwan)
Filmagic Pictures Co.
Producer
Fruit Chan
International Sales
Fortissimo Films
+852 2311 8081
Cinematography
Chin Ting-chang
Editing
Kong Chi-leung
Derek Hui
Music
Yu Yat-yiu
Main cast
Fan Chin-wei
Joseph Chang
Terri Kwan
Zhu Xuan
Kenneth Tsang
Jack Kao
Lin Yowei