Streamlined Rome Film Fest sees inevitable drop in box office and attendance but puts on a good show; MIA launches with scope for content growth.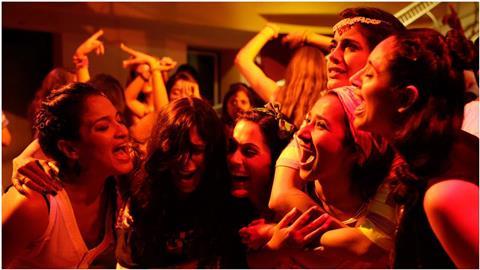 The Rome International Film Festival's 10th edition concluded on Saturday (Oct 24) with Pan Nalin's female "buddy" movie Angry Indian Goddesses winning the sole prize of the event - The BNL People's Choice Award.
The director, who also made India's highest-grossing documentary, Ayurveda: Art of Being, continued his successful festival run after securing second place for Toronto International Film Festival's People's Choice Award, behind Lenny Abrahamson's Room.
Both films were once again pitted against each other in the eternal city, with the heartwarming Goa-based drama this time winning out.
Piera Detassis, president of the Fondazione Cinema per Roma, said: "I am pleased that a courageous and revealing film that sheds light on the condition of women in India, choosing a genre that is traditionally about male bonding, was the one our spectators liked best.
"This result proves that the audiences of the Rome Film Fest are always ready to understand and to reward the most interesting, innovative, and at the same time popular films, from the best of international cinema."
Taking a bold step in disposing the previous years' palette of jury-led awards and instead placing onice around a single audience award, artistic director Antonio Monda said: "To underscore the idea of a 'people's festival', I eliminated the competition and juries, a ritual I find all too stuffy.
"Every film and guest is a winner simply by virtue of being invited to Rome."
Close Encounters
Monda's agenda also stripped back the glitzy opening and closing ceremonies; and instead placed a heavier stamp across the retrospectives, tributes and carefully curated 'Close Encounter' conversations that saw lines wrapping throughout the festival's Auditorium Parco della Musica.
Jude Law and Paolo Sorrentino joined Monda on stage to talk about their favourite films as well as brief mentions of upcoming TV series The Young Pope, in production in Rome.
While Sorrentino remained tight-lipped on the series, he did claim that Law was his first choice as the newly-elected pope struggling with his responsibilities, and that the story is "completely invented. There has never been a pope quite like this."
Additional Close Encounter guests included Wes Anderson and author Donna Tartt discussing Vittorio De Sica's The Gold of Naples and other Italian cinematic masterpieces; Frances McDormand and Joel Cohn talking marriage and work; William Friedkin and Dario Argento unearthing candid genre stories; as well as Todd Haynes, in town for the Italian premiere of Carol.
Attendance
Financial constraints put Monda in a challenging position for his inaugural year at the fest.
While working diligently in expanding its reach to nine cinemas across the city [some critics still bemoaned that screenings weren't spread out enough], the newly appointed artistic director reduced the overall number of films from 113 to 53.
A total of 37 made up the official selection with six world premieres including Claudio Cupellini's Alaska, Sergio Rubini's Dobbiamo Parlare, Gabriele Mainetti's Lo Chiamavano Jeeg Robot, Tao Ruspoli's Monogamish, Vladimir Beck's Little Bird and Gianni Amelio and Cecilia Pagliarani's Registro Di Classe Libro Prima 1900 - 1960.
The festival was one day shorter and was left without the use of the Auditorium's largest screening room, Sala Santa Cecilia, due to an existing booking with the historical musical institution Accademia Nazionale di Santa Cecilia - all of which contributed to a 20% drop in box office and a sizeable drop in attendance.
The number of tickets sold tallied 35,270, with many sold at a laudibly cheaper price than in previous years.
"Even though we could not use the Sala Santa Cecilia, and the fest was one day shorter, we have had a positive result," assured Monda.
"This year, there were 13,000 fewer tickets available, and since we only sold 9,000 fewer tickets than last year, it means our balance is positive with 4,000 more attendees."
MIA
Taking place around the historic Baths of Diocletian - the largest thermal complex in Ancient Rome - and the Hotel Boscolo-Exedra, the first edition of MIA (Mercato Internazionale dell'Audiovisivo) proved a lively platform for industry discussion, bringing together 1,317 industry heads from over 58 countries.
Sitting alongside the Rome Film Festival, the film, TV and games market ran Oct 16-20 and involved an informal co-production market hosting some intriguing projects, as well as 82 'open dialogues' centred around television, country focuses and Italy's drive behind its 'rebirth' in the global market.
While deal-making was at a premium, RAI Com were among active local outfits, announcing deals on feature Don't Be Mean, Italy's submission for Best Foreign-Language Film at the upcoming Academy Awards.
True Colours, the new joint-venture sales company between Indigo and Lucky Red, sold Roberto Andò's The Confessions and Maria Sole Tognazzi's Me, Myself and Her to multiple territories.
International TV and games content was sparse at this year's market, but organisers are aiming to boost the content offering next year.
Italian TV projects bought for the US include two Inspector Montalbano films, the new season of Inspector Coliandro, Claudio Canepari and Paolo Santolini's doc Camilleri: Maestro Senza Regole and the mockumentary TV series Crazy Dreamers by Filippo Macelloni and Lorenzo Garzella.
MIA director Lucia Milazzotto said: "This is only the beginning of an important mission that we hope will see MIA take on an active role in the audiovisual industry's internationalization process and growth.
"After such a successful first edition, we are more determined than ever to introduce strategic initiatives over the entire year, and to create an even stronger and more innovative market."
Meanwhile, during the market the Rome Lazio Film Commission launched its €10 million ($11.3 million) co-production fund for film and TV which marks the biggest single injection of regional soft money in Italy in recent years.
Next year's festival is expected to kick off on October 13.