Ahead of this month's International Film Festival Rotterdam (Jan 27-Feb 7), new artistic director Bero Beyer talks about the radical changes he has introduced.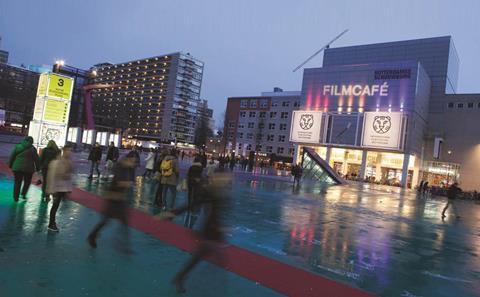 In his first year as artistic director, Bero Beyer has been making some dramatic changes to International Film Festival Rotterdam (IFFR), now in its 45th edition (January 27-February 7).
The most interesting is Beyer's decision to reduce the size of the festival's main strand, the Tiger competition, from 15 films to eight. The competition is now open to first, second or third features. He has also overhauled the prize-giving to award one film the Hivos Tiger prize — worth $44,000 (€40,000), to be split between director and lead producer. There will also be a special jury prize of $11,000 (€10,000) for "exceptional artistic achievement", which will be awarded to an individual (an editor, cinematographer, director, etc.) for one of the eight Tiger films. In previous years, there were three Tiger awards, each worth $16,000 (€15,000).
"If you have a competition, it should mean something. It should really be an honour to be nominated," says Beyer of the changes. "It is quite a select group of films and they deserve to have the special treatment. My idea is that we have more attention per film."
One Tiger film will screen each day and all of the Tiger titles, except Pieter-Jan De Pue's The Land Of The Enlightened, which is also screening at Sundance, are world premieres. Each will be given its "own poster, its own talk show, and its own peripheral programme", Beyer explains. For example, on the day artist/film-maker Fiona Tan's History's Future screens early in the festival, IFFR will also launch an art exhibition in which Tan is one of the main exhibitors.
The $44,000 (€40,000) prize money comes with no strings attached. "You don't have to put it into a new project. You have no expenditure obligations or anything like that," says Beyer.
As an experienced producer himself, Beyer is aware of the financial sacrifices made by producers of Rotterdam-style films, many of whom will have deferred their own fees to get their films made.
Festival as distributor
In addition to the Tiger awards, the festival will present the VPRO Big Screen Award, with a total of $33,000 (€30,000) to be split equally between the director and the distributor. Eight films making their international premiere in Rotterdam will contend for the award, which is being announced on January 20. The aim is to ensure that the films screen in cinemas and on TV via Dutch public broadcaster NPO.
"If no distributor comes aboard, we will distribute the film," says Beyer. "We think festivals also have a role to play as a launch platform for quality cinema."
The festival is also screening five films in 40 cinemas worldwide as part of its IFFR Live! programme, with support from Creative Europe. The films are Leyla Bouzid's As I Open My Eyes, Paula Ortiz's The Bride, Antoine Cuypers'Prejudice, Mads Matthiesen's The Model and Jonas Selberg Augustsen's The Garbage Helicopter. Alongside the screenings in the cinemas, Dutch audiences can access the films through KPN Interactive TV in the Netherlands. Everyone watching can also take part in the film-maker Q&As via Twitter.
"I am hoping that this will be a much more sustainable model and I am reaching out to other festivals, saying 'how about we do this together?'," says Beyer.
The new streamlined festival programme will now be organised in four main sections: Bright Future, Voices, Deep Focus and Perspectives. "It is part of Rotterdam's strength to always reinvent itself," says Beyer in response to the suggestion that the festival had lost its programming 'mojo' in previous years.
He promises clarity as well as innovation in the structure of the festival. "You should programme in a way that people know roughly what they are going to get, and we have to do a better job in providing that context."
IFFR emerged relatively unscathed from the cuts imposed on Dutch arts organisations in 2010-11, and Beyer and his team are preparing for the next four-year funding cycle with applications due in February.
This year's festival will open with the world premiere of Dutch director Boudewijn Koole's English-language Beyond Sleep, which is screening out of competition.
CineMart magic
For international delegates, the key event at Rotterdam is still its co-production market (the oldest of its kind), the CineMart. In his guise as a producer, Beyer himself has extensive experience of bringing projects to this event; among them were Hany Abu-Assad's Paradise Now, which went on to receive an Oscar nomination. "That spirit of co-production, that spirit of wanting to participate in the best of world cinema, is ingrained in me," Beyer says.
European producers and sales agents express their delight that Beyer, a person who knows the industry first-hand, is now at the festival's helm. They are also loyal to the CineMart. "CineMart is a very good place to be," says Dutch producer Reinier Selen of Amsterdam-based Rinkelfilm, who is presenting Ben Sombogaart's Rafaël, a refugee drama set on Lampedusa, at the event with a view to securing a sales agent.
He is echoed by Jean-Christophe Simon, CEO of Berlin-based sales outfit Films Boutique. Simon and his team are handling international sales on Tiger competition documentary The Land Of The Enlightened.
"The combination of Sundance and Rotterdam works very well," says Simon. Sundance creates the buzz that will, he hopes, make De Pue's film stand out in Rotterdam's main competition. There will then be the opportunity to secure further sales at the European Film Market in Berlin.
Simon describes CineMart as one of the key events in the industry calendar. The difference between Rotterdam and other similar co-production markets is that there is nothing to distract attention from the CineMart. "It's a bit more informal than in Berlin or Cannes, where you have a real film market," he says. "You have more time at CineMart to talk about the films. It's the only co-production market where you have such a wide range of projects."
UK producer Christine Alderson of Ipso Facto Productions will be back at CineMart with Andrew Hulme's new feature The Devil Outside. CineMart played a crucial role in kick-starting Hulme's debut feature Snow In Paradise, which had been turned down by the UK's public funds and ended up securing European co-production partners, The Match Factory as sales agent and was eventually selected for Cannes. The Nottingham-set The Devil Outside is billed as a coming-of-age story about religion, madness and repressed sexuality. The BFI is backing the project and Alderson is optimistic that, with CineMart's help, the same partners who backed Hulme's first film will again come on board.
"CineMart is different from any other co-production market in that it really is about the projects being the stars," Alderson says. She explains that at other co-production events it often seems that the financiers are the stars.
The five-day Rotterdam Lab runs concurrent to CineMart and is designed to give young and emerging producers (selected via CineMart's international partners) the skills to navigate the global festival circuit.
TIGER competitors 2016
History's Future (Neth)
Dir Fiona Tan
The Land Of The Enlightened (Bel-Neth-Ire-Ger)
Dir Pieter-Jan De Pue
Motel Mist (Thai)
Dir Prabda Yoon
Oscuro Animal (Col-Arg-Neth-Ger-Gre)
Dir Felipe Guerrero
Radio Dreams (US)
Dir Babak Jalali
La Ultima Tierra (Par-Neth-Chile-Qatar)
Dir Pablo Lamar
Where I Grow Old (Braz-Port)
Dir Marília Rocha
A Woman, A Part (US)
Dir Elisabeth Subrin
CineMart 2016 projects
The Announcement (Turk-Bulg)
Dir Mahmut Fazil Coskun
Prod cos Filmotto Production, The Chouchkov Brothers
Berlin Alexanderplatz (Ger)
Dir Burhan Qurbani
Prod co Sommerhaus Filmproduktion
Birds Of Passage (Col)
Dir Ciro Guerra
Prod cos Ciudad Lunar, Blond Indian Films
Bloody Marie (Neth-Ger)
Dir Guido van Driel
Prod cos Family Affair Films, Schiwago Film
Bootlegger (Can)
Dir Caroline Monnet
Prod co Microclimat Films
Dark Room (Israel)
Dir Itamar Alcalay
Prod co Lama Films
The Devil Outside (UK)
Dir Andrew Hulme
Prod co Ipso Facto Productions
Is This What You Were Born For? (Rom)
Dir Radu Jude
Prod co Hi Film Productions
Jessica (Swe)
Dir Ninja Thyberg
Prod co Plattform Produktion
The Last Harem (Fr-Port)
Dir Maryam Keshavarz
Prod cos Neon Productions, Ítaca Films, MaraKesh Films
The Notebooks (Leb-Fr)
Dirs Joana Hadjithomas, Khalil Joreige
Prod co Abbout Productions
Over The City (Kazakh-Ger)
Dir Emir Baigazin
Prod cos Emir Baigazin Production, Augenschein Filmproduktion
Pompei (Bel-Italy)
Dirs John Shank, Anna Falguères
Prod cos Tarantula, Solaria Film
Rafaël (Neth-It-Bel-Tun)
Dir Ben Sombogaart
Prod cos Rinkel Film, Verdeoro, Entre Chien et Loup, Nomadis Images, Cinetelefilms
Sick, Sick, Sick (Braz)
Dir Alice Furtado
Prod cos Estúdio Giz, Oceano
Slam (Aus)
Dir Partho Sen-Gupta
Prod co Invisible Republic
Sleep (Neth)
Dir Jan-Willem van Ewijk
Prod cos Waterland Film, Propellor Film
The Strange Ones (Fr-US)
Dirs Christopher Radcliff, Lauren Wolkstein
Prod co Adastra Films
Teenage Jesus (Den)
Dir Marie Grahtø
Prod co Beofilm
Under The Sun (Fr-China)
Dir Qiu Yang
Prod cos House on Fire, Colorful Age Culture & Media
Der Unschuldige (Switz)
Dir Simon Jaquemet
Prod co 8Horses
Ursa Major (US-Fr)
Dir Benjamin Crotty
Prod cos AgX, Les Films du Bal
Vikings (Austria)
Dir Daniel Hoesl
Prod co Ulrich Seidl Film Produktion
Wild Princess (Swe)
Dir Ester Martin Bergsmark
Prod co Garagefilm International
What If Women Ruled The World?
Dir Yael Bartana
Prod co Jacqui Davies Ltd.