UK documentary festival opened with Joshua Oppenheimer's The Look Of Silence.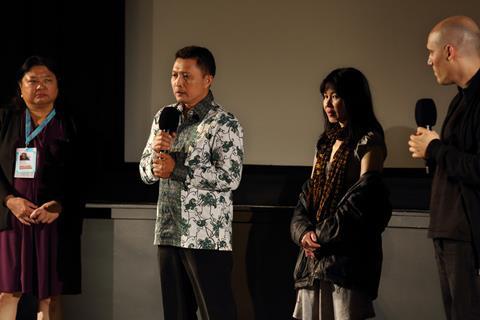 A record number of delegates are expected to attend the 2015 edition of Sheffield Doc/Fest, which opened Friday night (July 5) with Joshua Oppenheimer's The Look Of Silence.
A total of 903 delegates registered on the first day of the festival, which kicked off with the UK premiere of Oppenheimer's follow-up to Oscar-nominated The Act of Killing. It is the largest number of delegates to register on the first day of Doc/Fest and means the festival is on track to beat last year's figure of 3200 delegates in all.
The Look Of Silence, which received a standing ovation from the Sheffield audience, was attended by Oppenheimer and the film's subject, Adi Rukon.
Also screening last night at Sheffield's City Hall was the world premiere of Icelandic director Benedikt Erlingsson's The Greatest Shows on Earth: A Century of Vaudeville, Circuses and Carnivals, accompanied by a brand new score from Icelandic band Sigur Ros.
Acting festival director Mark Atkin presented the festival's Inspiration Award to former Doc/Fest artistic director Heather Croall, who stepped down after last year's edition to take up the post of director at the Adelaide Fringe Festival.
Discovery Channel commissioner Liz McIntyre will take over as CEO and festival director in September.
The festival, which runs until Wednesday (June 10), will screen 150 feature and short documentaries from 35 countries, including 31 world premieres, 13 international, 19 EU, and 40 UK premieres.
In competition for the Grand Jury Prize are 12 titles, including the world premieres of Sean McAllister's A Syrian Love Story and Brian Hill's The Confessions of Thomas Quick,
This year's Sheffield Doc/Fest will close with the European premiere of Monty Python: The Meaning of Live, a look behind the scenes at the celebrated comedy troupe's final shows at the O2 Arena in London last year.