The actress talked to artistic director Cameron Bailey about her film-making debut and being inspired by her previous directors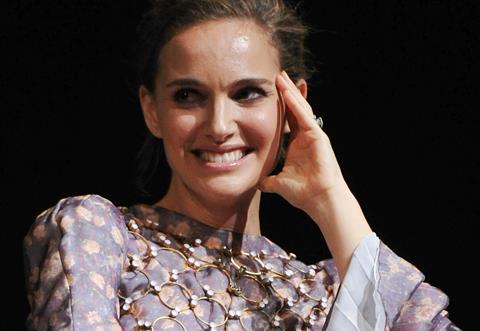 To kick off its 40th year, the Toronto International Film Festival (Sept 10-20) hosted a soirée celebration at Reitman Square, during which artistic director Cameron Bailey had an in-depth conversation with guest of honour Natalie Portman about her life and career.
The Academy Award winner is in Toronto for the North American premiere of her feature debut as a writer-director, A Tale Of Love And Darkness.
After reading Amos Oz's autobiographical book of the same name - about his upbringing in Israel and having to bear witness to his mother's declining mental state - Portman was inspired to make the transition from actor to director.
"I had been thinking about making it for a really long time," she told Bailey. "I read the book [originally published in Hebrew] when it came up in translation in the US in 2004, and it was the first time that I could see a movie in my head … It was so vivid for me."
Israel "familial"
Portman said that Israel, where she was born, was the ideal place to carry out her first directing job because it felt "familial".
She also considered Israel a great place to work as a female director.
"The young generation is, I think, more female than male, and women hold leadership positions everywhere," Portman told Bailey.
"Women are bossy there so there was no situation where I would ever feel like people weren't listening to me. They were all really amazing."
Mike Nichols influence
Portman said she felt "lucky" to have had an opportunity to show the film, during the post-production phase, to the late Mike Nichols, who directed the actress in Closer (2004).
Portman cited Nichols as an important figure in her life, both as a personal confidante and a mentor, and credits him for having influenced her directorial style.
"I stole all the things I learned from him, and I remember him everyday," Portman said.
She recalled that rather than having his actors rehearse scenes over and over again, Nichols would have them partake in "naming moments".
This practice, Portman said, "has been really instrumental for me and how I look at everything and be like, 'This is the moment where they fall in love,' 'This is the moment where he realises she's cheating'.
"Just naming it with all the people together makes you all part of telling the same story."
Aronofsky crashes soiree
In addition to discussing her more recent work and her foray into directing, Portman also talked about her previous projects and her impressions of other film-makers she's worked with.
These included Darren Aronofsky, who directed Portman to her Best Actress Oscar in Black Swan and was in attendance at the soirée.
Aronofsky joined Bailey and Portman on stage later on in the conversation. "Sorry to crash your party," he joked.
After cheekily calling Aronofsky "the worst," Portman praised the director for his collaborative approach to film-making.
"The amazing thing about Darren is that I feel like there's not the ego… He asks questions, he listened and he took ideas when they were good," she said.
Portman said she tried to emulate this team spirit during the filming of A Tale Of Love And Darkness. When asked what she hoped people will take away from her film-making debut, Portman emphasised the role of empathy in the moviegoing experience.
"Hopefully, you get to be in a theatre with a lot of other people caring about someone's life for a couple of hours and thinking about what they might be going through, how they might feel, what their hopes and dreams and disappointments might be," she added.
"When you're let into someone's life that like, you might look at someone in the street and say, 'I wonder what their day is like,' the same way you just practiced in the movie theatre."