Dir: Dito Montiel. US. 2009. 105 mins.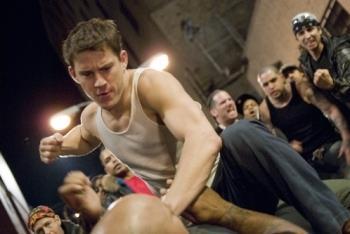 Midnight Cowboyprovides the unlikely inspiration for the slightly smarter-than-average knuckle-duster Fighting, in which two New York City outcasts team up to pull themselves out of their marginal existences. Committed performances and smart direction help mitigate a story with some notable lapses in logic, andelevate it in relation to similar fare.
An early test of the burgeoning star power of Channing Tatum, who has both G.I. Joe and Public Enemies out this summer, Fighting would seem purpose-built for younger males although its earnest attempts at characterisation could actually dent its short-term rewards. Regardless, Fighting should see a tidy profit in theatres, and achieve ancillary success if/when Tatum's profile continues to rise.
Alabama native Shawn MacArthur (Tatum) has come to New York City with nothing. Selling phony Harry Potter books and other counterfeit goods on the street, he's barely earning a living. Shawn's luck changes when, in a scrum protecting his merchandise, scam artist and smooth-talking hustler Harvey Boarden (Howard) sees he has a natural talent for fighting.
Harvey offers Shawn a chance at making big money in back-room, bare-knuckle brawls where the rich and curious gather to watch and bet on brawny strangers. The duo form an unfussy partnership, with Shawn crashing on Harvey's couch. As Shawn experiences some success, he finds himself drawn to single mother Zulay Velez (Henao). He also crosses paths with an old college nemesis turned professional mixed martial arts fighter, Evan Haley (White), setting the scene for a climactic rooftop clash with a $100,000 payday.
Fighting presents a scenario in which there are no rules, explanations, or for the most part, even any introduction of fighters: once a participant arrives, he just magically locks eyes with his foe from across the room, and fisticuffs commence. Despite the absurdity of this plot, as well as a resolutely incongruous ending, director Dito Montiel (A Guide to Recognising Your Saints) works in a fairly restrained way outside the cramped fight sequences, which are shot in jittery, hand-held fashion.
The film's dialogue mixes good-natured carping with tough exchanges and nicely works to shade the characters' personalities. When the budding romance threatens to tip over into saccharine overload, Montiel uses Zulay's grandmother for comic relief and slow-peddles a seduction scene, bringing the attraction back to domestic reality.
Fighting 's third act unravels; the reasons provided for the animosity between Shawn and Evan aren't particularly plausible, or compelling. Still, there's a lot of honest effort and investment here in character and emotion, which feels refreshing.
Still best with quiet charisma, Tatum also has the ability to convey vulnerability, which, combined with his frequent shirtlessness, goes a long way with the film's female demographic. Howard, meanwhile, makes some interesting choices with his characterisation of Harvey, kicking his vocal timbre up a few registers, for example. This isn't Joe Buck and Ratso Rizzo, strictly translated, but Shawn and Harvey seem to similarly need one another to transcend both their own pasts and the hard knocks of a cruel world.
Interesting musical selections also help give the film purpose and punch. In addition to very effective use of Marvin Gaye's Trouble Man, horn-inflected original compositions give Fighting an early sense of uplift.
Production companies
Relativity Media
Misher Films
Rogue Pictures
Domestic distribution
Rogue Pictures
International distribution
Universal Pictures International
Producer
Kevin Misher
Screenplay
Robert Munic and Dito Montiel
Cinematography
Stefan Czapsky
Main cast
Channing Tatum
Terrence Howard
Zulay Henao
Luis Guzman
Roger Guenveur Smith
Brian White
Michael Rivera