EXCLUSIVE: Drama stars K-pop star Junior and Cart star Ji-woo.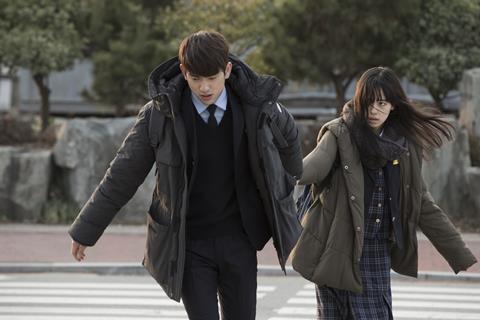 South Korea's 9ers Entertainment is launching sales on A Stray Goat, starring Park Jin-Young, aka Junior of K-pop group GOT7 and Ji-woo from Cart.
Currently in post-production, Cho Jae-Min's directorial debut is a part of the Jeonju International Film Festival's Jeonju Cinema Project 2016 and also one of Myung Film Institute's first graduation films.
In it, Min-sik moves to a quiet town where he meets Ye-ju, a girl getting bullied of a suspicions about her father. He overcomes peer pressure to befriend her and they start taking care of a goat together but things go awry.
9ers is also selling Korea-China co-production Making Family, starring Aarif Lee (Cold War 1&2), Kim Ha-neul (Remember You) and Mason Moon (Babe & Me).
They have announced the film is set for a tentative theatrical release by China Film Group on May 20 in their territory.
Directed by Cho Jin-Mo, the film follows a boy who goes on a mission to China to find his biological father and what happens when his mother comes chasing after him and meets the handsome bachelor who has no interest in having a family.