Dir/scr: Jon S Baird. UK. 2103. 99mins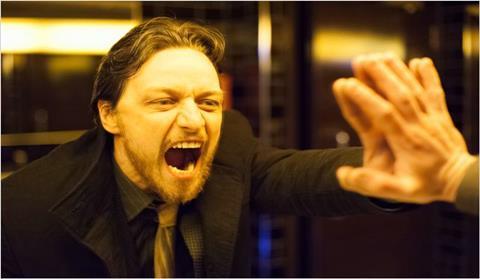 James McAvoy gets to let it all rip in Jon S Baird's delightfully depraved adaptation of Trainspotting author Irvine Welsh's brutally comic and densely dark cult novel. Playing a Scottish police officer so corrupt that he puts Harvey Keitel's cop in the original Bad Lieutenant to shame, it is peach of a role for an actor more used to playing the good guy rather than a lusty booze'n'drug'n'sex fuelled monster.
James McAvoy has a fine old time as the raucous Robertson, relishing the sheer depravity of the role.
A top-notch cast and a swaggering relish for the sordid story help gives Filth its freewheeling energy, and while its complex and interweaving structure may hamper easy appreciation of the subtleties lurking within the story, its sheer sense of savage presentation of an Edinburgh police riven by office politics, corruption, drugs, drink and sex helps give the film a must-see cult quality. The film opens in Scotland prior to making its way south to the rest of the UK.
Published in 1998, Filth's sheer zest for all things sleazy meant it would always be a tough adaptation – especially for the mainstream movie marketplace – and Baird is to be praised for sticking to his guns and gathering him round him a team of actors keen to stick to Irvine Welsh's depraved vision. A hard release in some territories, much will rely on a strong critical response.
In the UK the term 'filth' has several meanings, and in this instance as well as relating to the sheer debauched behavior it is also a slang term for the police. And McAvoy's dodgy detective Bruce Robertson is about as debauched as they come, a sweaty, disheveled, fumbling but also rather oddly charming schemer who will stop at nothing to get what he wants.
He controls his fellow cops through lies and manipulation to ensure he stays on top of a rather blundering pile; relishes any opportunity to take drugs and drink, and sees sexual assault and even murder as the usual way of doing things…for him at least. But he is also a rather unreliable filmic narrator, and not everything as it seems, with Robertson weighed down by dark secrets and marital issues and plummeting towards a breakdown of some kind.
Robertson is seeing an Australian psychiatrist (delightfully played by Jim Broadbent) but his sessions make little impact on his behaviour. He manipulates and seduces the sexually frustrated wife (Shirley Henderson) of a straight-laced accountant (Eddie Marsan), as well as taking him off on a drug-fuelled mini-break in Hamburg; has sex with the wife (Kate Dickie) of a colleague, and gleefully encourages his loyal police partner (Jamie Bell) to follow his example.
But things start to seriously unravel as his binges go way out of control, and in the police station another ambitious officer (Imogen Poots) starts to take over an investigation – one in which Robertson is implicated – and he finds himself sidelined. As his back-story is slowly revealed he makes a fumbling attempt at redemption.
James McAvoy has a fine old time as the raucous Robertson, relishing the sheer depravity of the role but also managing to add in glimpses of a good-ish man hidden behind the layers of angst, heartache and unhappiness. Of course he is still an evil man, but Baird – who shoots impressively and creates a thoughtful structure – tries to add some sense of sad motivation before Filth heads to its bleak climax.
There are some delightfully strange and surreal moments (such as Robertson's drug-fuelled hallucinations about animal-headed people), though perhaps best of all is a brief cameo from former Starsky And Hutch star David Soul in another dream sequence where he plays a cabbie who sings his 1977 song Silver Lady to a confused Robertson.
Production companies: Steel Mill Pictures, Logie Pictures, Altitude Film Entertainment, Egolo Tossell Film, Entre Chien et Loup, Film I Vast, Filmgate Films, Maven Pictures
International sales: Sierra/Affinity, www.sierra-affinity.com
Producers: Ken Marshall, Mark Amin, Christian Angermayer, Jon S Baird, Will Clarke, Stephen Mao, Jens Meurer, Celine Rattray, Trudie Styler
Cinematography: Matthew Jensen
Editor: Mark Eckersley
Production designer: Mike Gunn
Music: Clint Mansell
Main cast: James McAvoy, Jamie Bell, Imogen Poots, Joanne Froggatt, Jim Broadbent, Shirley Henderson, Eddie Marsan, Emun Elliott, Martin Compston, Shauna Macdonald, Gary Lewis, Kate Dickie, John Sessions, Pollyanna McIntosh