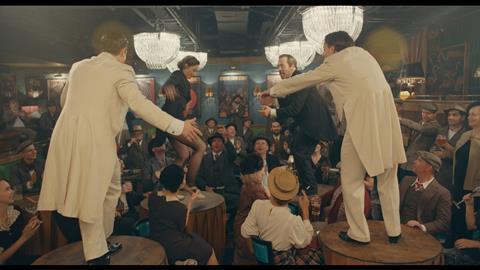 Producers of pre-World War II drama The Performance have released new stills of the film, which is being offered this week in the Cannes market.
Shira Piven directed and co-wrote the script, based on an Arthur Miller short story, with Josh Salzberg. Jeremy Piven and Robert Carlyle star in the story of a second-generation Jewish American dancer whose troupe is on tour in Europe and is scouted for a special performance for Adolf Hitler.
Daniel Finkelman of Sparks Next produced the film - shot in Slovakia and in post-production in London - along with Chaya Amor, Jenny Shakeshaft and Christopher Milburn.
Shira Piven said: "This is not a typical World War II story. When we live in the weather of such historical events, it places us nose-to-nose with our moral compass. In The Performance, Harold is pressed to make choices as a human being, more specifically as a Jew, that connect him with an essential, perhaps buried part of himself, and therefore more deeply with his world."