Dir: Cutter Hodierne. Kenya-Somali-US. 2013. 120mins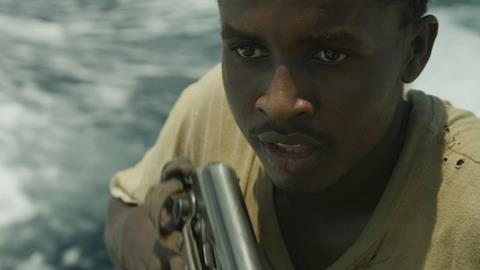 If Captain Phillips had focused exclusively on the Somali pirates rather than Tom Hanks' even-keeled seaman, it might have turned out something like Fishing Without Nets, an ambitious yet unsatisfying Somali-language dramatic thriller.
Fishing Without Nets quickly transforms from a delicate drama about life in a ramshackle African coastal village to a balls-out hijacking drama.
Destined for ample festival slots, the film's tense elements could generate a solid trailer and some limited theatrical playdates. But ultimately, Fishing Without Nets is perhaps not a big catch.
Based on American director Cutter Hodierne's prize-winning short film of the same name, the film follows good-hearted fisherman Abdi, who is struggling to survive in his small village. The once plentiful ocean has stopped yielding fish, leaving Abdi with few options. With furrowed brow and regret in his eyes, the young father sends his wife and infant child away to Yemen, while he reluctantly joins forces with the local pirates to earn some money. As Abdi's voice-over intones, "A man is not a man unless can feed his family."
With a sudden pounding of percussions on the soundtrack, Fishing Without Nets quickly transforms from a delicate drama about life in a ramshackle African coastal village to a balls-out hijacking drama, filled with machineguns and menacing Somalis high on khat, with innocent Abdi caught in the middle.
There are expected scenes of Somalis threatening their captives, conflicts breaking out among the pirate ranks, and the challenge of keeping the hostages alive while the desperate crew waits for the ransom money to arrive. If it weren't for the recent appearance in theaters of not only Captain Phillips, but also Danish director Tobias Lindholn's A Hijacking, such sequences might feel fresher.
The other problem with the film is that Abdi's struggle gets lost within the wider hijacking story. For much of the middle part of the film, he simply does what he is commanded to do—wracked with worry, yes—but ultimately following orders and doing little to drive the narrative. While Fishing Without Nets is clearly Abdi's story, his actions are often futile, and lacking in consequence.
However, there are some nice moments between Abdi and a French hostage, who form a tentative connection despite the language barriers that separate them. Credit is due to Abdikani Muktar's Abdi and French actor Reda Kateb's Victor, who manage to exude a genuine sympathy and humanity that doesn't come across in the rest of the film. Despite the filmmakers' best efforts, Abdi's profound love for his family—shown early in the film, and in flashbacks—is only presented, not earned.
Hodierne, who shot the film in Kenya and had worked with Muktar on his short film, captures a few telling details about Somali life—he subtly juxtaposes a scene early on of a pirate cracking open a single nut and nibbling on it with a moment on the European freighter where the same pirate is stuffing pecans from a jar into his mouth. But while Fishing Without Nets is a laudable attempt to humanize the Somalis and tell a young African boy's story, it is difficult to connect to the characters. The film's unkind ending doesn't exactly show sympathy towards Abdi, either.
Presumably made for a tiny fraction of Captain Phillip's budget, the filmmakers compensate for their lack of means with majestic shots of gorgeous African sand dunes, open skies and vast blue oceans. The cinematography is accomplished, but aside from the natural landscapes, not particularly memorable.
At times, however, this indie production unfortunately strives for booming excitement, with an over-baked action-movie score. It's as if the filmmakers sensed the characters and relationships weren't generating enough dramatic tension on their own so they felt compelled to turn up the noise.
Production Companies: Vice Films, Think Media Studios
International sales: Altitude Films, www.altitudefilment.com
Producers: John Hibey, Cutter Hodierne, Harold Otieno, Raphael Swann
Executive producers: Eddy Moretti, Shane Smith, Rupert Wyatt, Joe Loconti
Screenwriters: John Hibey, Cutter Hodierne, John Hibey, David Burkman
Cinematographer: Alex Disenhof
Editor: Cutter Hodierne, Dominic LaPerriere
Production designer: Naia Barrenechea
Music: Patrick Taylor, Phillip J. Whiteside
Main cast: Abdikani Muktar Abdi Siad Abduwhali Faarah Abdikhadir Hassan Reda Kateb Idil Ibrahim