Dir/scr: Jdenek Jirasky. Czech Republic. 2012. 91mins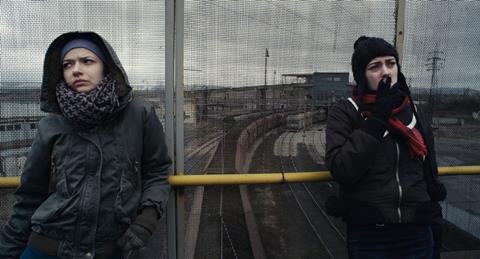 A bleakly gloomy - though at times also mischievous and darkly funny - slice of tough life in a snowy and cold remote Czech border town, Flower Buds (Poupata) is packed with a gloriously disparate bunch of dysfunctional folk as they struggle to get by, dream their own modest dreams, but are gradually worn down by the small-town environment.
The series of interweaving stories are dour, but also bleakly funny at heart.
At the heart of the story – or rather a strange and brutally amusing series of incidents – is the Hrdina family, headed by lank-haired father Jarda (Vladimir Javorsky) – apparently 'Jarda Hrdina ' translates roughly into 'Jimmy Hero' – who works as a signalman on the railway, where he engages in his hobby of making matchstick models in bottles. Every evening he is to be found in the local bar pouring his money into slot machines.
His wife Kamila (Malgorzata Pikus ) assiduously cleans toilets at the railway station, though real moment of enjoyment comes from her regular rehearsals with other local women as they practice the song-and-movement routine for the song Poupata, which they had performed at the state-sponsored Spartakiada festival of physical culture 25 years before, and are set to perform again for the whole town.
Their grown-up children Agata (Marika Soposka) and Honza (Josef Laska) have no work – Honza grows cannabis with friend Cryil in the basement of their housing project and takes a shine to a stripper Zuzana (Aneta Krejcikova) who performs at local bar, while Agata dreams of escape from provincial life, but has just found out she is pregnant by local boy Matej.
The series of interweaving stories are dour, but also bleakly funny at heart – in a rather similar fashion to the UK TV series Shameless, peopled by equally dysfunctional types – and while there is an underlying tenderness in the family (especially as they celebrate their Christmas), they live in a harsh world where there is little money and even less hope.
The film recently won Best Czech film (the Czech Lion award) – as well as Best Actor in a Main role (for Javorksy's strong performance) and Best cinematography (for Vladimir Smutny's excellent work) from the Czech Critics – and while not easily accessible for regular theatrical releases beyond the Czech Republic, its dark humour, confident direction and strong performances make it well worth catching, with other festival invitations likely to follow.
Production companies: Ceska televise, CINEART TV Prague, i/o post s.r.o
Sales contact: Czech Television, jitka.prochazkova@ceskatelevize.cz
Producer: Viktor Schwarcz
Executive producer: Jiri Kostyr
Cinematography: Vladimir Smutny
Editor: Daniel Turyna
Music: Michal David, Martin Prikryl, The Prostitutes, Archive
Main cast: Vladimir Javorsky, Malgorzata Pikus, Marika Soposka, Josef Laska, Aneta Krejcikova, Katerina Jandackova, Jiri Marysko, Vladimir Poilivka, Nguyen Thi Minh, Nguyen Kim Son, Lubos Vesely, Michal Nohejl, Dana Syslova