Sarah Cooper talks to British director Mark Craig and Eugene Cernan, the last astronaut sent by NASA to the moon, about The Last Man on the Moon.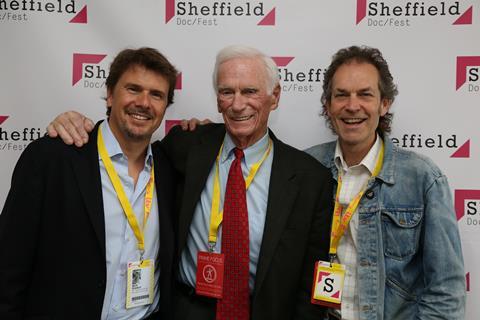 British director Mark Craig came up with the idea for documentary The Last Man on the Moon – which had its world premiere at Sheffield Doc/Fest this week – after reading Eugene Cernan's book of the same name.
In it, Cernan, the last astronaut sent by NASA to the moon in 1972, charts not only his incredible achievements in space, but also the impact that his career, and the careers of his fellow astronauts, had on their wives and children.
As Cernan's wife says in the film: "You think it's hard going to the moon, try staying at home."
"It had the same emotional tone as the doc films I like to make. And it's a fantastic story. In this country everyone knows about Neil [Armstrong] and Buzz [Aldrin] but Gene's story isn't commonly known and so I thought it could be a new angle on a familiar subject," says Craig, who took the project to producer Mark Stewart (son of formula one racer Jackie Stewart, who is credited as an executive producer on the project).
Stewart went on to raise the funding through his production company Mark Stewart Productions.
The documentary combines archive footage of the NASA space missions, together with Cernan's personal archives – old home videos, photo albums and one particularly poignant letter he wrote to his young daughter the night before his final moon mission, all of which he had kept stored in his garage.
Cernan also returns to a number of key locations during the film including Arlington Cemetary and his old house in Houston, Texas. "We could have just put him in a studio, but if you go back to a place many years later that has been been part of your life, vivid memories are going to come back," Craig explains.
Still, it took years to convince the ex-astronaut to come onboard the project.
"For a long time I was reluctant, not because I didn't want to share my personal life, but because I couldn't quite see the value Mark saw," the 80 year old Cernan tells Screen. (He has flown over from Texas to Sheffield for the screenings.)
"For me the turning point was when he told me, I don't want to do a movie about you, I want to do a movie about your story that should be seen by kids 25 years down the line.
"Once I understood that, that it was about a kid with a dream, that's when I opened up my family and friends and said, here's the people who impacted my life, they're yours, go get 'em."
Being a British director making a film about a slice of American history posed its own challenges for Craig, who nevertheless went ahead and made the film with a "certain British sensibility and emotional restraint".
"An American producer may have done it differently and may have leant more towards it being an American achievement. I was keen to hold back from that," adds Craig.
The team are now looking to secure a worldwide theatrical and multi-platform release, with their next stop being a series of industry screenings in LA. As Stewart puts it: "We are open for business."
As for Cernan, he is showing no signs of slowing down, despite his age.
"Maybe I got where I got because it's not in my nature to slow down," he says. "After you go to the moon, what do you do, what's the next big challenge? I have a responsibility to share something unique that I've done with people like you. This film is my legacy."