Dir/scr: Tsui Hark. China. 2011. 125mins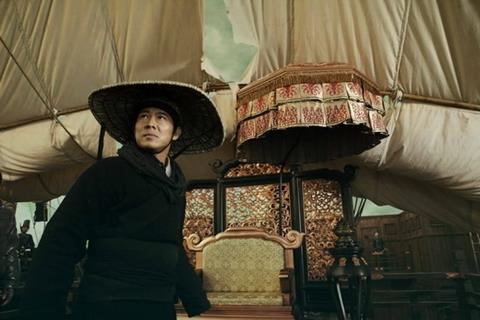 Action auteur Tsui Hark revisits the Dragon Gate folklore with a visually inventive yet dramatically lacking IMAX 3D production. Also credited for the new movie's screenplay and 'original story', the director has indeed reshuffled the plot elements of both King Hu's wuxia classic Dragon Gate Inn (1967) and the Raymond Lee-directed remake, New Dragon Gate Inn (1992), which was produced and co-scripted by Tsui.
Flying Swords is pure entertainment and little more.
Tsui's follow-up to his excellent supernatural detective actioner Detective Dee and the Mystery of the Phantom Flame (2010), certainly lives up to its English title: audiences will find flying swords (and daggers and arrows and chains) hurtling at them during martial arts battles of the most gravity-defying kind.
Despite its impressive action and nice comedic touch throughout, Flying Swords has, however, arguably the weakest story of the three Dragon Gate films.The film opened in Mainland China on December 15 and in Hong Kong a week later.
Following a similar narrative trajectory to its two predecessors, the Ming Dynasty-set movie tells of the eunuch-headed West Bureau's murderous pursuit of their vulnerable target (in this case a pregnant palace maid on the run, played by Mavis Fan), which leads to ultimate showdowns among heroic swordsmen (Jet Li and Zhou Xun in male drag), imperial assassins (Chen Kun in a double role, and Louis Fan) and mercenary treasure hunters (Kwai Lun-mei and Li Yuchun) at the desert resort of Dragon Gate Inn.
Spicy story threads from the two previous films, such as the implied cannibalistic practice of the inn, are flirted with but not engaged in any depth. The obsession of Xun's character with a certain flute – a love token, as it unsurprisingly turns out – provides a direct reference to Bridget Lin's character in the 1992 film, although the romantic subplot here is utterly undermined by the negligible romantic chemistry between Li and Xun as would-be lovers (or former lovers, which is never made clear).
As an epic sword fight between Li and Chen's fighting experts (inside a gigantic twister!) uncharacteristically fizzles out, the movie's last reel turns into a treasure hunt at a buried palace, which only comes into daylight following a vicious sandstorm that arrives once every 60 years. It is with such slapdash plotting that the director's preference for intermittent cheers and thrills over consistently developed storylines becomes palpable.
The movie's brief coda – in which two of the treasure hunters disguise their way into a royal palace, eventually poisoning the imperial concubine who has previously ordered the assassination of the pregnant maid – is seemingly tagged on for laughs, and feels as incongruous to the tone of Hu's original as it's possible. By putting on the prestigious front of the wuxia tradition, Tsui, like his mischievous characters, may merely be playacting his way towards more outrageous fun. Flying Swords is pure entertainment and little more – which may be enough for many.
Production companies: Film Workshop, Bona International Film Group, China Film Group, Shanghai Media Group, Beijing Poly-bona Film Publishing Company, Beijing Liangzi Group
International sales: Distribution Workshop
Producers: Tsui Hark, Shi Nansun, Jeffrey Chan
Executive producers: Yu Dong, Jeffrey Chan
Cinematography: Choi Sung-fai
Action director: Yuen Bun
Art director: Yee Chung-man
Production designer: Bill Lui
Editor: Yau Chi-wai
Music: Wu Wai-lap
Main cast: Jet Li, Zhou Xun, Chen Kun, Kwai Lun-mei, Li Yuchun, Mavis Fan, Louis Fan