Dir: John Landridge. UK. 2011. 85mins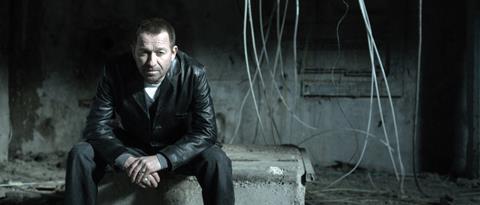 John Langridge's feature debut is a nicely taut low-key thriller that, while it might lack grand ambition of dynamism, delivers a series of nicely staged twists and a few doses of violence. Likely to be a modest performer theatrically, it has enough qualities to warrant attention with a greater life likely to be on home entertainment.
Kierston Wareing makes a strong impact as the feisty and foul-mouthed wife.
Its stagey format – it has just four characters and is largely set in a dimly lit and appropriately ramshackle disused factory – could compromise momentum, but Paul Chronnell's screenplay has enough meat to keep things moving along nicely.
A jittery businessman (Craig Conway) hires a private detective (Sean Pertwee) to kidnap a man (Martin Compston) he suspects of having an affair with his wife, and takes him to the factory where he is tied to a chair with a bag over his head. But in a further twist, the detective tells the businessman he has also kidnapped his wife, and the woman (Kierston Wareing) is tied to a chair in another part of the building.
Given the situation, it comes as no real surprise that this is a film about its twists and turns, with none of the characters quite as they seem – particularly the detective and the wife (none of the characters have actual names) – with simmering violence keeping the story nice and edgy.
Martin Compston continues to impress as the kidnap victim, despite being given little to work with and tied to a chair for most of the film, while Kierston Wareing (who has worked extensively on UK TV dramas and gritty British gangster films) makes a strong impact as the feisty and foul-mouthed wife.
Production company: Oh My! Productions
International sales: Blue Dolphin, www.bluedolphinfilms.com
Producer: Raiomond Mirza
Executive producer: Nina Wadia
Associate producers: Dominique Devoucoux, Lionel Hicks, Vanessa Lorena Tate
Screenplay: Paul Chronnell
Cinematography: Adrian Brown
Editors: Ben King, John Landridge
Production designer: James Corker
Music: Raiomond Mirza
Website: www.fourthefilm.com
Main cast: Sean Pertwee, Martin Compston, Craig Conway, Kierston Wareing