Dir/Scr: Jennifer Westfeldt. US. 2011. 110mins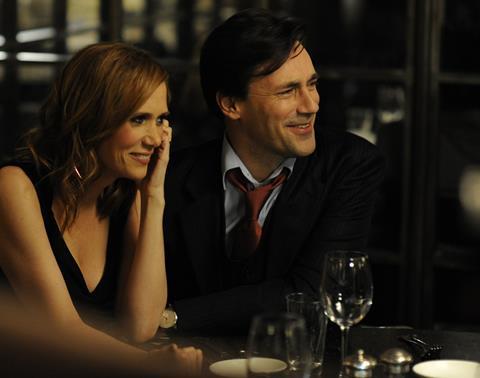 A gentler relative of the Judd Apatow school of modern comedy, Friends With Kids eschews scatalogical humour and bad taste excess in favour of a more mellow, reflective tone. The assured directorial debut of star Jennifer Westfeldt is reminiscent of the wry ensemble pieces that Alan Alda created in the 1980s as it explores the competing demands of friends, lovers and families.
Well-observed home truths about the different stages and expectations of human relationships.
Moments of insight are balanced with the glib humour and predictability of a television sitcom. This could be Rachel, Ross and all the gang reunited for "Friends-The Family Years". Predictable but generally very likable, the film has the advantage of a highly marketable cast that includes a generous smattering of Bridesmaids alumni and should easily attract a mature crowd in search of warmhearted, old-school entertainment.
Fondly remembered for her role in Kissing Jessica Stein, writer/director/co-star and co-producer Jennifer Westfeldt brings a fresh eye to some standard romantic comedy dilemmas include the When Harry Met Sally minefield of whether a man and a woman can ever be just platonic, supportive friends. Julie (Westfeldt) and Jason (Adam Scott) seem to have all the answers.
They live in separate apartments in the same building and are the best of chums sharing triumphs, applauding sexual conquests and providing a shoulder to cry on after the latest relationships falls apart. Over the years, they watch couples Missy (Kirsten Wiig) and Ben (Jon Hamm) and Leslie (Maya Rudolph) and Alex (Chris O'Dowd) struggle and bicker as the tiny patter of feet brings major changes to their lives.
Julie and Jason decide they could handle it all so much better. They provide love and support for the beautiful baby boy they have together without burdening him with any of the pain of a marriage going sour. They are also happy to watch the other one dating as they each continue the eternal quest for a committed soulmate. That's the plan anyway.
Friends With Kids works the well-worn formula of keeping the central couple apart for as long as humanly possible but Westfeldt's screenplay neatly balances the comedy and pathos of the situation and creates nuanced characters. There are a couple of impressive, stand-out scenes infused with the sting of truth as Adam Scott's Jason makes a passionate declaration of how he feels about Leslie and Jon Hamm's cynical Ben voices all his bitterness over life's many disappointment.
Well-observed home truths about the different stages and expectations of human relationships provide the backbone of Friends With Kids giving it the edge over the more cartoonish romantic comedies that have become the Hollywood norm. Audiences may well consider it a refreshing alternative.

Production Companies: Red Granite Pictures, Points West Pictures, Locomotive
International sales: Red Granite International, http://redgraniteinternational.com
Producers: Jennifer Westfeldt, Jon Hamm, Joshua Astrachan, Jake Kasdan, Joey McFarland, Riza Aziz
Executive producers: Mike Nichols, John Sloss, Lucy Barzun Donnelly, Joe Gatta
Cinematography: William Rexer 11
Production designer: Ray Kluga
Editor: Tara Timpone
Music: Marcelo Zarvos
Main cast: Adam Scott, Jennifer Westfeldt, Jon Hamm, Kristen Wiig, Chris O'Dowd, Edward Burns