Dir: Ali Mostafa. UAE. 2014. 108mins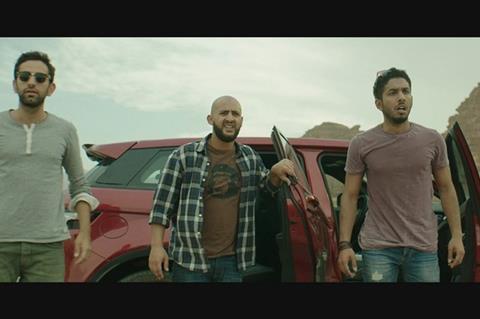 A road trip that delightfully blends comedy and drama, Abu Dhabi International Film Festival opening film From A To B is a real pleasure. Accessible, engaging and gently insightful, it is a smartly put together film that both celebrates the diversity of the region and draws attention to the aspects that can cause division, but most of all it is one of the most astutely open and attractive films to emerge from the UAE and could well be an easy seller internationally.
From A To B moves at a nicely breezy pace, moving engagingly from incident to incident.
Blending Arabic with English language and relishing a lead cast of three young actors with little screen experience set alongside a series of cameos from established talent, the film is very aware of its ability to go beyond the festival circuit. Its mainstream sensibilities will make it a draw for general audiences, but it also delves below the surface as it also dwells on families, religion, war and friendship.
It was clear from his 2009 film City Of Life that director Ali Mostafa was a director with a shrewd cinematic talent, keen to reflect all aspects of contemporary life in the region, and while that film worked extremely well in parts, From A To B is a much more complete and engaging film that has a drive and verve that should click with audiences.
On the surface it seems to be a simple road trip – from Abu Dhabi to Beirut – but there is much more going on then simple shenanigans on the highway.
The film focuses on three old friends – Jay (stand-up comic Fahad Albutairi), Ramy (Shadi Alfons) and Omar (Fadi Rifaai) – who decide to take the journey in memory of their school friend Hady, who took the journey without them years before and died in the air raids of Beirut in 2006, at the end of his trip. A frothy animated credits sequence does a fine job of detailing their school friendship before heading into live action and revealing the friends as they are now.
The relationship between the three has never been the same since Hady died, but Omar suggests they recreate the road trip, aiming to arrive six days later in Beirut in time for what would have been Hady's birthday. Naturally – as is usually the case in such films – each carries emotional baggage. Jay is a DJ but can't convince his parents he is doing a real job; genial Ramy is a mother's boy who has to fake a trip to Bahrain so he can join the road trip, though is worried his mother will feed his pet hamster Grendizer when he is away – and Omar's wife Arwa is due to give birth soon, but they are not getting on particularly well.
Their road trip – in a rather plush red Range Rover – sees them jailed in Saudi Arabia; Jay try and pick up Western tourist Samantha (Madeline Zima) in Jordan when they visit Petra; Omar befriend Syrian hotel worker Shadya (Leem Lubany) who turns out knew Hady, and run into deep trouble in Syria when they take a side-trip to drop Shadya off at her family's devastated town, before finally making it to Beirut…all changed for the better after their bittersweet experiences.
To an extent there are a few too many sub-plots and side-stories (Gaby's attempt to hook up with Joanna, a girl he was taken with at school and who now lives in Beirut, barely registers in the film) but the real strength is the relationship between the three men as they gradually re-connect and learn to change and grow during the journey, Much is made of nationalities coming together and helping each other – Jay is part Irish and part Saudi; Gaby is Egyptian and Omar is Syrian, with a diplomatic passport thanks to his father – and in amongst the fun-and-games (Jay getting stung by a scorpion or the car hitting a camel) there are some serious moments, particularly when they reach Syria and have close encounters with both the military and rebels.
From A To B moves at a nicely breezy pace, moving engagingly from incident to incident. The Petra scenes are especially good (some nice Indiana Jones gags included) and some nicely judged cameos – such as Egyptian star Khaled Abol Naga as a Syrian army officer – add much to the impression that this is an astutely assembled film that delivers in all aspects.
Production companies: AFM Films, AMP Media, Image Nation, Rotana Studios, twofour54
International sales: Image Nation, bross@imagenation.ae
Producers: Paul Baboudjian, Mohamed Hefzy, Ali F. Mostafa
Executive producers: Jennifer Roth, Rami Yasin
Screenplay: Mohamed Hefzy
Cinematography: Michel Dierickx
Editor: Ali Sulloum
Production designer: Petra Abou Sleiman
Music: Gregory Caron
Main cast: Fahad Albutairi, Shadi Alfons, Fadi Rifaai, Leem Lubany, Madeline Zima, Christina Ulfsparre, Khaled Abol Naga, Ali Suliman, Maha Abou Ouf, Samir Al-Masry