Dir/scr: Yosuke Fujita. Japan-UK-Italy-Taiwan-Germany. 2014. 110mins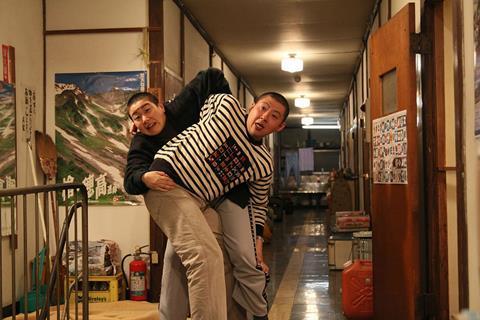 An engaging bittersweet comedy pleasure, Fujita Yosuke's Fuku-chan Of FukuFuku Flats is a low-budget film that makes the most of the comedy talents of its leads with its mixture of slapstick humour and pathos working delightfully. The quirky humour makes it a rather niche film, but certainly one that should appeal to festivals and savvy distributors.
What makes the film most interesting is the casting of well-known Japanese comedienne Miyuki Oshima as Fuka-chan.
It is a film about love and loneliness – common issues that work for any nationality of film – driven thanks to a thoroughly charming central performance from Miyuki Oshima. The film premiered at the Okinawa Comedy Film Festival.
Fukuda Tatsuo (Oshima) – or Fuku-chan as he is know to his many friends – works as a painter, running a team of decorators, though in the evening he plods home to his modest apartment block where he tends to spend to most of his time trying to help the oddball characters in his building.
Despite his easy-going nature he is shy around women, and turns down any chance to be set up on a date. The reason why is revealed when wannabe photographer Chiho Sugiura (Asami Mizukawa) comes back into his life – she was involved in a high school prank that damaged the young Fuka-chan's confidence and wants to make for her past mistakes.
As she grows to know him again she sees the charm and the sadness lying inside the man and asks to take photographs of his open and honest smile for a photographic book.
What makes the film most interesting is the casting of well-known Japanese comedienne Miyuki Oshima as Fuka-chan. She is well know for her comedy impersonations of old men (and some audiences may not even twig the character is a woman) and brings a real tenderness and openness to the character, and her casting helps give the sexual jokes (such as the regular ones about the size of Fuka-chan's member) an extra resonance.
The film's oddball support cast also help give the film its heart, from his naïve ballad-singing co-worker through to his best pal Shimmachi (Yoshiyoshi Arakawa, star of director Fujita's 2008 comedy Fine, Totally Fine), they help give it a rare quirky quality and they are all gently memorable, when the film takes a slightly misguided dark step towards the end.
Production companies: TV Man Union, Third Window Films, Tucker Films, Joint Entertainment, Rapid Eye Movies
International sales: Third Window Films, www.thirdwindowfilms.com
Producers: Naoko Arai, Keiko Fujimur, Adam Torel
Co-producers: Sabrina Baracetti, Thomas Bertacche, James Liu, Stephan Holl
Website: http://fukuchan-movie.com
Main cast: Miyuki Oshima, Asami MIzukawa, Yoshiyoshi Arakawa