Dir: Bruce LaBruce. Canada. 2013. 82mins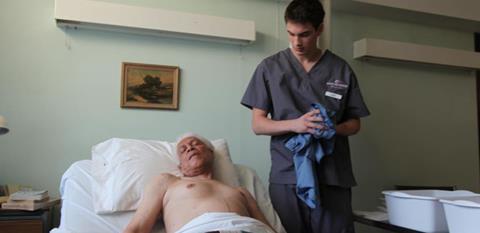 Controversial Canadian filmmaker Bruce LaBruce, whose previous films have largely been of the underground low-budget variety veering between art and porn, takes a step into the sort-of mainstream with this rather delicately handled romantic drama that delves into a gay May-to-September love affair.
Though challenging at times, there are no real surprises.
The film, which premiered in the Venice Days section of the Venice Film Festival, is gently challenging (it is the first of LaBruce's films without any sexually explicit content), beautifully shot and rather engaging at times. Some of the performances may lack a certain spark or depth and it lacks the consistent sense of humour to put it into the non-traditional rom-com bracket, but it is a bold and provocative piece of film making (it aims to be very much in the Harold And Maude bracket) with LaBruce shooting with confidence in a rather more traditional filmic format.
Just so there should be no confusion, the title says it all. 'Gerontophilia: noun – the love or sexual preference for the elderly'. A subject often tackled in cinema, though far more usually in the simplistic 'older-man-younger-woman' romance, but here dealing with the burgeoning homosexual romance between an 18 year-old and an elderly and ill man about to turn 82.
Lake (Pier-Gabriel Lajoie) is in a sort-of relationship with girlfriend Desiree (the vivacious Katie Boland) – they engage in noisy kissing, but little else – but he comes to realise his interests lie elsewhere. This is particularly evident when he gets over-excited in his lifeguard job at a local pool when he has to give the kiss of life to an elderly man.
He gets a summer job at a nursing home, where he starts to develop an increasingly tender relationship with Mr Peabody (Walter Borden). He becomes more and more obsessed with the gently charming older man, and when he finds Mr Peabody over-medicated and strapped down one day Lake decides that they should make their escape.
The pair head off on a cross-Canada road trip aiming to make it to the Pacific (one of the places Mr Peabody says he wants to see again), stopping off at motels to consummate their relationship, and also engaging on a little light shoplifting to help manage their budget.
There are moments when Gerontophilia makes strong attempts at humour – they genial playfulness of Mr Peabody when they are the road; him claiming to be just 75 when another young man chats to him in a gay bar; the massive photograph of an elderly Gandhi sat above Lake's bed looking down on he and Desiree as they kiss etc – but often the balance is not quite right. There are smiles to be had, but no real laughs.
Acclaimed Canadian theatre actor Walter Borden grows into the role of the playful and nicely complex Mr Peabody, though newcomer Pier-Gabriel Lajoie has problems at times keeping up with him, and never really manages to convey the depths and turmoils that his character needs to exhibit. Katie Bolland is a breath of fresh air when she is on screen, offering a quirky sense of fun and left field humour.
At one point LaBruce looks as if he may be taking the film into dark and more disturbing territory as Lake has a dream scene in which he snuggles in bed with Mr Peabody and proceeds to lick and kiss open wounds on his back, but the film smartly pulls back and keeps on its more mainstream romantic May-to-December structure. Though challenging at times, there are no real surprises…apart from that fact that it is clear that Bruce LaBruce, the maker of cult films such as Hustler White, Skin Flick and L.A. Zombie, is a romantic at heart and more than capable of making a film beyond his usual borders.
Production companies: 1976 Productions, New Real Films
International sales: Mk2 Films, www.mk2.com
Producers: Nicolas Comeau, Leonard Farlinger, Jennifer Jonas
Screenplay: Bruce LaBruce, Daniel Allen Cox
Cinematography: Nicolas Canniccioni
Editor: Glen Berman
Music: Ramachandra Borcar
Main cast: Pier-Gabriel Lajoie, Walter Borden, Katie Holland, Marie-Helene Thibault