Dir/scr: Chris Smith. UK. 2014. 102mins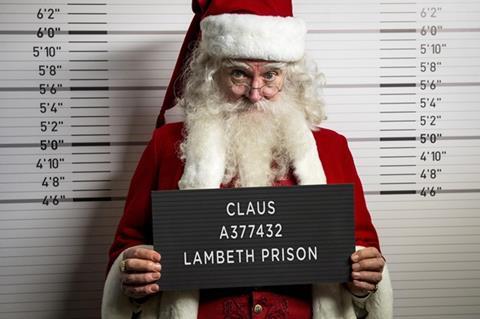 A warm-hearted bit of festive fun but with a smart realistic subtext that takes Father Christmas into – of all places – prison, British family film Get Santa is a thoroughly enjoyable romp, blessed with a spot-on performance by Jim Broadbent, who is quite irresistible in the role of Santa Claus, a part that seems tailor-made for him. Opening in the UK up against the likes of Paddington, The Penguins Of Madagascar and local low-brow festive success Nativity 3: Dude, Where's My Donkey?!, its challenge will be carving out attention and audiences, but good reviews and a general enthusiasm for all things Christmas-themed should see it perform well.
Get Santa a rather engaging spin on the much-told Christmas story.
Produced by Liza Marshall for Scott Free Films Ltd., the film is written and directed by Chris Smith, who makes a savvy change of direction having made his name with genre films such as Creep, Severance, Black Death and Triangle, but he is completely at ease with his 'what if…' project and comes up with an engaging contemporary spin on a much-films subject. Perhaps closer to films like the Santa Clause that frothier festive fare, this is fantasy with a subtext.
Get Santa is unusual for a festive film, in that it opens in prison. Newly released Steve (Rafe Spall) is determined to spend time with his nine year-old son Tom (Kit Connor), but their bonding is tested when Tom finds a man he believes is Santa Claus (Broadbent) hiding in the garden shed, claiming his sled crash-landed and he lost his reindeer.
When Santa is arrested trying to break out his reindeer from an animal rescue centre, it is left to Steve and Tom to try and save the both Santa and Christmas, and with the clock ticking their mission takes them from Richmond Park (where they need to chat to Rudolph the Reindeer, who method is communicating is via farts) to a countryside portal that magically transports them to an elf village in Lapland, and finally back to the London prison where they plan to try and break out Santa.
While there is plenty of magical fun and games to amuse youngsters (along with the farting reindeer) there is also a grittier subtext, with Steve having to face being sent back to prison as he heads off on this mission to save Santa, and more importantly to bond with his son. It is a very English festival film, shot in a strikingly bold and glossy style but also keeping things modest and oddly real. Rafe Spall is thoroughly engaging as genial former getaway driver Steve, and forms a nice screen relationship with newcomer Kit Connor.
Best of all, though, is Jim Broadbent as a wonderfully convincing Santa. He has played him before in several films (including providing Santa's voice in Aardman Animation's Arthur Christmas), but here really gets to sink his teeth into a different variation on a familiar theme. Most amusingly when prison 'barber' (played by Stephen Graham) helps him try and fit in while in prison, with a new look Santa emerging to swagger along the corridors with his white hair and beard in braids and sporting the prison name of 'Mad Jimmy Claws'.
Chris Smith moves easily beyond his genre film background to concoct an enjoyable and gently moving festival film. The special effects may not be especially amazing, but there are some charming moments of humour and action, with Get Santa a rather engaging spin on the much-told Christmas story.
Production companies: Scott Free Films Ltd, Film I Vast
International sales: Altitude Film Sales, www.altitudefilment.com
Producer: Liza Marshall
Executive producers: Ridley Scott, Carlo Dusi, Andrew Boswell, Hugo Heppell, Andy Mayson
Co-producers: Jack Arbuthnott, Andrew Litvin
Cinematography: Christopher Ross
Editor: Stuart Gazzard
Production designer: John Frankish
Music: Ilan Eshkeri
Main cast: Jim Broadbent, Rafe Spall, Jodie Whitaker, Kit Connor, Warwick Davies, Joanna Scanlon, Nonso Anozie