Dir: Meni Yaesh. Israel-France. 2012. 127mins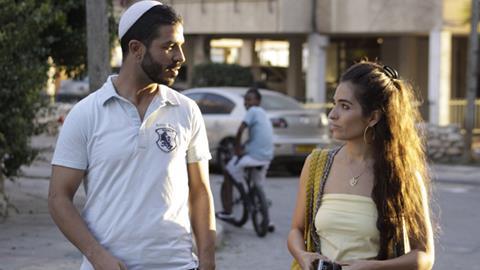 Israeli first feature God's Neighbours brings a decidedly punchy touch to its sincere plea for tolerance. Adding a theological dimension to its boisterous take on contemporary Israeli society, Meni Yaesh's film has energy and confidence to spare, but can't quite decide how to pitch itself - as likeable comedy or gritty social drama.
God's Neighbours is a direct, rather artless film that sketches its social milieu in bold colours.
The uncertainty is especially problematic since its protagonist veers between being an all-out nice guy and something much harder to accept, a violent religious bigot. The likeability of lead Roy Assaf helps offset the directorial awkwardness, but a schematic approach to the film's moral issues makes for an ungainly, overtly polemical package. This won't help sales prospects, though festivals, especially with a Jewish or ecumenical angle, will latch onto God's Neighbours as a lively stimulus for debate.
Set in the Israeli city of Bat Yam, the film is about a young man named Avi (Assaf), who's a pretty hip sort of guy - into smoking dope, creating his own dance tracks, and hanging out with his high-fiving buddies.
You'd meet a character like Avi in any streetwise contemporary urban drama - the only difference being that Avi is a devout Orthodox Jew of the Hassidic 'Breslov' branch. Together with his friends Kobi and Yaniv, he runs a neighbourhood watch team, which deals out summary justice, often with baseball bats, to anyone who disturbs the peace, breaks the laws of the Sabbath, or otherwise gets on the guys' nerves.
At one point, they rather menacingly confront a young secular neighbour, Miri (Ziesman-Cohen), and berate her for not dressing modestly enough. But Avi also takes a liking to Miri and - perhaps improbably - she takes a shine to him. The question is whether he'll have to bend his codes to hers, or vice versa, in order for the two to find happiness.
Continuing a cycle of recent Israeli fictions about Orthodox Judaism and its complexities (including Amos Gitai's 1999 Kadosh and 2007's Eyes Wide Open), God's Neighbours is a direct, rather artless film that sketches its social milieu in bold colours. It offers an intriguing insight into Avi's Breslov congregation and the Sephardic community he belongs to (in which Miri seems to be the only woman visible for miles).
The film is also strong on the cultural contradiction of Avi and his friends: while espousing the most austere moral values, they also identify themselves with the signs of modern international secularity (trainers, baseball caps, dance music et al).
As the film moves into its increasingly thriller-like final stages, the comedy banter between Avi and pals sits more and more awkwardly, and Yaesh strains awkwardly for hard-edged streetwise immediacy. The director-writer not surprisingly lists GoodFellas among his influences, and the theme of interracial confrontation (brought to the fore when the friends head for a rumble with an Arab gang) brings hints of Do The Right Thing or La Haine.
But the film suffers badly in misjudging its lighter registers: the increasingly cute-meet tenor of Avi's tentative courtship of Miri is hard to swallow, while some support actors' manic overplaying capsizes the tenor of realism. Yaesh has made his choice to entertain, but a more sober approach would have done justice to the contradictions of a complex and urgent theme.

Production companies: Bizibi, Transfax Film Productions
International sales: Rezo World Sales, Laurent.danielou@rezofilms.com
Producers: Jerome Bleitrach, Marek Rozenbaum
Screenplay: Meni Yaesh
Cinematography: Shahak Paz
Production designer: Udi Tugendreich
Editor: Asaf Korman
Music: Shushan
Main cast: Roy Assaf, Gal Friedman, Itzik Golan, Rotem Ziesman-Cohen