Dir/scr: Nadir Moknèche. France-Belgium. 2012. 98mins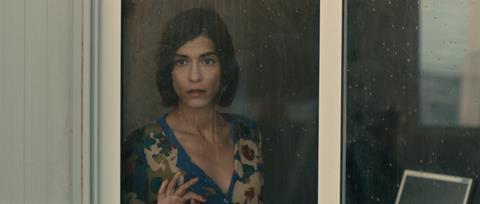 An impressively steamy and complex mystery thriller, apparently inspired by real events, writer/director Nadir Moknèche's nicely shot film, which had its world premiere at the Doha Tribeca International Film Festival is a classily made film that could interest buyers as well as likely to feature at other festivals, especially those with genre angle.
The strength of the film is Lubna Azbal's strong and driven performance.
Sex, murder, mysterious death and a spooky old legend all come into play, and while the backdrop may well be modern-day Tangiers and Casablanca, there is something engagingly old-fashioned about this murder-mystery as it flits back and forth in its timeline and comes up with a satisfactory conclusion.
At the heart of the film is the impressively moody Lubna Azabal as Moroccan woman Dounia Abdallah. She is overseeing construction work on a beachside villa with her boyfriend Dimitri (Rasha Bukvic), when the team of illegal workers uncover a 4th century AD Christian fresco which Dounia and Dimitri realise could be worth a good deal of money.
They hatch a plot to unearth the fresco and sell it, which would enable Dounia to have the money to kidnap her young son Jawad, who is living with her estranged husband, and leave the country. Trouble comes here way when one of her illegal workers, Gabriel (Ralph Amoussou) has plans for the fresco.
The films plays with narrative shifts, gradually revealing a murder mystery and slowly developing the character of Ali (Faouzi Bensaïdi), who works as Dounia's driver/fixer, but turns out to be a childhood friend who still harbours devoted love for her.
Goodbye Morocco not only dwells on the good old-fashioned love-triangle/murder-mystery, but also makes great play of the superstitions of the Nigerian workers at unearthing the old burial ground. The title – relating essentially to the desire to leave the area of good – actually is first used when Gabriel unearths a tunnel to the ancient catacombs and cheerfully says "goodbye Morocco" as he makes his way into the ancient site, shouting to his fellow workers that he has found a tunnel to Spain.
There are times when the narrative shifts judder rather than move smoothly, and there is perhaps a sub-plot too many (such as Gabriel's gay relationship with French cinema owner Fersen), but the strength of the film is Lubna Azbal's strong and driven performance as a mother who will do anything to be reunited with her child.
Production companies: Blue Monday Productions, Agora Films, France 2 Cinema
Sales contact: Blue Monday Productions, www.bluemonday.fr
Cinematography: Hélène Louvart
Editors: Stéphanie Mahet, Olivier Gourlay
Production designer: Johann George
Music: Pierre Bastaroli
Main cast: Lubna Azabal, Rasha Bukvic, Faouzi Bensaïdi, Ralph Amoussou, Grégory Gadebois, Abbes Zahmani, Anne Coesens, Dalil Ziad