Dir: Denis Henry Hennelly. US. 2013. 100mins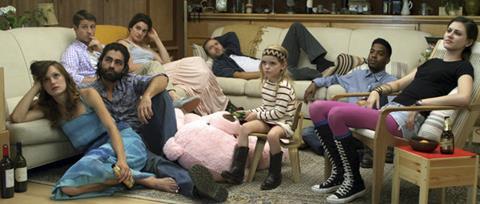 End of the world movies are coming our way thick-and-fast, varying from slacker comedy (This Is The End) to romantic-drama (Seeking A Friend For The End Of The World) and not to mention horror flicks too numerous to mention, but the engagingly offbeat indie film Goodbye World takes a different tack, mixing The Big Chill friendship angst with ruminations on the world falling apart.
Goodbye World cleverly follows a very different route from others that chart similar issues.
Director Denis Henry Hennelly's film, which had its world premiere at the Los Angeles Film Festival trades on its self-aware glibness and strong young cast to come up with a film that may be easy to snipe at, but wears its heart on its sleeve, is engagingly performed, beautifully shot and always absorbing.
An initially low-key cyber attack slowing starts to hit the US, through a series of text messages that simply reads 'Goodbye World', but things soon start to descend into protests and anger on the streets. This all coincides with a series of old college friends (and lovers) congregating on a remote hill top country cabin in northern California, the home of James (Adrien Grenier, star of TV series Entourage) and Lily (Kerry Bishé, from Weeds) and their young daughter.
Among the friends joining them are Nick (Ben McKenzie) - who was once engaged to Lily as well as being in the tech business with James – and his wife Becky (Caroline Dhavernas); rebellious Benji (Mark Webber) and his girlfriend Ariel (Remy Nozik); politically savvy Laura (Gaby Hoffman), and tech-wizard loner Lev (Kid Cudi). Initially there is spend drinking, smoking weed and mulling over their shared past, but as nuggets of details about what is happening in the world get revealed they start to realise how serious and possibly dangerous the situation really is.
As technology collapses around them they have glimpses of the chaos enveloping the rest of the country – a biker gang takes over a local shop and charges vast amounts for food and goods and two soldiers on horseback want to take the house (only to be fought off by being hit by extracts from the constitution) – but still have enough time to dwell on the minefield of their shared past and the deep-rooted complexities of their relationships.
Some of the relationship issues ring true while others feel rather overwrought, but as post-tragedy films go, Goodbye World cleverly follows a very different route from others that chart similar issues, with the tenseness between Ben and James nicely handled, and Gaby Hoffman bringing a dash of much-needed intensity in amongst the spliff-smoking and communing with nature.
Granted the storyline can be a little naïve at times, but this well-meaning indie drama offers a nice platform for some engaging performances and subtle ruminations about the nature of relationships, both old and new. It wraps up perhaps a little too easily, but at least with a welcome sense of optimism rather than gloom, death and explosions.
Production companies: Gather Films, Picturesque Films
Contact: Gather Films, http://gatherfilms.net
Producers: Mary Pat Bentel, Matthew Zamias, Guy Moshe, Albertino Matalon, Sarah Adina Smith
Executive producers: Tal Hackmey, Damian G. Zamias
Screenplay:Denis Henry Hennelly, Sarah Adina Smith
Cinematography: Jeff Bollman
Editor: Greg O'Bryant
Production designers: Katie Byron, Rachael Ferrara
Music: Eric D Johnson
Website: http://goodbyeworldmovie.com
Main cast:Adrian Grenier, Mark Webber, Ben McKenzie,
Kerry Bishé, Scott Mescudi, Gaby Hoffmann, Caroline Dhavernas, Kid Cudi, Remy Nozik, Laura Kachergus