Dir: Stefano Incerti. Italy. 2010. 81mins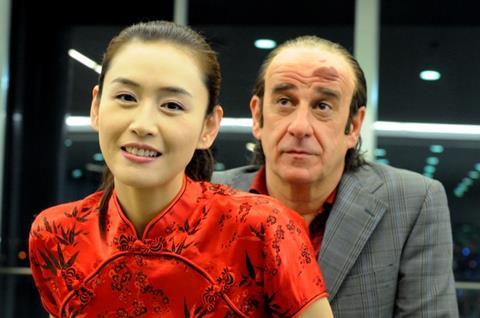 An object lesson in cinema's ability to tell stories without words, Neapolitan filmmaker Stefano Incerti's latest feature is a quirky, tasty little drama about a prison cashier with a serious gambling habit and a prominent birthmark on his face – hence his nickname, Gorbaciof.
Servillo carries a certain cachet in Italy, and some arthouse action is assured.
Part thriller, part character study, part oddball romance, it is stylishly directed, scored and edited, and features a standout performance by the ever-watchable Toni Servillo (Gomorra, Il Divo). We're so fascinated by Servillo's tic-ridden sadsack character that we forgive the film some serious weaknesses – chief of which is Gorbaciof's Chinese waitress love interest, an underwritten character who seems to have stepped out of a different film.
With its mixed genre and downbeat ending, this is not going to be the easiest of films to target on home ground (a difficulty hinted at by the five-part production alliance). But Servillo carries a certain cachet in Italy, and some arthouse action is assured. Elsewhere, Gorbaciof seems destined to be more admired by buyers than actually bought. Its Toronto festival airing (after the film's Venetian debut) will provide Gorbaciof's first international reality check.
We first see Marino Pacileo, aka Gorbaciof (Servillo), in his place of work. He's a bizarre character: dapper, in a suit that's a little too small, with greased hair left long at the back and a ravaged face disfigured by a map-of-Iceland-shaped birthmark. His workplace is clearly a prison (actually Poggioreale, Naples' main clink), and Gorbaciof is clearly a cashier, who works behind a grate in a pre-technological office like something out of Kafka. But we're less sure who the long lines of women are who queue to hand over cash – relatives, presumably, getting money to their men?
Gorbaciof does his job briskly and wordlessly, like a jerky automaton. We see him skim off some of the day's takings before locking the money in a safe, and later see him enter a Chinese restaurant and join the high-stakes card game that is being played in a back room.
A suave but menacing fellow player (Gleijeses) with seemingly endless financial resources could be a camorra boss; it's only later we realise he's actually a magistrate. Gorbaciof helps the owner of the Chinese restaurant (Yamanouchi), a fellow gambling addict, disentangle himself from a debt – possibly because he's interested in his pretty daughter Lila (Mi Yang). He also wades in and dispatches, with shocking brutality, two toughs who are coming on at Lila.
Fifteen minutes in, Gorbaciof hasn't said a single articulate word. An inspired scene on the metro pushes his animal nature to extremes, when he silences an urban jester who's aping about by becoming a menacing ape himself. As Gorbaciof gets himself into a fix by creaming more off the month's deposits and losing, his romance with Lila advances, somewhat improbably given his outlandish appearance and the culture clash. There's tenderness here, but also an uneven tone as we're shown bonding scenes that seem to have strayed in from a Hong Kong melodrama.
There are no landmarks in this moody Naples, shot mostly at night in dirty sodium light. Teho Teardo, a sort of Italian Quincy Jones, provides a fittingly edgy soundtrack. The ending is puzzling, referencing a famous scene from a Tarantino film without apparently meaning to. It doesn't quite work – but it doesn't torpedo the film either, such is the fascination of Gorbaciof as a character study and non-verbal narrative.
Production companies: Devon Cinematografica, Immagine e Cinema, Surf Film, Teatri Uniti, The Bottom Line
International sales: Rai Trade, www.raitrade.it
Producers: Luciano Martino, Edwige Fenech, Massimo Vigliar, Angelo Curti, Sergio Pelone
Screenplay: Diego De Silva, Stefano Incerti
Cinematography: Pasquale Mari
Production design: Lino Fiorito
Editor: Marco Spoletini
Music: Teho Teardo
Main cast: Toni Servillo, Mi Yang, Geppy Gleijeses, Gaetano Bruno, Hal Yamanouchi, Nello Mascia