Dir: Rebecca Zlotowski. France. 2013. 94mins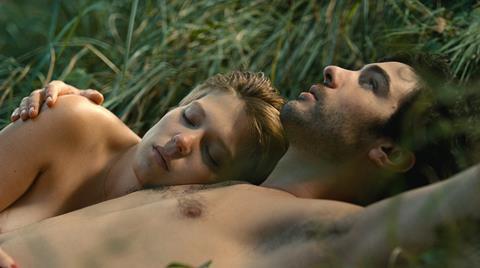 Exposure to nuclear radiation and the fires of passion mirror each other in Rebecca Zlotowski's second feature after her 2010 debut Belle Epine. Grand Central casts the ever-watchable Tahar Rahim and a smouldering Lea Seydoux as two French nuclear power station workers who embark on a clandestine affair in a dangerous workplace where untrained workers desperate for a job are increasingly used to feed the demand for low-level manpower. It's a nice premise, and there's poise, drama and poetry in the way it's played out, but the story and characters are too thin, in the end, to achieve meltdown.
Zlotowski's poetic, symbolic approach is underscored by a sometimes lyrical, sometimes discordant jazz soundtrack.
This is, however, a well-crafted number that feels a little like what might result if you asked the Dardennes brothers to make a cinematic cocktail using equal parts of Summer With Monica and Silkwood. With two hot stars and an assured visual style, it should work well at the more commercial end of the arthouse market in Francophone territories and in subtitle-friendly territories elsewhere.
The film's easy, freewheeling style is kicked off by a fresh, edgy opening sequence that shows young chancers Gary (Rahim) and Tcherno (Libereau) bonding after Tcherno picks Gary's pocket on a train: there's a hint of the Western here that will keep floating to the surface in what follows (for example in a seedy bar's bucking bronco machine).
Both lads have come to a never-specified nuclear power station somewhere in France to find work; despite lacking all but the most basic qualifications, they are taken on as part of a team of contractors working inside the nuclear reactors on cleaning and repairs – because, as healthy young men with zero-dose radiation, they are, it is implied, fresh meat on a sacrificial altar.
It's Gary's point of view we follow as we see him, Tcherno and the latter's bosom buddy Isaac (Biscayart) put under the tutelage of team leader Gilles (Dardennes regular Olivier Gourmet) who talks them through the plant's rigorous safety procedures. Meanwhile, Gary finds lodgings in a sort of workers' trailer-park, where Gilles' friend Toni (Menochet), another industry veteran, is shacked up with hotpant-wearing Karole (Seydoux), who radiates sexual energy like a reactor core. It's not long before Gary and Karole have embarked on a passionate clandestine affair played out in a series of bucolic lakeside trysts – though Karole clearly still has a lot of affection for gentle giant Toni.
The campfire world of the workers' downtime is in complete contrast with the hyper-technological workplace, a world of artificial light and muffled machine sounds where men like Gary or Gilles are sent in as 'divers' to contaminated zones. If their radiation levels get too high, they're laid off – an approach, it is suggested, that encourages the kind of subterfuge that Gary engages in after he is exposed to a large dose while saving Toni from suffocation in a work accident.
Though there is an undercurrent of Loachian siding with the downtrodden workers, the story of boy meets girl (and girl can't decide) is kept high in the mix - and Rahim and Seydoux work well together here. Zlotowski's poetic, symbolic approach is underscored by a sometimes lyrical, sometimes discordant jazz soundtrack. Perhaps it's the director's too eager reaching for universals that undermines the authority of the story and the bite of the drama – but Grand Central represents a worthy attempt to pull of a difficult combo.
Production company: Les Films Velvet
International sales: Elle Driver, www.elledriver.eu
Producer: Frederic Jouve
Screenplay: Gaelle Mace, Rebecca Zlotowski
Cinematography: George Lechaptois
Editor: Julien Lacheray
Production designer: Antoine Platteau
Music: Rob
Main cast: Tahar Rahim, Lea Seydoux, Olivier Gourmet, Denis Menochet, Johan Libereau, Nozha Khouadra, Nahuel Perez Biscayart