Dir/scr: Kivu Ruhorahoza. Australia-Rwanda. 2011. 100mins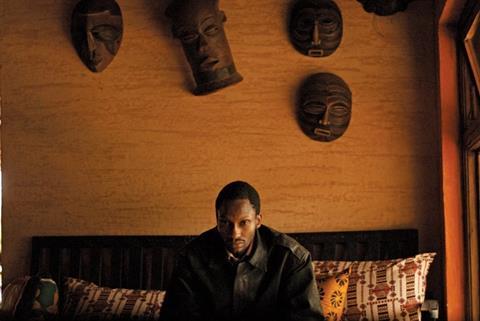 The title refers to the substance that constitutes the human brain and because the story focuses on (abstracted) individuals who were mutable victims in very different ways during and after the 1995 genocide in Rwanda one could read the word "grey" as a blurring of distinctions, a negation of absolute guilt or innocence. Or you could interpret it as the fickleness of the mind, especially in its engagement with the creative process. Perhaps both…here Ruhorahoza appears to want it both ways, which make for a silty cake that has failed to rise.
One of the merits of the film is the consistent use of street and other natural sounds throughout.
The director, a Rwandan native who was only 12 when war quickly divided his homeland, was an associate producer on the American Lee Isaac Chung's superb 2006 Munyurangabo, shot in Rwanda with non-professionals. Chung opted for a naturalistic style to observe two teens from factions that had been opposed during the war, a Hutu and a Tutsi, whose friendship had overridden the tribal hatred of their parents' generation—well, up to a point.
In Grey Matter (Matiere Grise), as low budget as Munyurangabo, there is neither star power nor generally recognisable characters to entice viewers. Ruhorahoza's protagonists are more like avant-garde theatre symbols, possibly credible on stage but not much more than ciphers on the big screen.
Grey Matter will probably have a decent festival life—it is a novelty, the first film shot in Rwanda by a Rwandan, a project shot in Kinyarwanda and French, and fodder for some spectators inclined toward experimental fare. Although it begins with lovely shots of Kigali and nicely framed interiors (recalling Chung's aesthetic), it rapidly shifts into a domain that has alternative theatre imprinted on almost every scene.
Evidently the filmmaker, who had written a story using cockroaches as metaphors for both outside aggressors and males in general, was unsuccessful in obtaining the European funding he had been all but promised. So he made the cockroach stories a film-within-the-film, the outer casing revealing the frustrating of his surrogate, Balthazar (Kimenyi), to get the project off the ground; he shoots without the crew realising that it is being financed piecemeal.
We have seen films about trying to make a film many times before, and, without some sort of new twist, it's a tired concept. To move from that practical frame of mind into a world where fantasy and reality become confused, then back again, especially in light of the loaded subject matter, does nothing to heighten Grey Matter's impact on any level. It obstructs more than it constructs positively.
The interior film is 'The Cycle of the Cockroach', in two acts. After the conflict, a man, Yvan (Bizimana), who had gone mad after participating in torture and murder, resides in the same mental institution as a young woman, Justine (Nirere), who suffered savagely at the hands of men like him. That he keeps a cockroach in a glass jar in his room and wears a helmet that likens him to the insect literalizes the metaphor beyond belief.
A gifted painter, Yvan has lost the ability to function at all. In spite of her rapes and gruesome family losses, Justine remains mostly on the side of sanity. As it there were not enough overdone clichés in the film, an exchange of personas takes place, the discovery of a new mass grave the catalyst. Too much going on here for such an important and tragic subject. Unlike Munyurangabo, there is little space for our feelings to be part of the picture.
One of the merits of the film is the consistent use of street and other natural sounds throughout, even in interior spaces where most directors shut them out or add them to the soundtrack as an afterthought. Another plus is the fine string music.
Production companies: Scarab Studio Films, POV Productions
International sales: Scarab Studio Films, www.scarabstudiosfilms.com.au
Producers: Kivu Ruhorahoza, Dominic Allen
Executive producers: Joel Betts, David Budge
Cinematography: Ari Wegner
Editor: Antonio Rui Ribiero
Music: Sophie Nzayisenga
Website: www.facebook.com/pages/Grey-Matter/160593203994420
Main cast: Ruth Nirere, Herve Kimenyi, Ramadan "Shami" Bizimana, J.P. Uwayezu, Natasha Muziramakenga, Juma Moses Nzabadora