Dir/scr: Leon Ford. Australia. 2010. 94mins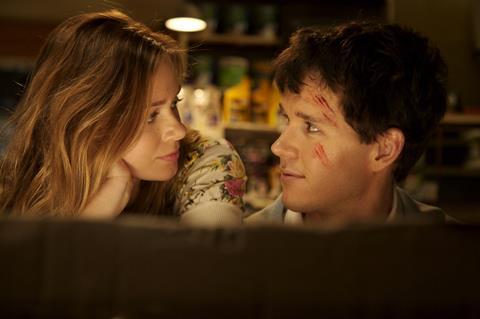 By day, Griff (Ryan Kwanten) is a menial office worker beset by drudgery and the bullying and demeaning antics of fellow employees in a shipping company. But when the sun sets on the crime ravaged streets of Melbourne he rips off his constraining suit to reveal the superhero Griff and evildoers quake in his presence.
It has heart and humor and a touching romance that should find passable commercial returns on home turf.
Batman and Spider-Man needn't fear the arrival of Griff the Invisible for he's more in the mold of Walter Mitty than Clark Kent. This modestly produced Australian film can't compete technically with the folks at Marvel and D.C. comics, but it has heart and humor and a touching romance that should find passable commercial returns on home turf.
Finding buyers beyond its borders will be a far greater challenge. It lacks razzle-dazzle special effects and star power to distinguish itself from competing U.S. independents or locally made romantic comedies. And its timing couldn't be worse with the similarly themed SUPER also on the sales block, albeit with a hen-pecked husband as protagonist.
The film turf, costume crusading aside, is familiar stuff. Griff appears to be an amiable sort but is so riven with self doubt that whatever appeal he might possess has been obliterated. He's the portrait of the immature twentysomething; in this instance channeling his frustration into a fantasy realm.
The arrival of his brother Tim initially suggests some order will return to Griff's life. However, it evolves that he's equally deluded though in matters of love. He's convinced he's found his soul mate in Melody (Maeve Dermody), a woman who believes she can master the space between atoms and walk through walls. When Tim introduces the woman to Griff it's all too clear that she recognizes a kindred spirit.
First time writer-director Leon Ford is at his most assured in his development of the relationship between his two stars. The manner in which she encourages him to pursue his quest for literal invisibility and chooses not to see his failure is genuinely touching. Still what the film needs is some genuine belly laughs to distinguish itself in the current ferocious marketplace.
Griff the Invisible is simply too tame to compete and its charms while unlikely to draw a significant audience, suggest a budding talent on the verge of an upcoming breakthrough.
Production company: Green Park Pictures
International sales: Fortissimo Films, www.fortissimo.nl
Producer: Nicole O'Donohue
Executive producers: Jan Chapman, Scott Meek
Cinematography: Simon Chapman
Production designer: Sophie Nash
Editor: Karen Johnson
Music: Kids at Risk
Cast: Ryan Kwanten, Maeve Dermody, Patrick Brammall, Toby Schmitz