Dir: Martin Sulik. Slovak Republic-Czech Republic. 2011. 107mins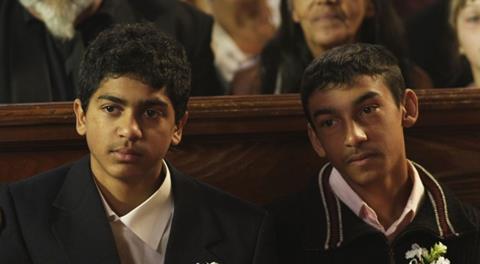 A stylishly powerful drama driven by a series of nicely realistic performances and punctuated by moments of surreal humour, Martin Sulik's Gypsy (Cigan) also offers a rare glimpse into the life and moral codes inside a poor Roma village in Slovakia.
Slovak director Sulik has succeeded in crafting an insightful and provocative film.
The film – which received its world premiere in competition at the Karlovy Vary Film Festival – is largely seen through the eyes of a 14 year-old young Roma who is trying to adjust to the onset of manhood while also balancing his own ambitions with loyalty to traditions and codes. He has to learn some harsh lessons as the films heads towards its dramatic climax.
Slovak director Sulik spend several months in Roma villages gaining the trust of locals and looking for actors – who needed to speak the Roma dialect – to take on the main roles. He has succeeded in crafting an insightful and provocative film that should certainly fare well at festivals, and might also have the style and dramatic thrust to appeal to art house distributors.
The film opens in the impoverished Roma village where 14 year-old Adam (Jan Mizigar) finds out that his beloved father has been killed after a collision with a car. Desperate to provide for her children, his mother soon remarries his father's brother (Miroslav Gulyas), a wheeler-dealer who has sidelines in money-lending and other criminal activities.
The two things that Adam truly loves are the boxing training organised by a well meaning priest (professional actor Attila Mokos) – who delightfully has a picture of Mohammed Ali under his picture of Christ – and Julka (Martina Kotlarova), a young girl his own age, who lives nearby with her family, who are even poorer than Adam's.
Adam struggles to keep on the right side of the law, even helping out a local journalistic team who arrive to research in Roma music, but his new stepfather is adamant that the only way forward for him is to look after his family buy whatever means needed and not to involve himself with the 'whites'…the non Roma.
As he finds himself forced into crime he also finds out that Julka is to be married off to a wealthy Czech man. Increasingly despondent he also discovers the truth behind his father's death and his faced with making a brutal decision that heralds his journey towards manhood.
Martin Sulik makes great use of the Roma village locations (he mainly used a village in Richnava) and the largely non-professional Roma actors help give the film a sense of tough reality. Through the film Adam is visited by the 'ghost' of his father to offer him snippets of advice – it is a device the comes close to pushing the film into the area of poetic-symbolism, but luckily it does not diminish the sense of naturalism.
Moments of humour are few and far between, though in one delightful scene two Roma's offer up a pair of ostrich they have stolen to Adam's money-lending uncle in lieu of payment. The sight of the ostrich dashing around the village is an engaging scene, though the return of one of the bird's at the film's dramatic climax offers up a nice dose of humour at the film's toughest moment.
Jan Mizigar is suitably accessible and well meaning as Adam and works well as the emotional core of the film. He is balanced nicely by Miroslav Gulyas as his tough uncle. Though he is essentially the 'villain' of the film, in truth he is sticking to his own ethical code – a code he sees as vital for Roma to exist in a world that hates them – and in an odd way has a certain dignity despite his moral compass being skewed.
Production companies: In Film Praha, Titanic s.r.o., RTVS
International sales: FE Agency
Producers: Rudolf Biermann, Martin Sulik
Screenplay: Marek Lescak, Martin Sulik
Cinematography: Martin Sec
Editor: Jiri Brozek
Production designer: Frantisek Liptak
Music: Vladimir Godar
Main cast: Jan Mizigar, Martin Hangurbadzo, Martina Kotlarova, Miroslav Gulyas, Attila Mokos, Miroslava Jarabekova, Ivan Mirga